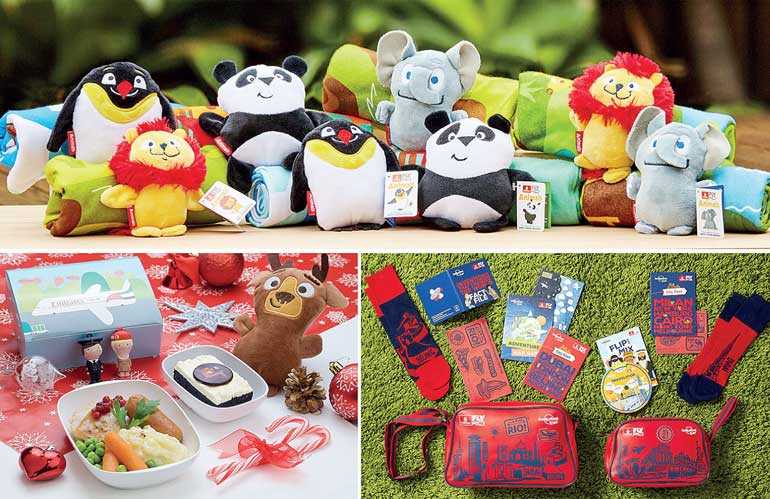 Award-winning airline gifted more than 8.4 million toys, Lonely Planet Kids bags, magazines and other goodies to young travellers in 2018-19
They may not have the hide, the heart or the talons to survive in the wild, but they helped millions of children enjoy the adventure of traversing the skies over our planet with Emirates last year, demonstrating the value of a travel buddy to young passengers.

Lewis the Lion, Peek U the Panda, Ernie the Penguin, Savannah the Elephant, Brett the Bear, Mia the Manta Ray and ChaoChao the alligator are just some of the more popular of 17 characters in the Emirates 'Fly with Me' animals collection who do their bit, every day of the year, to make air travel more fun not just for the kids, but their parents too on board the world's largest airline.

Together with Lonely Planet Kids activity kit bags, Emirates' baby kits, magazines and colouring pencils, these delightfully colourful, expressive and instantly lovable soft toys are part of a trove of kid's treasures on flights operated by the award-winning global airline to more than 140 passenger destinations on six continents.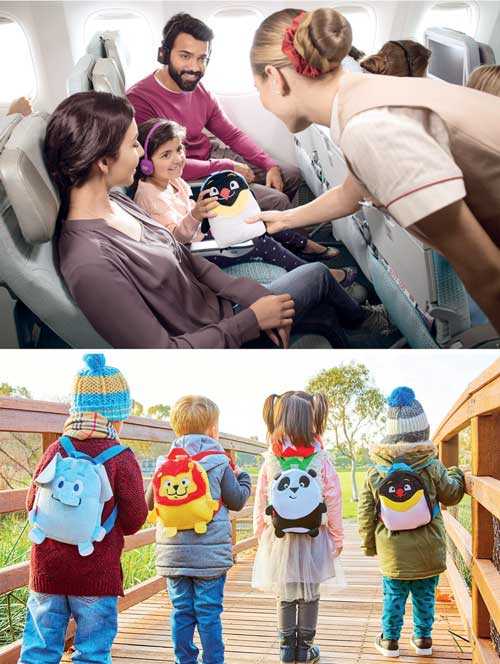 In 2018-19 alone, Emirates presented 4.7 million 'Fly with me' kids' toys and Lonely Planet bags and 3.7 million 'Fly with me' magazines and sets of colouring pencils to little passengers under age 12, reaffirming why it is considered a preferred airline worldwide for family travel.

The airline also served more than 609,000 kids' meals during this period across the network, with the Colombo – Dubai and Dubai – Colombo sectors accounting for 13,524 such special meals for young travellers.

"Families come first with our services for young flyers, who enjoy extra comforts on their journey with us," said Emirates Area Manager for Sri Lanka and Maldives Chandana de Silva. "Travelling with kids can be stressful for the adults as well as the young ones, which is why Emirates makes a huge effort to make the experience extra exciting for young passengers. A lot of thought, effort and investment go into the research and development of our products for children to ensure they are fun as well as educational and engaging. This represents a significant value addition for travellers, especially in Economy Class."

Emirates' products for children cater to infant travellers too. On short-haul flights, the product range includes a vibrating plush for infants up to two years old. The cuddly companion can be re-used and attached to the stroller when baby and parents are on the move.

Children aged three to six years receive a travel case sketcher which includes puzzles, games and stickers to keep them busy. On long haul flights, infants are given a dual purpose plush toy with a printed activity blanket while older kids receive a plush backpack with activity kits.

Emirates' popular Fly with Me Lonely Planet Kids activity bags inspire older children to explore more of the world. They receive retro, travel-themed bags filled with educational travel books and activities designed exclusively for Emirates. The bags contain amazing world facts, creative crafts, collectible destination socks and more. The Fly with Me Lonely Planet Kids range is offered to children aged between seven and 12 years old.

The 'Fly with Me' magazine is also available on board, featuring puzzles, jokes and activities for children aged three to eight years old. Parents travelling with infants receive an amenity kit especially designed for babies. The pouch features Emirates' iconic Little Traveller characters and contains essentials such as a bib, spoon, baby wipes, changing mat, diaper rash cream and small diaper bag for a comfortable journey. Parents can also choose from a range of baby meals or have Emirates cabin crew warm their milk or food. The airline also has milk formula and baby bottles on board, if needed.

Young flyers between two and 12 years old receive a snack box filled with treats to enjoy along the journey, and if a child has special dietary requirements, parents may request a special meal at the time of booking their flight.

If the bonanza of children's products is not enough to banish the boredom of a long flight for Emirates' young passengers, the airline's award-winning inflight entertainment system, ice, offers up to 4,000 channels and more than 100 kids channels in 40 languages to keep the whole family entertained inflight. There are over 180 episodes of dedicated children's content including hit family movies, and young travellers can enjoy the inflight entertainment using specially-designed headphones with a comfortable fit and great sound quality.

Emirates has been serving Sri Lanka since April 1986 and today connects the country to a network of 158 destinations via 28 flights a week to from Colombo. The airline has deployed ultra-modern Boeing 777-300ER aircraft on flights serving Sri Lanka, offering passengers gourmet regional cuisine as well as the famed hospitality of its multinational cabin crew.