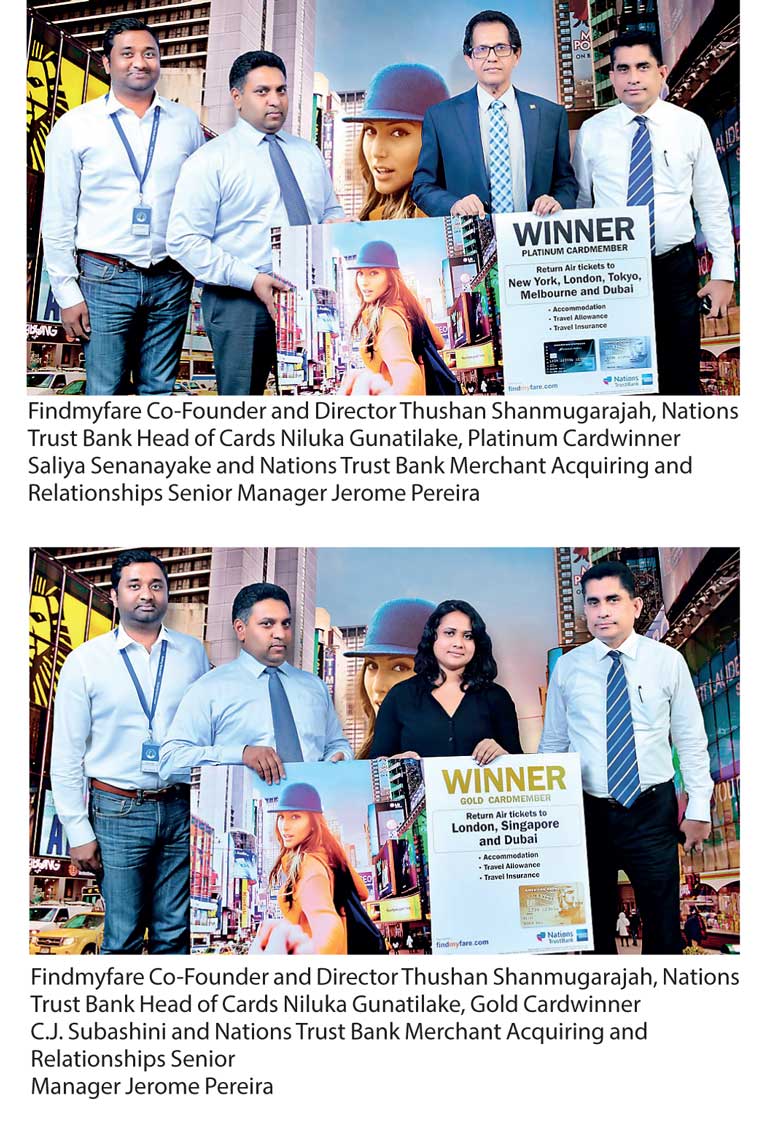 All expenses paid

courtesy of Nations Trust Bank American Express

Nations Trust Bank American Express recently conducted a very special program which would let one Platinum Cardmember and companion experience the thrills of Dubai, the hospitality of Tokyo, the excitement of London, the wonders of Australia and the hustle and bustle of New York all in one incredible all-expense paid trip.

Gold and Blue Cardmembers were also eligible for the promotion with the winning Gold Cardmember receiving an all-expense paid trip for two to Singapore, Dubai and London, while the winning Blue Cardmember received an all-expense paid trip for two to Singapore and Dubai. The glamorous holiday packages include airfare, accommodation, dining, sightseeing, transfers and an expense allowance.

Cardmembers were able to enter the draw by meeting minimum usage thresholds during the promotion period with Blue Cardmembers needing to swipe Rs. 75,000 or more, Gold Cardmembers being required to swipe Rs. 150,000 or more and Platinum Cardmembers having to swipe Rs. 300,000 or more.

Each multiple of the usage threshold gave cardmembers an additional entry and increased their chances of winning. The rewards were handed over to the winners at an awards ceremony held at Nations Trust Bank's Millennium Branch. The promotion was organised in collaboration with Findmyfare.

The winning cardmembers for Platinum, Saliya Senanayake, enthusiastically speaking about the holiday packages, said: "Surely, memories will be made on this trip that will last a lifetime and we look forward to the experience. I am grateful for having been lucky enough to win this prize."

The winning Gold Cardmember, C.J. Subashini, said: "This has all the makings of a once-in-a-lifetime experience. We look forward to having a great and memorable trip. Thank you Nations Trust Bank American Express."

Speaking about the promotion, Head of Cards, Niluka Gunatilake, said: "A Nations Trust Bank American Express Card is like a key to an exclusive, discerning lifestyle. All our cardmembers indulge in sophisticated lifestyle choices and with this promotion we wanted to let lucky cardmembers truly unlock the amazing privileges that come with an American Express membership. This is possibly one of the greatest programs we have organised to date and the main reason we organise programs like this is to reward our cardmembers for their loyalty with American Express. I think we ticked all the boxes with this promotion and I'm sure the winning cardmembers and their companions feel more than rewarded. Still, I'm sure the actual trip will make them feel even more on top of the world than they do now. On behalf of the team I'd like to wish each of our winners bon voyage!"

To find out more about this and other offers, visit Nations Trust Bank American Express online at www.americanexpress.lk or telephone the 24-hour Customer Service Hotline on (011) 4 414141. You can also stay up to date on all Nations Trust Bank Card offers via the Nations Mobile Banking app, which is available for both iOS and Android.

Nations Trust Bank Plc is amongst the top 30 business establishments in Sri Lanka, as ranked by Business Today Magazine, and is the benchmark for customer convenience, ably providing a host of financial products and services to a wide range of customers. Nations Trust Bank operates 93 branches across the country, boasting an ATM network covering 137 locations and is the issuer and sole acquirer for American Express® Cards in Sri Lanka.