State Minister of Tourism Development and Christian Religious Affairs Ranjith Aluvihare has been tasked with ensuring the success of the proposed registration process of the 'informal sector', which is engaged in tourism illegally – hotels, restaurants, bars, guides, travel agents, etc. – island-wide, so that by December, they become formal entities.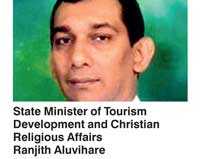 This was among the subjects and functions newly assigned to the State Minister by the Minister of Tourism Development and Christian Affairs John Amaratunga by a Gazette notification.

The other functions assigned to Aluvihare include reviewing and monitoring of the progress in domestic tourism and local programs.

His other functions are to look into matters relating to development and regulation of tourist hotels and travel agencies with emphasis on the hotel classification exercise as well as to maintain close relations with Sri Lanka Tourism Development Authority (SLTDA) to review, monitor and evaluate progress and productivity. The State Minister is tasked with driving the Sri Lanka Tourism Strategic Action Plan 2017-2020 together with the SLTDA and team, and ensuring that tourism resorts, tourism zones and touristic properties that come under the SLTDA are professional and well-nurtured.