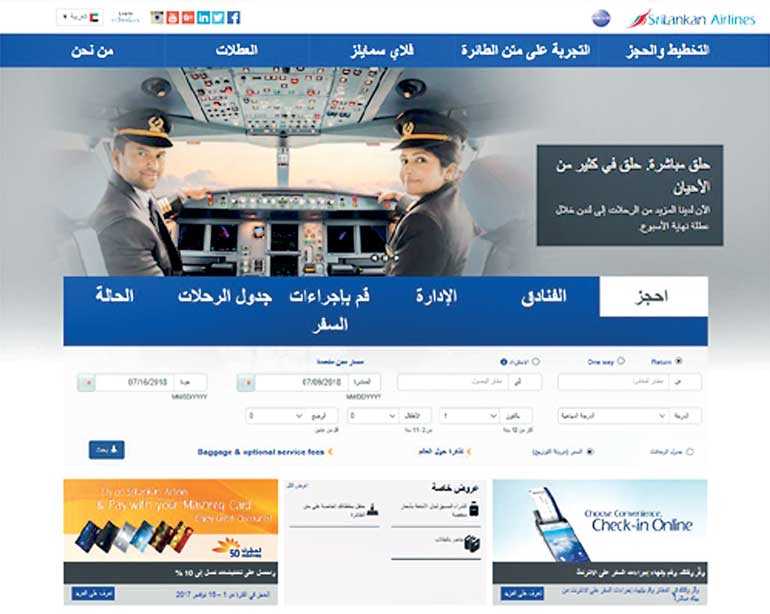 To further build up its presence in the region and underline its world-class services available across its network, SriLankan Airlines has developed a dedicated, interactive Arabic language website in order to better inform and engage with potential Middle Eastern travellers.

With nearly 25% of the total passengers on the Middle East-Sri Lanka sector comprising Middle East business and leisure travellers, the Arabic language website becomes an extremely significant vehicle to reach and inform the wider Arabic-speaking audience. Regularly updated with the latest bargains, travel packages and enticing holiday deals, the website, along with its English version, has been proving immensely popular as the region builds up towards the peak summer travel season.

"SriLankan Airlines already enjoys a reputation for top quality service and a superior in-flight experience with travellers from the Middle East thanks to our years of serving the region. We are looking to increase our market share in the Middle East-Colombo sector and boost our profile as the best carrier on this route," said Dimuthu Tennakoon, head of Worldwide Sales and Distribution, SriLankan Airlines. "We now have not only expanded our flights to the region, with daily flights from the region's prominent cities, but we also offer a streamlined and seamless transit experience through our Colombo airport hub to Asia, the subcontinent and Australia."

SriLankan Airlines today flies an all Airbus fleet, which includes the state-of-the-art A330-300 and A320neo aircraft connecting to 105 destinations in 47 countries (including codeshare operations).