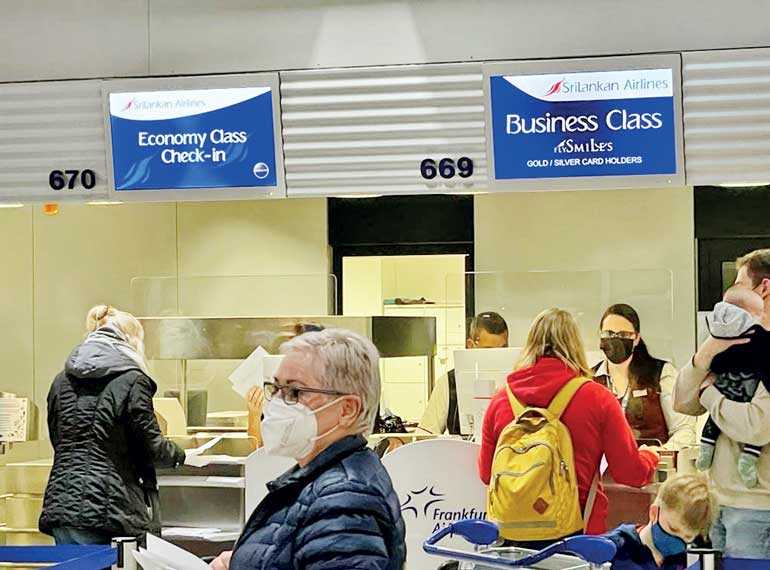 The group of visitors
---
Sri Lanka Embassy in Germany collaborates with Sri Lanka Tourism and SriLankan Airlines
---
Sri Lanka Tourism got back to business of welcoming international travellers to Sri Lanka and rejuvenating the tourism sector to its former position, by welcoming the first group of tourists from Germany and Switzerland after the reopening of the airport.

They were brought by a SriLankan Airlines flight which took off from Frankfurt to Colombo on 21 January to assure a safe flight home. The Sri Lankan Ambassador in Germany Manori Unambuwa along with other officials hailed the group in Frankfurt, which was an encouragement to all German travellers to visit Sri Lanka and experience a safe and an enjoyable stay.

This visit was arranged by the Sri Lanka Embassy in Berlin in collaboration with Sri Lanka Tourism by assisting in arranging their transport facilities, and SriLankan Airlines, endorsing its initiatives by giving support to revive the hospitality sector which had seen a considerable setback due to the pandemic. The Ambassador, while appreciating the trust and confidence placed in Sri Lanka at a time the world is striving to overcome the challenges of the pandemic, wished them a safe and pleasant stay in Sri Lanka. Upon arrival in Sri Lanka, the tourists were escorted as per the new health protocols stipulated by the Government. The group was thankful and appreciated the Sri Lankan authorities and the Embassy for making their long awaited travel to Sri Lanka a reality, and for the measures set in place to make the island safe and secure for the incoming visitors.

Throughout the past few months Sri Lanka has showed its dedication and commitment to ensure the safety of travellers and the excellent health care system which the country highlights. The tourists will go through all the health guidelines initiated by the health authorities.

The Ministry of Tourism and Sri Lanka Tourism has worked very closely with the Ministry of Health and the COVID Task force in setting the guidelines and putting the protocols in place. Also, working closely with the Civil Aviation Authority, Airport and Aviation, and Department of Immigration and Emigration and with the industry stakeholders in adapting these protocols to ensure that Sri Lanka is open and open in the right way.

SriLankan Airlines has commenced flights from Frankfurt to Sri Lanka, and it is scheduled to operate two direct flights per week to enhance the tourist arrivals from Germany in time to come. The direct flights from Frankfurt to the destination are resumed by Sri Lankan Airlines after a lapse of more than four years. Being the second highest tourist arrivals market from Europe, this will be a significant point to increase businesses in German market.
The group of visitors with Ambassador for Germany Manori Unambuwa at the Frankfurt Airport