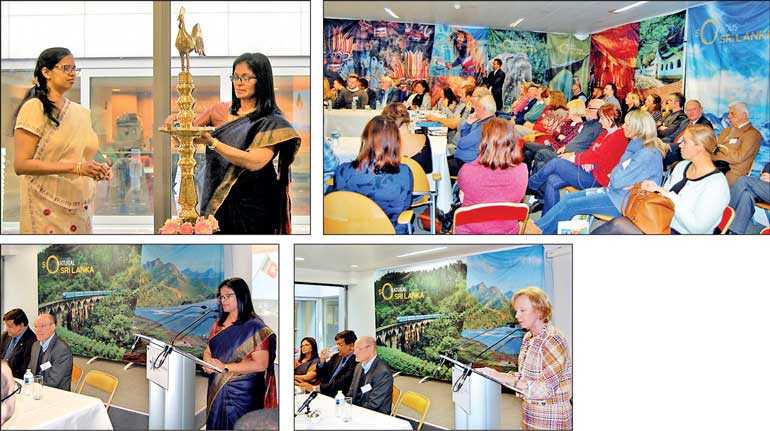 The Embassy of Sri Lanka together with the Sri Lanka Tourism Promotion Bureau organised a workshop to promote Sri Lanka as a tourism destination to Belgium travellers. The workshop was the first of three tourism workshops the Embassy has planned to host in Belgium.
The second workshop will be held in Antwerp on 28 November and in Ghent on 4 December. Most relevant and reputed members of the travel industry including tour operators, travel journalists, travel media and TV professionals, travel bloggers, social media influencers and decision makers in the Belgium tourism industry attended the event as arranged by a PR company.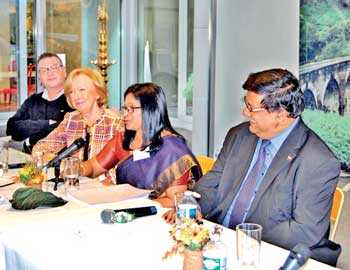 Ambassador of Sri Lanka to Belgium, the European Union and Luxembourg, Grace Asirwatham inaugurated the workshop and made a presentation with a title 'Why Sri Lanka'. Ambassador Asirwatham said that Sri Lanka is a natural tourism destination which is endowed with a diversified collection of landscapes, climates and natural features and added that Sri Lanka is becoming the leading island nation for tourism in Asia with a focus on high value segments.

While focusing on the mainstream activities such as sun and beach, historical and cultural sites and wildlife, the Ambassador explained the various aspects in niche market segments. Ambassador Asirwatham urged the tour operators to study the tour attractions both the most popular mainstream activities and niche market segments such as whale and dolphin watching, surfing, scuba diving, health and wellbeing, birds watching, pilgrimages, meetings, incentives, conventions and exhibitions (MICE), weddings, honeymoon, cruises, etc. to present information to their travel customers. Further during the workshop Sri Lanka's tourism brand identity 'So Sri Lanka' was also promoted as a global tourism marketing strategy of Sri Lanka.

Honorary Consul of Sri Lanka in Antwerp, Monique de Decker in her remarks said that Sri Lanka can offer everything that a tourist will look for and remarked that world heritage sites especially the eight sites that have been recognised by UNESCO are a representation of the unique and rich cultural heritage of Sri Lanka. Mahen Kariyawasam, Head of Andrew Travel, Johan Six and Rudy Meuws well-known Belgium travel experts and Paul Ryckaseys, Vice President of the Association of Belgium tour Operators (ABTO) also addressed the workshop sharing their experiences to create interest amongst the participants to include Sri Lanka in their list of priority countries for promotion of tourism amongst Belgium travellers.

At the end of the workshop raffle draw prizes of holiday packages in Sri Lanka were given to five participants. Sri Lankan lunch was served to the participants and the event ended with a note that the participants and the Embassy will continue to work together to promote Sri Lanka as a world class tourism destination amongst the Belgium travellers.