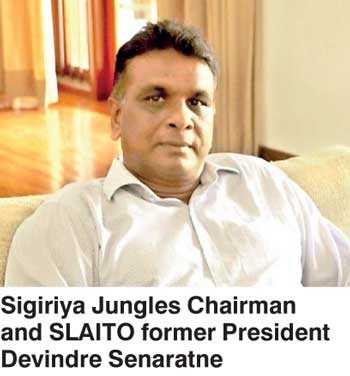 SigiriyaJungles is an eco-friendly haven situated in close proximity to the iconic rock fortress and surrounded by verdant forests. Defining elegance and serenity amid lush flora and fauna, it provides the best get-away for those who wish to rejuvenate their senses and indulge in the finer things in life.

SigiriyaJungles recently opened its new Sri Lankan restaurant – Jungle Breeze – in celebration of the 'Aluth Avurudda', Sinhala and Tamil New Year. The open concept restaurant appeals to travellers who are bound to enjoy spectacular views of the village, paddy fields and the landmark Sigiriya and Pidurangala rocks, in addition to the refreshing breeze which literally re-awakens the soul.

The expansive restaurant has the capacity to seat twenty guests on the upper deck and twenty five on the lower deck making it the ideal venue for private parties, group functions or intimate moments. While the ground floor of the 300sq feet restaurant has bar-style seating with high chairs, the upper level is tastefully designed to include a picnic table for a group of guests or cosy rattan chairs for those who prefer a more intimate discussion.

With a tantalising array of Sri Lankan cuisine for lunch and dinner, it has additional themes such as BBQ Nights, Pasta Evenings, Mexican Nights and more, to enliven the flavourful experience.

"This is a perfect hide-away in tune with nature and ideal for private gatherings with its authentic Sri Lankan experience. There's the option of enjoying a traditional 'kamatha' lunch with Sri Lankan cocktails, while the fire torches at night give the dining experience an ethereal feel," said Sigiriya Jungles Chairman and SLAITO former President Devindre Senaratne.

Most of the dishes are prepared with home-grown produce obtained from the luscious vegetable patches at SigiriyaJungles thus ensuring added freshness and succulent flavour. Encapsulating the al-fresco dining experience, the entire experience brings about an earthy 'au naturale' feel.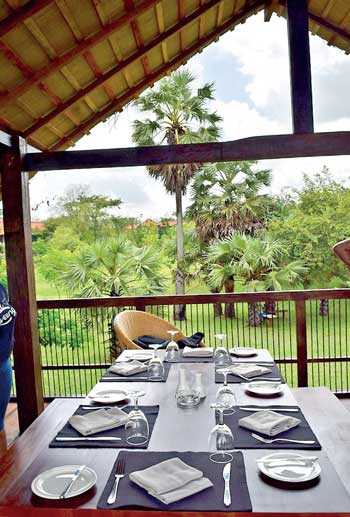 "We are truly pleased to offer an authentic Sri Lankan experience to our guests through the Jungle Breeze restaurant as it enables us to indulge them with delectable gastronomic masterpieces, warm hospitality, picturesque landscapes and panoramic views," said SigiriyaJungles Executive Chef Wasantha Jayamanna.

"Further complementing its core aspirations of giving its guests nature's best is the limitless grandeur of the sky with its ever-changing colours and stunning views of its rustic environs. The most breathtaking of all is the changing visual which occurs at every moment due to the weather patterns, the sunsets and the sunrises. This in essence is the uniqueness of 'Jungle Breeze'," added SigiriyaJungles General Manager Cyril Perera.

Committed to protecting nature, the hotel has implemented environmentally-friendly practices throughout its operations; from recycling overflow water, to harnessing natural sunlight, to cutting down on electricity consumption, re-using of waste and using of electronic buggy carts with zero-carbon emissions. In fact only environmentally friendly products are used to preserve and scrub the floors and walls. "This is our commitment towards positive hospitality. The hotel is committed to delivering memorable holidays, exceptional standards of service and journeys that keep the conservation of the planet in mind," Perera elaborated.

SigiriyaJungles continuously offers guests indulgent getaways and remains committed to delivering memorable holidays and exceptional standards of service and hospitality. The hotel features 60 lavishly furnished rooms overlooking the Sigiriya rock fortress, a stunning and unique swimming pool, vibrant outdoor spaces, locally-inspired dining and a 100ft bridge that offers breath-taking views of the Sigirya Rock.