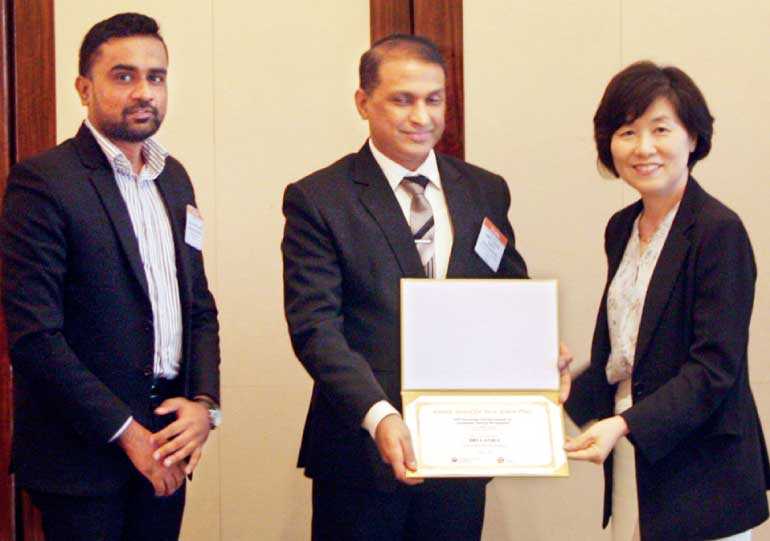 SLTDA Director Finance Sampath Ganepolaarachchi and Assistant Director Anupa Ranaweera accepting the award
Sri Lanka Tourism Development Authority's (SLTDA) action plan for Kuchchaveli won the first place for the best sustainable tourism action plan at the High-Level Policy Forum on Tourism Development 2018, organised by the Korean government and Korean Tourism Organization (KTO), in Seoul, last month.

At the forum, participants from 10 countries were asked to present their action plans on capacity building for inclusive growth in tourism in their respective countries, as part of a knowledge sharing seminar on Sustainable Tourism Development.

SLTDA's action plan for Kuchchaveli won the first place upon an evaluation based on the relevance of the project to the national tourism action plan and to overall socio-economic objectives, and its contribution to the UN Sustainable Development Goals.

Kuchchaveli is enriched with an attractive coastal topographical features and bio diversity which pave the way for many tourism opportunities in the area. The concept developed by SLTDA aims at tapping into the area's untapped potential without disrupting its authenticity, communities and their culture.

The action plan includes building a beach resort in Kuchchaveli and developing it as a model 'green resort' to give maximum benefits to the national economy while respecting the ecological, socio-cultural, and environmental sustainability in the area.

Some of the main objectives of the action plan are to generate Rs. 5.9 billion annual income, 14,000 direct and 18,000 indirect employment opportunities and to add 4,000-4,500 rooms to meet future demand.

It also benefits the communities of the Kuchchaveli area and makes them the key players in the supply chain for the upcoming hotels in Kuchchaveli. One of the successful hotels operating in the area is the 15-acre Jungle Beach Hotel by Uga Escapes which has 95% occupancy rate during the high season.

In order to generate more direct and indirect employment opportunities in the area, SLTDA has also planned a model fishing village in Kuchchaweli as 40% of the local community in the area are involved in the fisheries sector.The proposed village is expected to attract tourists seeking authentic and unique tourism experiences in Sri Lanka.

Countries from several regions including Nepal, Peru, Vietnam, Uzbekistan, Myanmar, Ethiopia, Laos, Cambodia and Mongolia took part in the Korean forum.