Tourism authorities are working towards uplifting Sri Lanka's hospitality training to world class standards through collaboration with foreign institutions.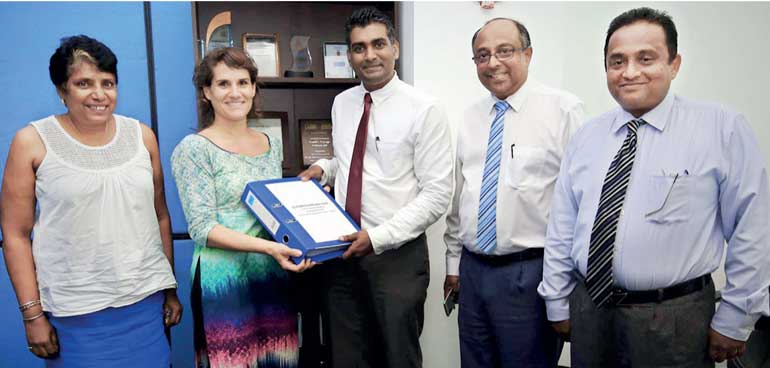 Uniterra volunteer Angela Kissel handing over the French curriculum she developed to SLITHM Director General Buddika Hewawasam
The country's premier hospitality training institution, the Sri Lanka Institute of Tourism and Hospitality Management (SLITHM) is collaborating with the World University Service of Canada in curriculum development and many other areas. WUSC is currently managing two specially designed programs in Sri Lanka in association with SLITHM, namely Advancing Specialised Skills for Economic Transformation (ASSET) and Uniterra, based on the shared values of improving quality education in the tourism sector.

SLITHM is the only state educational institution in the tourism and hospitality sector with eight schools across Sri Lanka and is committed to providing high quality education in travel and tourism by constantly adapting to the evolving needs of Sri Lanka's tourism industry. The end result is that SLITHM graduates are provided holistic training that equips them to provide the highest quality hospitality service.

In this regard WUSC and SLITHM have had an extremely fruitful partnership in developing English syllabi at the craft, certificate, intermediate and advanced levels. These syllabi not only outline high quality English language education, but are also tailored toward the real needs of Sri Lanka's tourism industry, with specific terminologies and pronunciation. In addition to English syllabi, WUSC's involvement has allowed for the development of a French syllabus at the certificate level as well as content on French wines and cuisine with proper pronunciation and terminology.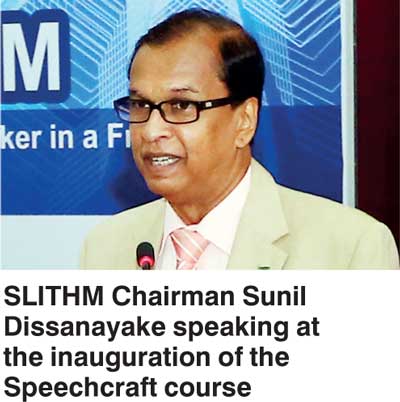 "Language skills are essential in the tourism industry. Knowledge in commonly spoken languages like English and French allow SLITHM's graduates to work much more productively by easing communication gaps between industry professionals and tourists," said SLITHM Chairman Sunil Dissanayake. Going above and beyond curriculum development, WUSC volunteers have worked with SLITHM lecturers and staff to ensure that programs are delivered in an effective manner with modern and innovative teaching methods that focus on oral and listening activities in order to create a more meaningful and dynamic learning environment.

"By both developing material and ensuring quality implementation through the provision of native English and French speaking volunteers, WUSC facilitated the creation of high quality language programs that equip students with the language skills necessary for their future careers," observed SLITHM Director General Buddika Hewawasam.

WUSC's Uniterra program has worked closely with the Koggala campus of SLITHM, sponsoring 460 students' course fees, uniforms and travel. WUSC's support for the Koggala campus has amounted to approximately Rs. 10.6 million. In order to further improve the language skills of SLITHM students, WUSC has sponsored the introduction of language learning software, DynEd, including installation and fees associated with the program. In addition, WUSC provided the relevant electronic devices needed to run the DynEd software.

In addition WUSC has contributed to SLITHM Anuradhapura through employment-based training targeting 100 unemployed youths from Puttalam district. This group was trained at craft-level in Food and Beverage, Housekeeping, and Cookery Assistance, allowing them to be employed in top-level hotels in the area.

SLITHM is also partnering WUSC's ASSET program which is focused on the shortage of skilled labour in specific sectors of the economy, including hospitality and tourism. At the Passikudah campus of SLITHM, WUSC's contribution involves working to attract individuals to programs by helping to overcome challenges. Transportation and daily costs of attending SLITHM's training programs are common challenges rural students face and are one aspect of how WUSC works with SLITHM to boost the tourism industry.

The WUSC-SLITHM partnership has also helped to solve other problems such as lack of information and language barriers. Another factor that has helped tackle many challenges has been WUSC's large regional network which SLITHM can access to promote its programs and attract new people.

Recently, through partnership with ASSET, SLITHM has been able to open the first hospitality-training institute in Jaffna. This will combat unemployment in the area and meet the growing need for highly trained hospitality and tourism professionals in the region.

By taking down barriers to education in the tourism industry and aiding in creating awareness regarding the industry, WUSC and SLITHM are working towards growing Sri Lanka's tourism sector as a whole, which is now a vital sector in the Sri Lankan economy.
SLITHM ties-up with Toastmasters International

In a move that would further raise its profile, SLITHM has teamed up with Toastmasters International to enable its students to develop speech craft and presentation skills. The Toastmasters Club of SLITHM was inaugurated last week by SLITHM Chairman Sunil Dissanayake and District Director DTM Ajantha Jayawardena.

Speaking on the occasion Chairman Dissanayake noted that unlike other social clubs, the newly established club will focus on personal development, especially public speaking skills. He said that SLITHM students would immensely benefit from the new venture as their roles involved public interaction and effective communication. "It is up to the students to make full use of this opportunity provided to them and develop their soft skills which will help build confidence," he said.

SLITHM Director General Buddika Hewawasam noted that communication was key to the success of the tourism industry. "Tourism needs skilled communicators and competent speakers, especially in frontline positions. This program will help our students to become effective communicators."