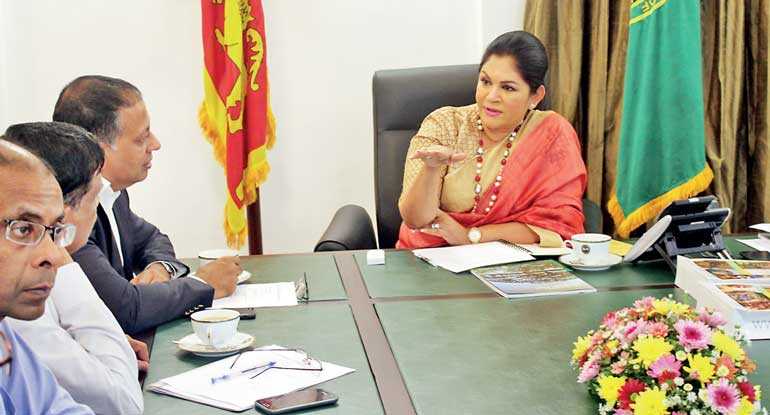 A delegation from the Sri Lanka Tourism Development Authority, headed by its Chairman Kavan Ratnayaka, held a discussion with Colombo's new mayor Rosy Senanayake on revitalising tourism-related sectors in the commercial capital.

The meeting was initiated by Senanayake as part of a larger plan for Colombo city development.

During the meeting both parties agreed to develop Colombo Fort as a major tourist attraction in the city. Senanayake said the Colombo Fort area, with its iconic heritage buildings and newly-established hotels and restaurants, had immense potential to boost the tourism industry.

She also stated that relatively fresh concepts such as theme parks should be incorporated into Colombo's tourism development plan.

"Most tourists who visit Sri Lanka only pass over Colombo without spending a night or two in the capital city. We want to turn Colombo into a vibrant place where every tourist visiting Sri Lanka will spend a couple of nights - with good food, shopping and entertainment activities," said SLTDA Chairman Kavan Ratnayaka, appreciating the Mayor's interest in the tourism sector.

The SLTDA Chairman also added the importance of a comprehensive approach from all sides - ranging from top government ministries to garbage collectors on the streets - to uplift the tourism sector as the industry was well-positioned to become the country's largest forex generator by 2020. The tourism authorities also stressed the need for attracting new investments to develop tourism-related industries in Colombo, especially hospitality. Senanayake said they, as the municipal authorities, would walk an extra mile to encourage such projects and facilitate their implementation.

The two parties also agreed that domestic tourism was another important segment that would drive up and support economic activities in Colombo.

The SLTDA and the Colombo Municipal Council (CMC) pledged to mutually cooperate for tourism development in Colombo and engage in a continuous dialogue on the ongoing projects concerning the industry.