DOHA, Qatar: Qatar Airways' first non-stop flight from Doha landed on Monday at Václav Havel Airport Prague, inaugurating the award-winning airline's first-ever passenger service to the Czech Republic. Qatar Airways flight QR 291, operated by an Airbus A320, departed Hamad International Airport on Monday at 08:00 am and arrived at Václav Havel Airport Prague ahead of schedule at 12:50 pm.

Qatar Airways Group Chief Executive Akbar Al Baker travelled on board the inaugural flight with the Czech Republic's Ambassador to Qatar Martin Vítek, and was greeted by Vaclav Rehor, Chairman of the Board of Directors of Prague Airport; Pavel Klucky, Director of Department of Near East Area, Ministry of Foreign Affairs and Ms. Monika Palatkova, General Manager of Czech Tourism.

Prague, widely recognised as one of the world's most beautiful cities, is known for its striking medieval architecture and old-world ambiance. This picturesque Bohemian city offers visitors a wealth of choice of activities, from walking the cobbled streets of the old city to enjoying Prague's rich tradition of café culture.

Akbar Al Baker said: "We are delighted to launch daily service to Prague, a long-anticipated addition to our global route network. This exquisite European city will be an extremely popular destination for both business and leisure travellers, providing our passengers the opportunity to experience the unique beauty of the city. The launch of this new service comes at a time when we are expanding our presence in Eastern Europe, as part of our efforts to extend our reach globally. We are tremendously excited to be able to provide passengers the opportunity to visit this magnificent city."

Vaclav Rehor, Chairman of the Board of Directors of Prague Airport, said: "The proposed schedule, at two different times of operations, will support connections within the carrier's network via Doha to Asian and Australian routes. We expect that passengers coming from Prague will be most interested in the connecting flights to Bali, Bangkok, Colombo, Tokyo, Kuala Lumpur, Singapore, Ho Chi Minh City, Kuwait, Hong Kong, Delhi and Sydney. Czech passengers can look forward to a wider selection of available flights to Asia and Australia and also to comfortable connections to a number of other destinations, such as Windhoek (Namibia), Kilimanjaro (Tanzania), Zanzibar (Tanzania) and Salalah (Oman)."

As part of its rapid expansion strategy in Eastern Europe, the award-winning airline recently launched direct service to Skopje, with service to Kyiv, Ukraine, also to commence this month.

Qatar Airways will operate its daily Prague service with an Airbus A320 aircraft, which features 12 seats in Business Class and 120 seats in Economy Class.

Qatar Airways Cargo commenced freighter operations to Prague, Czech Republic, a growing trade market in Eastern Europe, in March 2016. The airline's cargo division currently operates three times weekly Airbus A330 freighters from Doha to Prague via Budapest, providing 180 tonnes of cargo capacity. Prague is a major gateway into Eastern Europe from Asia for electronics and automotive parts, as well as textiles, pharmaceuticals and biotech products. The introduction of daily passenger flights to and from Prague will inject additional bellyhold freight capacity on the route, connecting local businesses to the carrier's extensive cargo network via its state-of-the-art Doha hub.

Qatar Airways will be adding many more exciting destinations to its network in 2017 and 2018, including Abidjan, Ivory Coast; Accra, Ghana; Canberra, Australia; Chiang Mai, Thailand; Utapao, Thailand; Chittagong, Bangladesh; and Mombasa, Kenya, to name a few.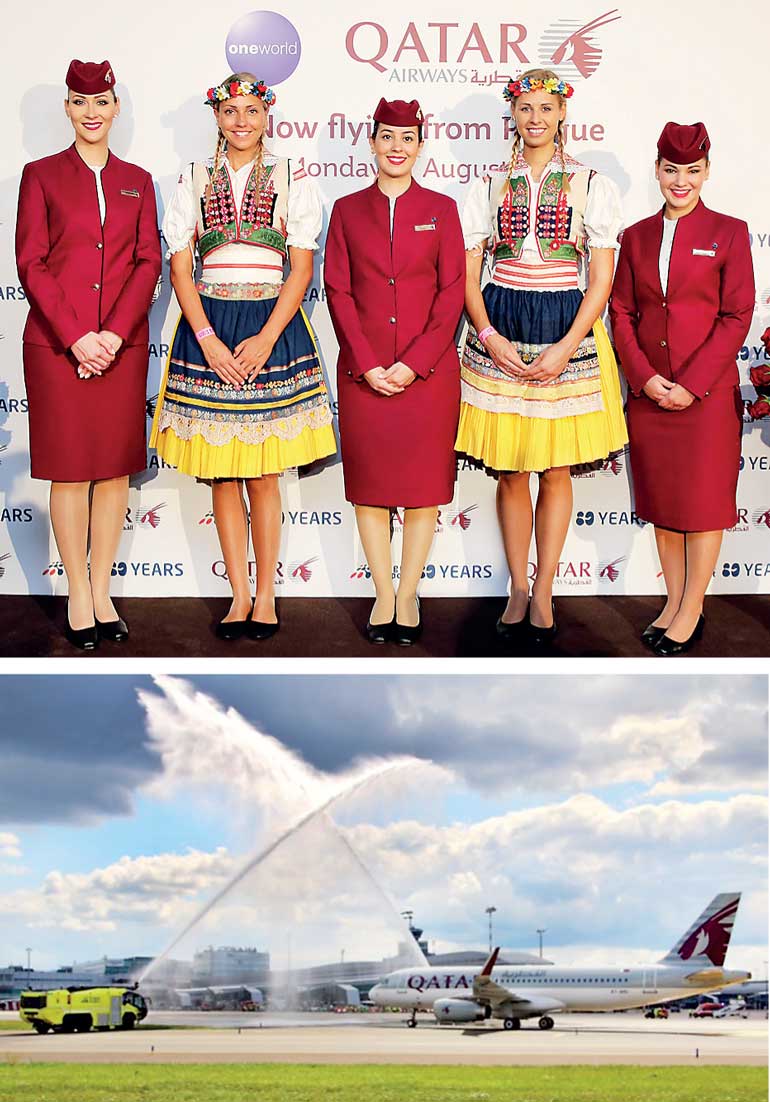 The national carrier of the State of Qatar, Qatar Airways is one of the fastest-growing airlines operating one of the youngest fleets in the world. Now in its 20th year of operations, Qatar Airways has a modern fleet of 200 aircraft flying to business and leisure destinations across six continents.

The award-winning airline has received a number of accolades this year, including Airline of the Year by the prestigious 2017 Skytrax World Airline Awards, held at the Paris Air Show. This is the fourth time that Qatar Airways has been given this global recognition as the world's best airline. In addition to being voted Best Airline by travellers from around the world, Qatar's national carrier also won a raft of other major awards at the ceremony, including Best Airline in the Middle East, World's Best Business Class and World's Best First Class Airline Lounge.