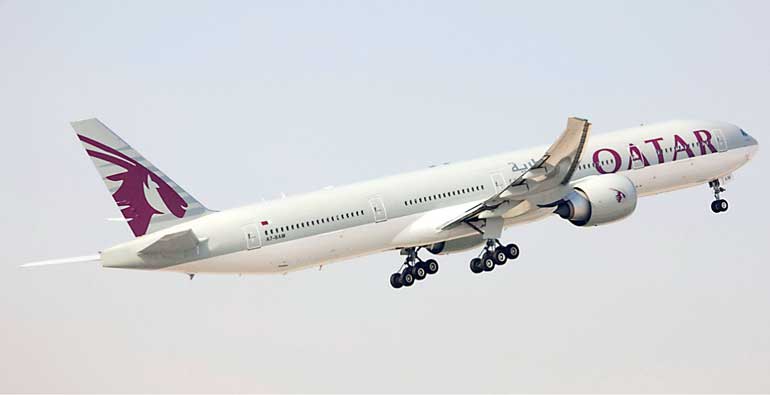 Qatar Airways invites passengers to take advantage of its latest 'two seats, one great offer' sales campaign, providing First and Business Class passengers a special discount when booking two seats together.

This exciting new promotion will allow both leisure and business travellers to plan their next trip with family, friends or colleagues to any destination on Qatar Airways' extensive global network, where they can enjoy up to 50% discounts when booking flights on board its award-winning First and Business Class cabins. Special discounts on individual fares are also available.

Qatar Airways Chief Commercial Officer Ehab Amin said: "We are delighted to launch this unique companion campaign, providing our valued passengers a special discount when booking two seats together. Family, friends and colleagues will be now able to enjoy our renowned five-star service with this special offer to many exciting destinations, including cities recently added to our network such as Nice, Prague, and Dublin."

Passengers will be able to enjoy the renowned five-star service onboard Qatar Airways' First and Business Class cabins, with up to 50% discounts when booking from 9-16 October, with travel validity until 31 May 2018.

Earlier this year, Qatar Airways launched its groundbreaking new Business Class seat, Qsuite, featuring the industry's first-ever double bed available in Business Class, with privacy panels that stow away, allowing passengers in adjoining seats to create their own private room. Adjustable panels and movable TV monitors on the centre four seats allow colleagues, friends or families travelling together to transform their space into a private suite, allowing them to work, dine and socialise together. These new features provide the ultimate customisable travel experience that enables passengers to create an environment that suits their own unique needs.

Last month Qatar Airways introduced a new premium global chauffeur service for passengers, offering door-to-door seamless transfers. There have also been continuing enhancements to the airline's in-flight catering, with a new bespoke Pre-Select Dining service for its First and Business Class passengers, giving them even more choice and freedom to create a personalised à la carte dining experience every time they travel on long-haul flights from Doha. Qatari locally-smoked salmon has also been introduced as a fresh new ingredient for First and Business Class dining.

The award-winning airline has received a number of major accolades this year, including Airline of the Year at the prestigious 2017 Skytrax World Airline Awards, which was held at the Paris Air Show. This is the fourth time that Qatar Airways has been given this global recognition. Qatar's national carrier also won a raft of other major awards at the Skytrax ceremony, including 'Best Airline in the Middle East', 'World's Best Business Class' and 'World's Best First Class Airline Lounge'.

Qatar Airways operates a modern fleet of 200 aircraft to a network of more than 150 key business and leisure destinations across Europe, the Middle East, Africa, Asia Pacific, North America and South America. The airline is launching a host of exciting new destinations during the remainder of this year and 2018, including Canberra, Australia; Chiang Mai, Thailand and Cardiff, UK, to name just a few.

To learn more about Qatar Airways destinations and promotions, please visit qatarairways.com.qa.