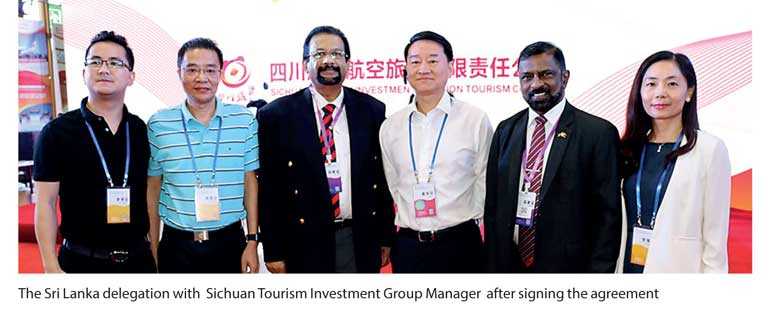 Sichuan International Travel Expo 2018 was conducted recently in Emeishan City in Leshan, Sichuan Province, China with the participation of nearly 45 countries. This was the fourth edition of the Travel Expo and was devoted for building a professional tourism exhibition brand in Sichuan province.

The main theme of this year's Travel Expo was "Better Life Leading Quality Tourism". There were many opportunities to promote in-bound as well as outbound tourism to and from China to the rest of the world. 31 provinces in China participated in this Expo displaying their tourism products. There were one-to-one meetings and trade negotiations with many buyers and sellers.

The Pathfinder Foundation, on the invitation of Leshan Municipal Government conducted a Sri Lankan delegation consisted of its Director Admiral Prof. Jayanath Colombage and Director of Lanka Grand Paradise Tours Ltd. Amal Senalankadhikara. The Sri Lanka delegation conducted many rounds of discussion and promoted Sri Lanka as a high-end tourist destination and a place for Buddhist pilgrimage. Sri Lanka Tourist Board supported this endeavour by providing high quality travel brochures depicting various aspects of Sri Lanka's main attractions in Chinese language with a view to attract more Chinese tourists to visit Sri Lanka.

The possibility of exploring Sri Lankan tourists to visit the city of Leshan, where the 71-meter-high Giant Buddha is located and Mount Emei, one of the four most sacred Buddhist mountains in China, which is home for the world's highest Samanthabadra Buddha statue and a UNESCO heritage site, was also explored during these discussions.

The Sri Lankan delegation signed a 'Strategic Cooperation agreement with Sichuan China Youth Travel Services Co ltd, China and Lanka Grand Paradise Tours, Sri Lanka, to promote tourism between the two countries. Sichuan Youth Travel Service has been one of the top 100 international travel agencies for eight consecutive years since year 2003. It is also the top agency among the five travel agencies supported by Sichuan Provincial People's Government.

Lanka Grand Paradise Tours focuses on providing a full range of Sri Lankan tourism project solutions for enterprises and organisations around the world, providing exceptional tourism management services for visitors and business people to Sri Lanka. The Sri Lankan delegation also promoted Sri Lankan tea and natural precious gems during this travel Expo.