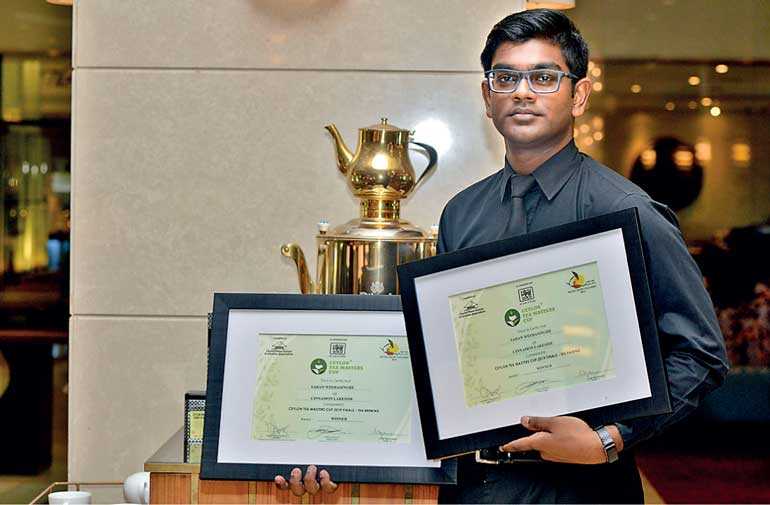 Sahan with his awards for All Island Tea Brewing and Tea Pairing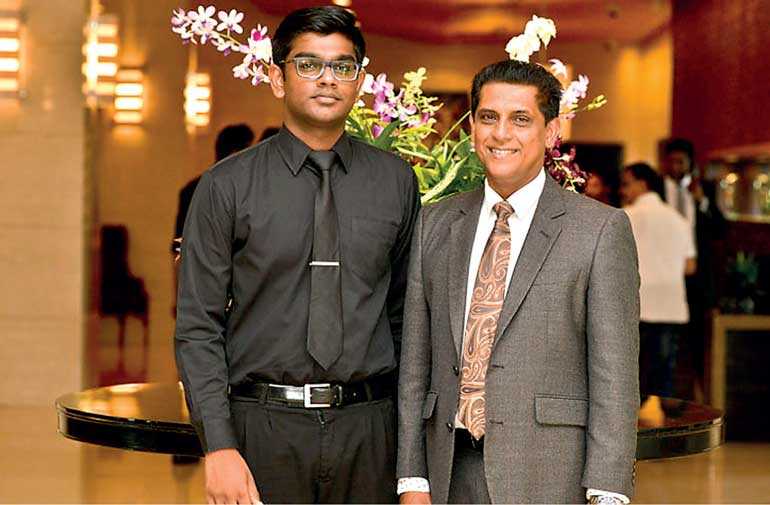 Sahan with Rohan Ferndandopulle – General Manager Cinnamon Lakeside, Head of Food and Beverage/Culinary – Cinnamon Hotels & Resorts and Vice President John Keells Holdings
---
Sahan Weerasinghe from Cinnamon Lakeside to represent Sri Lanka at the World Tea Masters Championship
For Sahan Weerasinghe, mixology is an extension of his other true love – music. This young lad, just 24 years of age, is blazing a fine trail of enthusiastic creativity in the field of mixology, and his latest achievement? Winning two coveted main category awards at the finals of the Ceylon Tea Masters Cup Competition held on 17 September at Hilton Colombo. This year's competition was conducted under three main categories and Sahan, representing Cinnamon Lakeside Colombo, won two of the most coveted awards; All Island Tea Brewing and Tea Pairing.

The son of a hotelier, Sahan was raised in Bahrain. He went to Hotel School in Sri Lanka and says that he always brings in a Sri Lankan element to his creations, conducting extensive research before finalising them.

"For the Ceylon Tea Masters Cup I drew inspiration from my grandmother. I used tea grown in Ruhuna, because she is from Matara. My tea was made without a tea cup or a tea pot and I made a cup of tea for myself as well at the competition, in honour of her," he says with a smile. He pointed out that he usually takes a few boxes of odds and ends he might need for every competition and in this one, he even made use of cocktail umbrellas for the drinks because of the rain!

Sahan, who plays the guitar and drums as a hobby and was a member of a teen band in his school days says most of his creations have a link to music (either a singer's name, song or associated fact). "It's all about the medium you choose to tell the story," he states, adding that he finds inspiration for his creations in everyday life, and keeps a notebook within arm's reach at all times, to jot down his ideas. "I have a notebook next to my bed, at the bar, in the locker room at the hotel, in fact, I still have my first notebook from my hotel school days."

Rohan Ferndandopulle – General Manager Cinnamon Lakeside, Head of Food and Beverage/Culinary – Cinnamon Hotels & Resorts and Vice President John Keells Holdings, displays a fatherly pride in his young protégé's achievements.

"My association with him goes back a few years, when I spotted him in action during a competition at the Hotel School and just by talking to him, I knew he had great potential. Since then he has proved to be a worthy young man, who is keen to undertake challenges and explore new methods in a methodical, well-researched manner."

Sahan too has only words of appreciation about the person he calls his 'ultimate mentor' and believes hard work and good luck have played an equal part in his journey so far.

"I am indeed fortunate to have had these opportunities to showcase my talents and do what I enjoy doing. Having the support, guidance and assistance from our general manager has meant that I am given the chance to explore new avenues of inventiveness."

Sahan Weerasinghe will be representing Sri Lanka at the World Tea Masters Championship to be held in China later this year.

30 hotels participated at the Sri Lanka event, which was a country competition to choose the representative for the World Tea Masters Championship. This competition is held to raise the prestige of careers in the industry and to create demanding roles for Tea Masters while fostering development of the cultural traditions involving tea consumption.

The Ceylon Tea Masters Cup provides a platform for talented mixologists to be recognised, showcase their skills, talents and creativity, both locally and internationally. Dedicated to industry professionals, the Ceylon Tea Masters Cup is a tea brewing competition and a part of the prestigious Hotel Show Colombo.