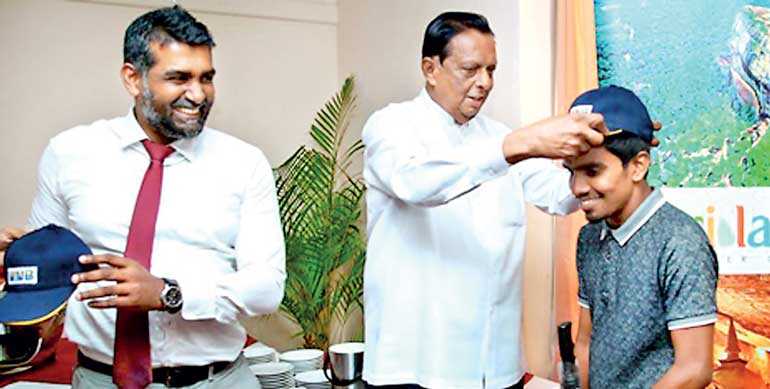 The first batch of Jaffna students who completed their apprentice program conducted by the Sri Lanka Institute of Tourism and Hotel Management (SLITHM) were in Colombo, last week, for a familiarisation visit.

During the three-day visit, they had a meeting with Tourism Development and Christian Affairs Minister John Amaratunga and exchanged their ideas with the Minister. As part of this program, they visited major hotels in Colombo to gather experience and also took part in entertainment activities.

This comes against the backdrop of the SLITHM's grand plan for the district of Jaffna, which includes the setting up of a new hotel school in the area, in August. The apprentice program, launched in December, last year, is a precursor to the new hotel school which will further strengthen the booming hospitality industry in the peninsula.

"A familiarisation visit of this nature will expose them to the vibrant hospitality industry in Colombo and encourage them to explore career paths more ambitiously. Jaffna is becoming a hive of activity as far as the hospitality industry is concerned and many major hospitality companies in Colombo are in the process of setting up their operations in Jaffna. That will open up immense career opportunities for them even in their hometown," SLITHM Director General Buddhika Hewawasam said.

Hewawasam also said that these students visited Colombo following an invitation extended by the Minister during the latter's recent visit to Jaffna.

"Some of these students have never visited Colombo before. They were highly excited to witness places like Shangri-la Hotel Colombo, Hilton and Jetwing Colombo 07. The hotels went out of their way to facilitate the program and supported the initiative wholeheartedly. It was a refreshing experience for Colombo's hospitality industry as well as they got to interact with this group coming from an area where there is a booming hospitality market," he added.

"Our institution," he said, "fully facilitated the visit, provided accommodation and guided them through the familiarisation program. We received very positive feedback from them."

"Another important aspect of this program is that it is not restricted to the Jaffna town. It is designed to cover the whole of Jaffna peninsula including areas such as Vavuniya, Killinochchi and Mullaituvu. There were some instances where students from the Eastern province too attended our sessions. So, this is aimed at tapping into the untapped potential of the Northern province," Hewawasam stated, adding that more students from Jaffna will visit Colombo in the future. He said the other major hotels in Colombo will also be included in this program.

Livinton, a 20 year student from Jaffna and a member of the delegation, said the experience was of great value to his team.

"It gave me a purpose and an ambition about my career path. At the same time, it gave me great insight into how the hospitality industry in Colombo operates. Personally, to me, it was a great learning experience as I am planning on going overseas to pursue a career in the hospitality industry," he added.

Puricika Premakumar, a 22 year old student from Jaffna said her objective was to work in the country's commercial capital one day. Although she is aware of her opportunities in Jaffna, Puricika says the idea of working in a top hotel in Colombo excites her.

Many students who took part in the familiarisation visit opined that the parents in Jaffna should have no qualms about sending their children to the hospitality industry as it is a sector with immense potential.

They said the familiarisation visit was a good opportunity for them to convey a positive message to their own community.