Chef Rubio with the chief participants of the event

During the panel discussion
Sri Lanka Tourism Promotions Bureau warmly welcomed Italian celebrity chef Gabriele Rubini, aka Chef Rubio, who landed in Sri Lanka recently. Chef Rubio arrived in Sri Lanka upon a special invitation extended by the Embassy of Italy in Colombo, to participate at the forum on Mediterranean Diet, which was held on 16 October at the Shangri-La Hotel, with the participation of the Chef's Guild of Sri Lanka and renowned personalities of the culinary industry of Sri Lanka.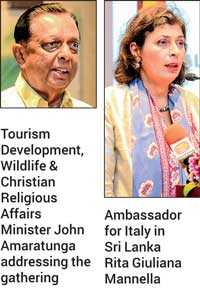 The Embassy of Italy in Sri Lanka, in collaboration with Sri Lanka Tourism Promotion Bureau, and the Ministry of Tourism, hosted the event in order to celebrate World Food Day, which is celebrated all across the globe on 16 October.

The event started with the welcome speech of Ambassador of Italy to Sri Lanka and Maldives Rita Giuliana Mannella. ''I would like to express my sincere thanks to Chef Rubio, and also the Minister of Tourism Development, Wildlife & Christian Religious Affairs John Amaratunga and also his Ministry, who co-sponsored this initiative. We are really proud of this event and we believe it's an interesting way to share our experience."



Along with Chef Rubio's participation, the aim of the Embassy of Italy in Colombo was to draw attention to the advantages of the Mediterranean diet, which was 'discovered' in the '70s by an American scientist, Ancel Keys, who noticed a very low incidence of coronary disease among the inhabitants of some Italian and Greek towns, and put forward the hypothesis that this was due to the type of diet that is representative of this geographical area. Following this observation, the famous research "Seven Countries Study" began, based on the comparison of dietary regimes of 12,000 people, aged between 40 and 59, in seven countries (Finland, Japan, Greece, Italy, Holland, United States and Yugoslavia). Research has since shown that the traditional Mediterranean diet has proved to be a fundamental factor in lowering the risk of non-communicable diseases as part of a healthy lifestyle.

During his speech, Minister of Tourism Development, Wildlife & Christian Religious Affairs John Amaratunga said that in the good old days, we had many tourists coming from Italy, France, UK, and Germany as they were among our top markets for the destination. He further mentioned that the Hotel School with competent staff is all geared up to train young people in order to meet the requirements of the tourists.

The event consisted of an interesting panel discussion among the guest invitees, who discussed the health benefits, hygiene and the necessity of following a light diet and eating healthy food, followed by a Q&A session. The panel discussion was attended by Chef Rubio, Chef's Guild of Sri Lanka President Chef Gerard Mendis, Dr. Renuka Jayatissa from the Ministry of Health, Sri Lanka Institute of Tourism and Hotel Management (SLITHM) Senior Lecturer (Culinary) Nishantha Kulathunga, and moderated by Kumar Mirchandani. A large number of participants along with media attended the event, and it had an interesting vibe, especially with the lively and active feedback from the celebrity Italian chef. He expressed how excited he is to be in Sri Lanka and explore the wide diversity of Sri Lankan cuisine. He also visited Anuradhapura, and joined a local family in their cooking and videoed a short film on the occasion. The video was shown to the audience on a large screen. This was a result of the world premiere screening of ''Recipes 4 change ''a project funded by IFAD, the UN Bank in charge of the promotion of rural development.

During his interview with guest moderator Kumar Mirchandani, Chef Rubio said, "I was amazed to see so much love, passion, and the humbleness of the rural family with whom I associated. It's really interesting to know people who know and feel how hard it is to work in the field and how beautiful is to have a great bond between each other.'' He also mentioned about the new Sinhala words which he found very interesting. Later on, a souvenir was presented to him by the Sri Lanka Tourism Promotion Bureau (SLTPB), which was handed over by SLTPB Managing Director Charmarie Maelge, as well as a recipe book on Sri Lankan cuisine, presented to him by SLITHM Chairman Dilip De Silva.

As a highly acclaimed celebrity, Chef Rubio has a substantial social media base on all kinds of media platforms. He has a circle of 700,000,000 followers on Facebook, Instagram and other social media. Usually he receives 10,000 – 20,000 likes for his posts on publishing. He has won several accolades for his culinary expertise work, which makes him one of the most popular Italian celebrities on the web. The awards include "The Best Chef" at the Macchianera Italian Awards 2014, The "Tweet Award" in Bologna 2014, as the "most popular Chef" of the Italian Twitter food community, Winner of the "Italia a Tavola" contest, a prize given to the Chef who best represents Italian cuisine, 2016, and the International Taste DiVino Award, 2016.