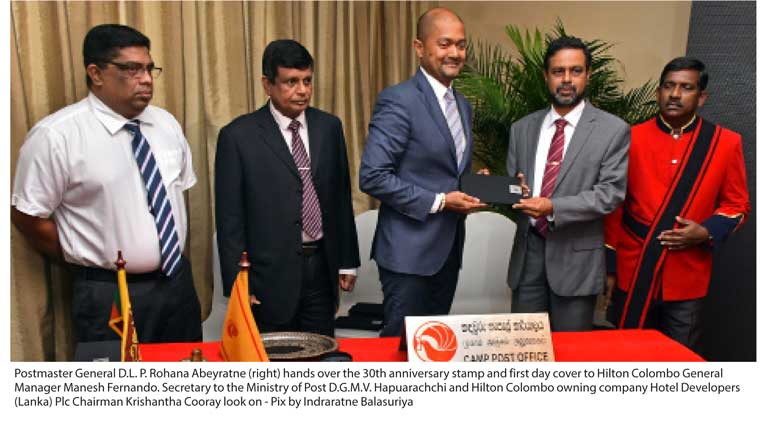 Unveils new logo, commemorative stamp, first-day cover
Recognises 20 employees for their invaluable contribution during past three decades
Promises to deliver best standards, experiences and dedicated services to bolster Lankan hospitality industry
Optimistic of taking its brand, hospitality and promise to the whole of SL
By Charumini de Silva

Having endured a challenging journey, Hilton Colombo commemorated its 30th anniversary in the Sri Lankan hospitality industry, while reiterating its high expectations to take its brand, hospitality and promise to the whole of Sri Lanka.

To mark this milestone, Hilton Colombo yesterday unveiled a new logo, commemorative stamp and first-day cover while announcing a host of special events for a 365-day celebration plan.

Hilton Colombo holding company Hotel Developers (Lanka) Plc Chairman Krishantha Cooray told the Daily FT: "As we celebrate our 30th anniversary and as we look back on those 30 years, there are some simple facts we should remember. First of all, we have been successful in good times and bad, we have faced many challenges and we have come through. Sometimes it's not how hard you can hit but how hard you can get hit that matters. Hilton Colombo will always remain in the hearts and minds of the people of this country because it has been there before the war, during the war and after the war, and has never failed to deliver anything less than excellence in service."

Commenting on the hotel's milestone, Hilton Colombo General Manager Manesh Fernando said: "Hilton has touched the lives of many Sri Lankans. Celebrating 30 years cannot be done in a day, so we have decided on a line-up of events to go right throughout the next one year."

Noting that Hilton was currently limited to Colombo, he said they would expand into all tourist populated cities and beyond.

"We hope to take our brand, our hospitality and our promise to the whole of Sri Lanka in the next two to three years. Hilton is a part of everyone's mind from Jaffna and Dondra to Colombo and Batticaloa," Fernando stated.

In April this year, Hilton inked six management agreements with Melwa Hotels and Resorts Ltd. to manage three Hilton Hotels and Resorts and three DoubleTree by Hilton properties in Sri Lanka. The properties unveiled will be Hilton Kandy Resort (150 rooms), Hilton Yala Resort and Spa (42 rooms), Hilton Kosgoda Resort (200 rooms), DoubleTree by Hilton Nuwara Eliya (96 rooms), DoubleTree by Hilton Negombo (96 rooms) and DoubleTree by Hilton Colombo International Airport (200 rooms).

The Hilton Colombo's journey since its origins in 1987 has proven to be a successful one with the hotel accomplishing many feats while revolutionised the Sri Lankan hospitality industry.

According to him, over 10,000 couples have been married at Hilton Colombo, while 15,000 to 20,000 Sri Lankans have attended the Hilton Hotel School.

Hilton Colombo also acknowledged 20 employees for their invaluable contribution to the continuous growth of the hotel during the past three decades.

With Hilton Worldwide celebrating 100 years in 2019, Fernando stressed that Hilton Colombo would continue to deliver the best standards and experiences to their guests and look forward to many more years of dedicated service to bolster the Sri Lankan hospitality industry.

The hotel offers a range of cuisine from award-winning local chefs while also inviting world-class chefs into the hotel's kitchen, allowing guests to indulge in the world's finest cuisines. Additionally, it has introduced new concepts and events that have changed the hospitality industry through the years in Sri Lanka. From inaugural balls and award galas to business events, Hilton Colombo continues to uphold the standards of the flagship brand of Hilton Worldwide, continuing to build upon its legacy.

With more than 570 locations across six continents, Hilton provides an authentic and contemporary experience for its guests worldwide. As the flagship brand of Hilton, Hilton Hotels and Resorts continues to set the standard for hospitality, providing new product innovations and services to meet guests' evolving needs. It also supports global sustainability in many ways.