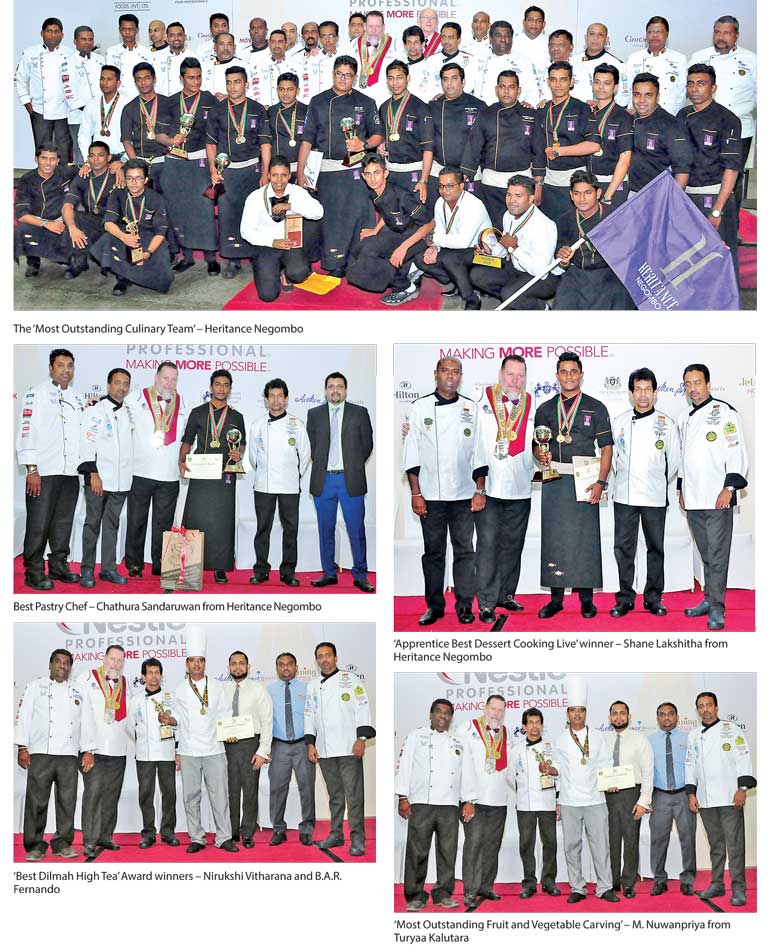 Aitken Spence hotels bag an impressive 138 medals in total
Belle of the northern west coast of Sri Lanka, Heritance Negombo won the coveted 'Most Outstanding Culinary Team' award, showcasing its excellence in the art of gastronomy at the recently-concluded Culinary Art Food Expo 2017 organised by the Chefs' Guild of Lanka.

Part of the Aitken Spence Hotels chain, Heritance Negombo since its relaunch in April last year, fast gained a reputation as a provider of extraordinary indulgences that exceed customer satisfaction. The win, as such, is a reinforcement of the Hotel's promise to constantly innovate and present diverse concepts to entice palates. This is also the fourth consecutive win of the 'Most Outstanding Culinary Team' by the group of hotels.

Taking home 14 Gold, five Silver and 10 Bronze medals, totaling 29, Heritance Negombo's kitchen brigade also secured several individual awards. Hotel's Shane Lakshitha was awarded the 'Apprentice Best Dessert Cooking Live', while Chathura Sandaruwan won 'Best Pastry Chef' and, duo Nirukshi Vitharana and B.A.R. Fernando won 'Best Dilmah High Tea' Award.

M. Nuwanpriya from Turyaa Kalutara was accoladed for 'Most Outstanding Fruit and Vegetable Carving' as well.

Group's Heritance Ahungalla was accoladed as the 'Most Outstanding Regional Hotel Team', proudly presenting 27 medals including four Golds, nine Silvers and 14 Bronze.

As a group, Aitken Spence Hotels bagged an impressive 138 medals with 31 Gold, 40 Silver and 67 Bronze medals. World renowned for their extraordinary cuisine and skills in the kitchen, Aitken Spence Hotels' multiple wins showcases the Group's excellence to provide the very best in hospitality services with special emphasis on tantalizing senses through taste.

As a property, Heritance Kandalama bagged the largest number of awards totaling 34, with eight Golds, 10 Silvers and 16 Bronze. Alongside Heritance Negambo and Ahungalla, Turyaa Kalutara managed to hold 23 medals, while Earls Regency, Hilltop Hotel, Heritance Tea Factory and Heritance Ayurveda Maha Gedara also contributed to the count.

After three days of intense competition alongside 160 competing hotels in Sri Lanka and judged by a panel of international chefs, Aitken Spence Hotels noted their elation at the wins and the ability to showcase their culinary prowess at the 17th edition of what is known as the biggest culinary exhibition in Asia affiliated to the World Association of Chefs' Societies (WACS).