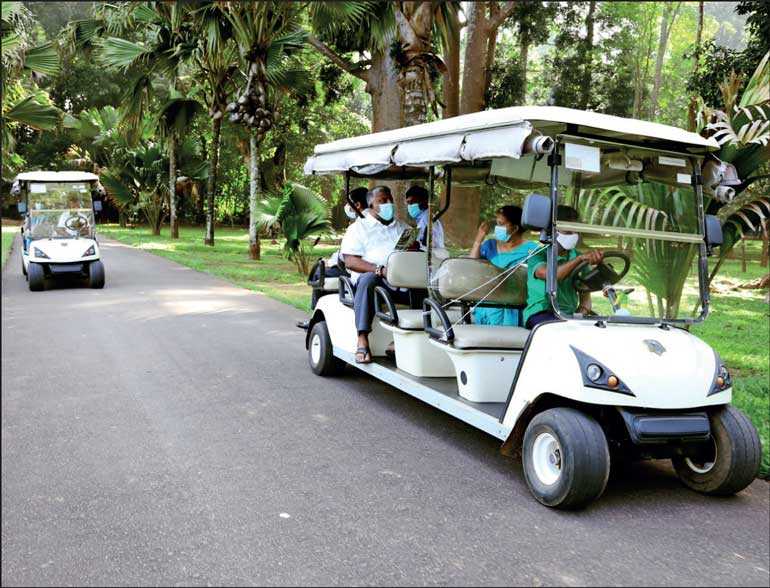 ---
The Government has decided to promote the Royal Botanic Gardens in Peradeniya as a key tourist attraction for both local and foreign tourist attraction, whilst also expecting to develop other gardens throughout the island in an eco-friendly manner.

Tourism Minister Prasanna Ranatunga said that a number of special programs are planned to be implemented this year for this purpose.

He made these remarks during an inspection tour of the Royal Botanic Gardens in Peradeniya last week.

Statistics show that before the COVID pandemic, about two million local and foreign tourists visited the botanical garden annually. The Royal Botanic Garden in Peradeniya is the largest botanical garden in the country and it is located at an elevation of 460 meters above sea level.

Sri Lanka›s first 'tea plant' has also been planted in The Royal Botanic Garden in Peradeniya. This garden is famous for its orchid species. There are over 4,000 species of plants which include herbs, spices and palm trees are found in this botanical garden.

The Royal Botanic Garden in Peradeniya is considered to be the site of the royal court of King Wickramabahu III, it was converted into a Botanic Garden in 1821.

The Minister also instructed the National Botanic Gardens Department to implement programs to promote botanic gardens throughout the island as local and foreign tourist attractions, while instructing to immediately launch a program to reach out to floriculture growers in the country to expand the reach of the already launched 'Suwahas Mal' florist project .

During his visit, the Minister also inquired about the procedures followed by foreign tourists and National Botanic Gardens Department Deputy Director stated that necessary steps have been taken to prevent foreign tourists from interacting with local tourists during their visit. She also said that two groups of tourists from Ukraine had recently visited the gardens in Peradeniya.

The Minister said there are plans to construct a car park in front of the Royal Botanic Garden in Peradeniya in collaboration with the Kandy Municipal Council.