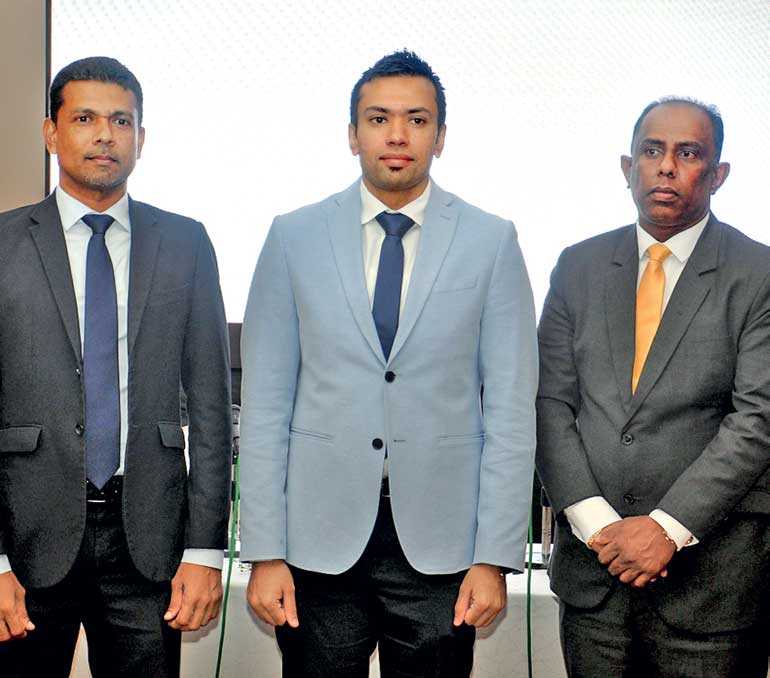 From left: Golden Hospitality Group Sales and Marketing Director Sujith Aiyasingle, Golden Hospitality Group MD Chanaka Wijekoon and Golden Ridge Hotel GM Lakshman Silva - Pic by Ruwan Walpola
On a five acre ridge high above the Nuwara Eliya-Kandy Road sits The Golden Ridge Hotel, a 65 room, super luxury, five-star boutique hotel, located on five acres of landscaped gardens in the environs of Bambarakele; the latest offering from the Golden Hospitality Group of Hotels who brought you the Golden Crown Hotel last year, already an icon in Kandy.

Designed by Chartered Architects Dr. Upendra Rajapaksha and Ananda Herath, The Golden Ridge will have its grand opening in December this year and is tipped to become the 'piece de resistance' of Nuwara Eliya.

The Golden Hospitality Group Chairman Sriyananda Wijekoon said it was his intention to establish The Golden Ridge as the 'must go to' destination in Nuwara Eliya. "I envisage The Golden Ridge restoring Little England to its former glory days, when service was an art and hospitality came from the heart."

An investment of $ 11 million, The Golden Ridge Hotel has a 100 staff members of whom 60 are from the surrounding area, thus living up to Sriyananda's promise of helping the people of Nuwara Eliya prosper and obtain employment and training.

Heading the team at The Golden Ridge is Manager Lakshman Silva who counts over 25 years in the hospitality industry having worked at the Mount Lavinia Hotel, Taj Samudra and Eden Resort and Spa in Sri Lanka, while he has also worked at the Dubai Grand and Le Meridien Dubai. On his return to Sri Lanka, Lakshman joined the Grand Hotel Nuwara Eliya.

The accommodation at The Golden Ridge comprises of a unique offering in that 6 rooms constitute a bungalow, aptly titled The Golden Villa. "This is a luxurious colonial type bungalow with an impressive 145-year-old history. All rooms are complete with traditional wood fireplaces, personal butlers who will cater to your every whim, 24 hour room service, Jacuzzis in every bathroom, while a private dining room very specially for the Villa residents and even a private kitchen where one could work on a recipe or two along with the respective chef who is always receptive to the whims and fancies of guests, ensures that The Golden Villa is indeed a very special experience," said Golden Hospitality Managing Director Chanuka Wijekoon.

Bambarakelle is heavily forested and has many hiking paths you would want to explore. The garden even has a therapeutic Jacuzzi, while a fully equipped gymnasium awaits the fitness enthusiast. The Golden Hospitality group offers you a stellar service with five predominant types of accommodation, Premium Deluxe, Deluxe, Family suites, Junior suites and Family rooms.

The Golden Ridge boasts of many dining options, one of them being the Latitude, featuring modern, eclectic cuisine, uniquely blending flavours from the East and West. Lavish breakfast buffets and themed dinner buffets, as well as speciality brunches and exciting à la carte options are all part of the Latitude's culinary offerings.

Taylors Tea lounge is where guests could partake of a bubbly high tea. A unique feature here is the tie up with Dilmah. For lovers of authentic Sri Lankan tea, Taylors Tea Lounge is undoubtedly the choice, while mocktails, cocktails and tea infused snacks are part of the menu, with tea infused sit down meals also being prepared on request.

"The Jockey's Pub is redolent with old world charm and hearkens back to days gone by. A premium luxury bar which serves spirits and wines, cognacs and liquor from a list of over 100 labels, connoisseurs take note, the Jockey's Pub will help you revive memories of those good old days," said Manager Lakshman Silva.

The Simply Golden Asia Restaurant is definitely set to win plaudits for its amazing Asian cuisine, serving Sri Lankan, Thai, Indian, Malaysian, and Chinese delicacies that will satisfy the most discerning gourmand.

Worthy of mention is The Queen Elizabeth Banquet Hall. "This is the largest and most impressive banquet hall in Nuwara Eliya and can accommodate more than 400 guests at a variety of functions such as weddings, cocktails, seminars and corporate events and is a definite attraction for Nuwara Eliya," said Golden Hospitality Group Director of Sales and Marketing Sujith Siyasinghe.

The recreational facilities at The Golden Ridge are varied and many and are guaranteed to make your stay memorable and keep you coming back for more. The Hotel's indoor heated swimming pool with the up country mists swirling round it, transform an ordinary swim into a magical experience, while rifle shooting on the premises, chess, carom, billiards and table tennis facilities are also part of the many amenities on offer. A travel desk which will arrange your airport transfers as well as internal tours is also available and staff are more than happy to arrange tailor made excursions for guests.

For the health conscious, the Hotel's organic garden not just ensures that guests are dining healthy, but also gives them the opportunity to wander out and pick their own little basket of hotel grown organic herbs, vegetables and fruit, a delightful and fulfilling experience indeed.

The Golden Ridge, the 'piece de resistance' of not just the Golden Hospitality Group, but of the whole of Nuwara Eliya, promises visitors a memorable experience. An era of leisurely teas, roaring fireplaces, gourmet meals and impeccable service, The Golden Ridge promises to give visitors a stellar experience!

The grand opening of The Golden Ridge Hotel is scheduled for December this year.

The Golden Hospitality Ltd. Executive Board of Directors: Chairman Sriyananda Wijekoon, Managing Director Chanuka Wijekoon, Director Chamali Wijekoon, Director Finance and Administration Hansani Wijekoon.