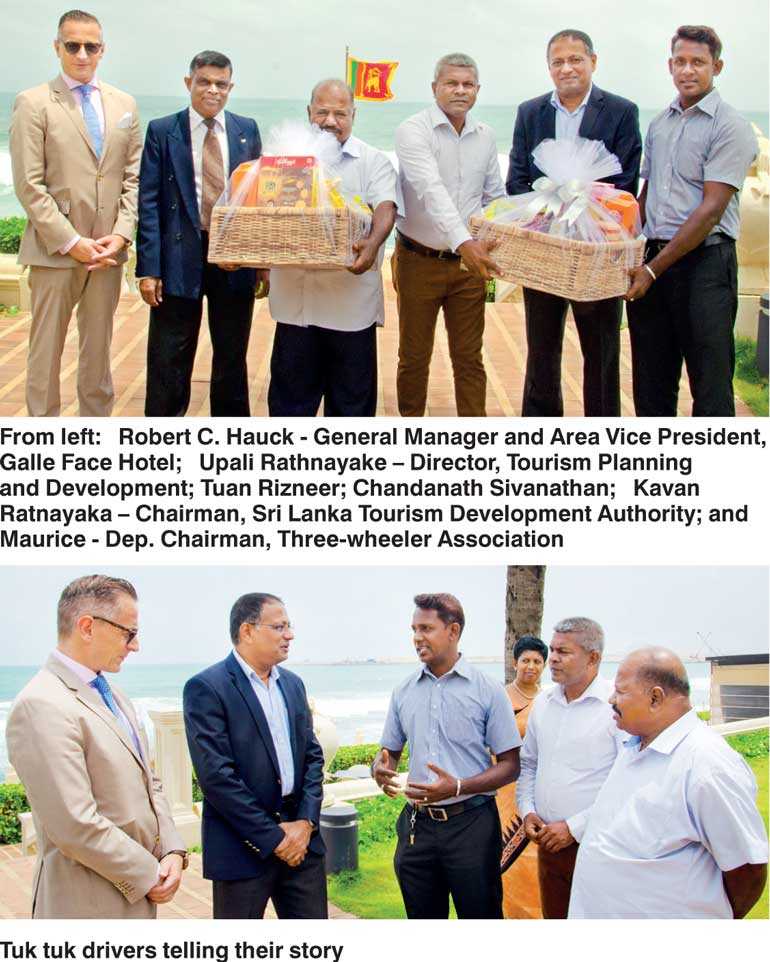 Three-wheelers - fondly known as tuk tuks - are a colourful, convenient and cheap mode of transportation for both locals and foreigners in Sri Lanka. We often hear stories of foreigners being taken for a ride - and not the kind they bargained for – as reports of tuk tuk scams have increased in the recent past.

Similarly, when some guests staying at the Galle Face Hotel hailed a couple of tuk tuks and accidentally left their smartphone in one of the vehicles, they never expected what happened next.

Tuan Rizneer and Chandanath Sivanathan frequently transport passengers in their colourful tuk tuks to various points within bustling Colombo. After their last pick-up from Galle Face Hotel, they realized that one of the passengers had left behind an expensive smart phone. The two altruistic tuk tuk drivers then drove back to the hotel in order to find the tourists and return the lost phone.

The Galle Face Hotel, an icon of Sri Lankan heritage, greatly values hospitality, magnanimity and authenticity, which both Rizneer and Sivanathan exemplify.

The Galle Face Hotel General Manager and Area Vice President Robert Hauck invited Sri Lanka Tourism Development Authority Chairman Kavan Ratnayaka, Tourism Planning and Development Director Upali Rathnayake, and Three-wheeler Association for the Galle Face Green Area Deputy Chairman Maurice to the Hotel in order to recognize the selfless tuk tuk drivers for their act of kindness.

The group shared their appreciation with Rizneer and Sivanathan for standing by their values when many others would have simply taken advantage of the situation. The Galle Face Hotel also offered tokens of appreciation to the Good Samaritan tuk tuk drivers in recognition of their efforts to uphold honesty and integrity.