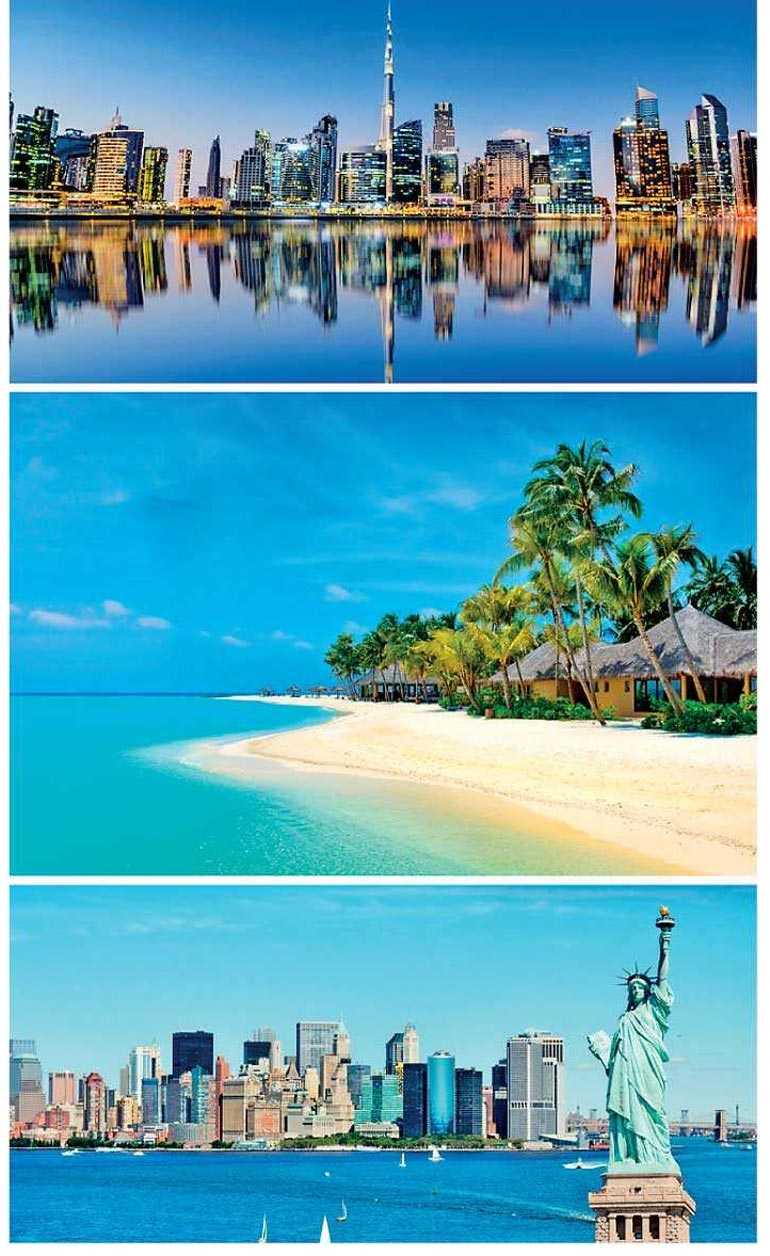 Popular destinations at special fares from Emirates. From top: Dubai, Malé and New York
---
5 November may be Guy Fawkes Day in the UK, but for residents of Sri Lanka, the hot news is a special fare sale from Emirates that opened on that day, offering those planning to travel overseas in the next 10 months an opportunity to lock in attractive special fares by booking early.

This limited duration offer covering destinations around the globe closes on 18 November but is valid for travel between 12 November and 30 September 2020 for leisure and business travellers alike, the award-winning airline announced.

Economy Class fares start at $ 240 inclusive of taxes (about Rs. 43,500 at current exchange rates) to Malé, $ 338 (Rs. 61,300) to Dubai, $ 566 (Rs. 102,600) to Paris, $ 765 (Rs. 138,700) to London Heathrow, and $ 977 (Rs. 177,110) to New York.

All-inclusive Business Class fares start at $ 545 (Rs. 98,800) to Malé, $ 1,102 (Rs. 199,800) to Dubai, $ 2,523 (Rs. 457,400) to Frankfurt, $ 2,533 (Rs. 459,200) to Paris, $ 2,614 (Rs. 473,900) to London Heathrow, and $ 3,913 (Rs. 709,400) to New York.

Emirates has also announced special all-inclusive First Class fares to these and more destinations, offering travellers from Sri Lanka a chance to experience the ultimate in luxury air travel.

"These special fares represent savings of 15% on quoted market fares for First Class, and savings of 10% on Business and Economy Class fares," said Emirates Area Manager for Sri Lanka and Maldives Chandana de Silva. "This is a great opportunity for Sri Lanka-resident travellers to 'Fly Better' with the world's leading airline and to experience true value for money."

Members of Emirates Skywards, the airline's award-winning loyalty program, can pay for their bookings using a combination of cash and Skywards Miles, further reducing the pay out towards the cost of their tickets.

Passengers in all cabin classes can enjoy the friendly service from Emirates' multicultural cabin crew, meals prepared by gourmet chefs, and up to 4,500 channels of movies, TV programs, music and podcasts, including channels in Sinhala and Tamil on the airline's award-winning ice entertainment system.

Emirates has been serving Sri Lanka since April 1986 and currently operates three flights a day from Colombo to Dubai, offering convenient connections to 158 destinations on six continents. The airline's flight schedule is expected to be increased to four flights a day from 30 November.

For more details of the special fares to Mexico City or to book flights, please visit www.emirates.com/lk or call 470 4070.