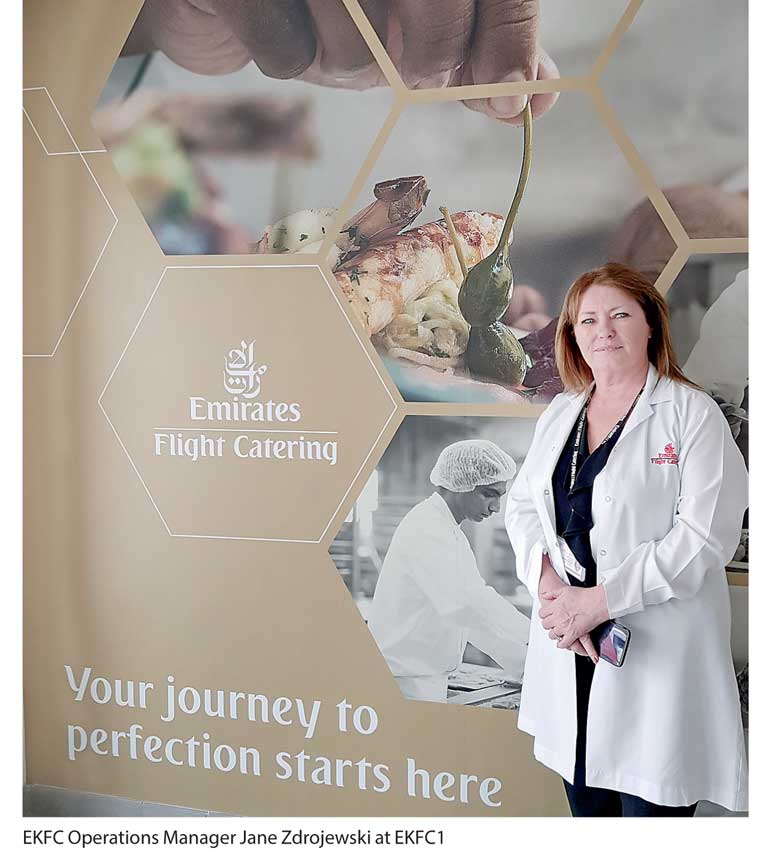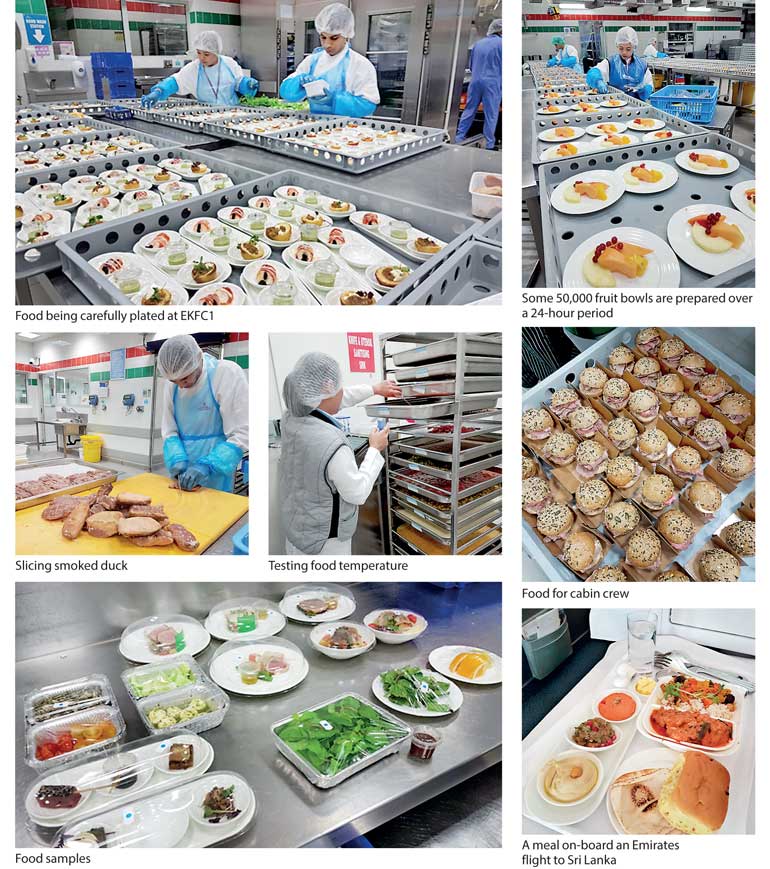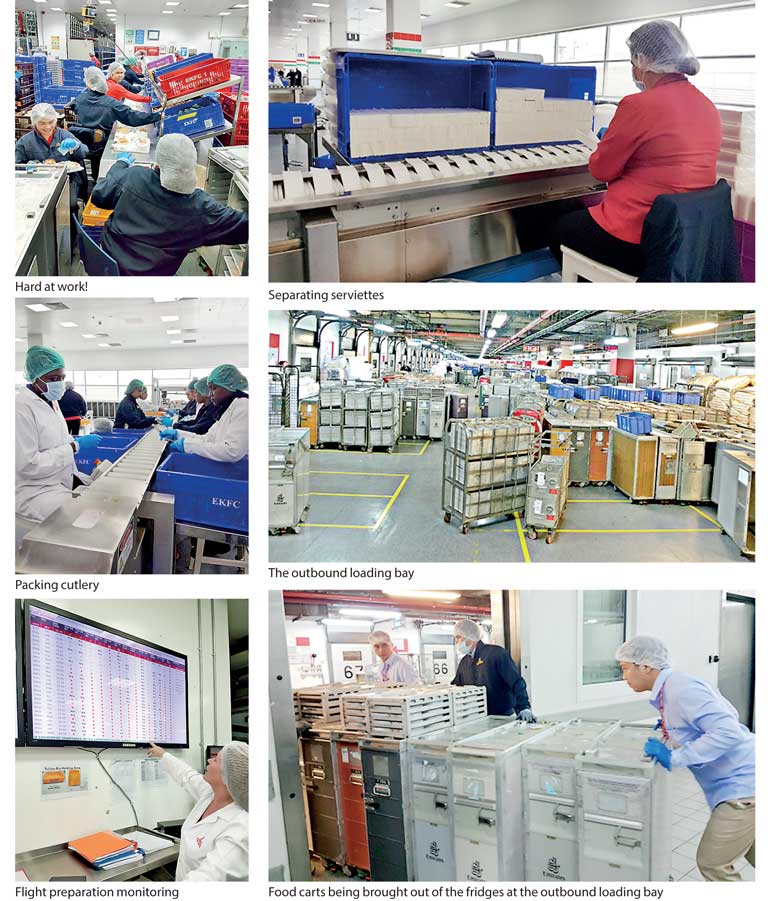 It takes over 150 people working at different processes to bring you one meal in flight!
By Marianne David

Celebrating cultures via cuisine is one thing; doing so high in the skies by ensuring 185,000 meals are ready and on-board 254 plus flights on time daily takes it to entirely new heights.

Imagine preparing that many meals, day in, day out, around the clock, working with no less than 2,500 different menus each year. And then there's the washing up – a staggering 2.8 million to 3.5 million pieces of equipment each day.

There's also planning, ordering, packing, loading, hygiene, deadlines, absolute attention to detail… the list is exhaustive and it takes 10,500 people to do what they do here.

This is life at the EKFC1 section of the sprawling Emirates Airline catering facility EKFC, which is today the largest of its kind in the world. It's grown by leaps and bounds, from 60,000 meals a day just 10 years ago and now there's a new unit in the pipeline too.

"You have to break down the process into different departments like a jigsaw," says EKFC Operations Manager Jane Zdrojewski, who's taking us on a tour of EKFC1, showing us how all the pieces fit together and work. "It's a logistical process and all about timing!"

The visit to EFKC1 was part of a tour organised by Emirates for local media, including Daily FT.
How it all happens
So how does it all happen? To start with, the $ 159 million facility is separated into two parts – food and non-food. Sufficient stocks for three days are kept on the premises.

For Emirates flights, everything is done at EKFC1, while EKFC2 is for other airways, corporate clients and all lounges at the airport. On an average day, EKFC1 handles 254 flights a day while EKFC2 handles 250.

Production makes food for a batch of flights, then a team separates that according to flight. Everything needs to be ready four hours before flight departure and downstairs at airside logistics; red warnings light up on the flight preparation monitoring board five hours before a flight departs if its requirements have not been met.

The percentage of meals is decided on passenger profile. While there is some wastage on board for Premium Class meals which are overloaded, this does not happen on Economy.

Catering has to be done and off the aircraft one hour before departure. Then it's time for the last minute entries team to do their job, before it all moves to the outbound loading bay. Here, every flight has three doors – First, Business and Economy Class – and everything is sorted by door, with flights allocated door numbers.

At the start everything in front of the door is non-food, such as blankets, newspapers, etc. Between 2 to 2.5 hours before a flight departs, non-food is loaded. The fridges are located opposite the doors and inside them, a copy of the menu is checked again. Then the food cart comes out and is loaded onto the refrigerated trucks.

The team at the airport bounces from flight to flight, loading truck goods in the galley and doing quick checks. The flight handler then continues to the flight, does a check with staff, hands over every galley to the crew and gets their sign off.
Focus on freshness
Emirates is unique in that it does a lot from scratch and makes things fresh, says Jane, showing us a little chocolate decoration atop a dessert in the pastry section as an example as we walk through the cold kitchen.

"Unlike in Europe, we make everything here and we use fresh ingredients. A lot of the fruits we use come from Sri Lanka!"

Some 50,000 fruit bowls are prepared over a 24-hour period and absolutely nothing is added to the fruits, with EKFC only peeling and portioning them. "We need to choose fruits that don't change colour when they are cut. We avoid those fruits and pick those we can peel, chop and put on-board."

EKFC also has its own bakery on site and bakes all the rolls for all flights, 24/7.

Despite the sheer magnitude of the operation, the best bit is this: "There is nothing we do to the food that will not happen in a hotel or restaurant. We use no additives or preservatives."
EKFC's bible
As we watch the food being painstakingly plated identically, Jane explains why everything must be just so. Flipping through the specification book, she refers to it as their bible. It's clear everyone follows it religiously.

For example, in the kitchens, samples of food are available for the staff to check against and everything is done in line with the specification.

"It tells you who it goes to, how much of it, size and what's on the plate by weight, etc. The quality team will match it against this. Emirates comes in daily and matches against the specification and the chefs do the same."

The hot kitchen is separated into areas, such as Far East and Subcontinent, Arabic and Continental, and so on. If an item is being made for dinner the next day, it is prepared, chilled and then frozen.

"Any potential bacteria growth happens in cooling. We cook here and send the food to the blast chiller, which takes it from hot to cold in about 30 minutes. When the core temperature is five degrees and under, we put in the fridge. This is a critical food safety control so we know the food we put on-board is safe," she explains.

The menus run in cycles and new menus are worked on for seven to eight months before going live.
IATA special meal ranges
Emirates also follows IATA special meal ranges, with the number of special meal requests rising over the years. "In the '90s, you were lucky to get five vegetarian meals a week. Now every flight is vegetarian or gluten free!" exclaims Jane.

There are three types of special meal orders, she says – lifestyle, medical and religious. "People's understanding of what they order is important. Hindu meals are ordered by vegetarians but they could include chicken or fish. The crew honours medical and religious requests but not lifestyle unless pre-ordered."

Sometimes people order special meals because they know they get served first on-board. But this is harder on the crew, reveals Jane. "There is a lot of pressure on the crew with special meals and also on passengers who haven't ordered special meals. It confuses the whole flight."
Food for cabin crew
For Emirates cabin crew, comprising some 70 different nationalities and 27,000 people, recent requests have been for more healthy options along with more variety – such as some hot entrees, soup or porridge, sandwiches and products to make a salad or a sandwich, and fruits.

"A lot of the time they have a banana and a chocolate bar depending on how busy the flight is and how demanding the passengers are. We've included food that will give them energy and keep them going."
Other operations
Under the banner of Emirates Flight Catering, there's also Linen Class (laundry services), Food Point (bulk production company for frozen entrees/sauces for combines, etc.) and its own culinary school.

"A lot of things on-board come from us. We don't do the headsets, towels, hand towels, toilet paper and pillows, but we do everything else, including the blankets and mattresses. All of this comes under service delivery," notes Jane.

EKFC is ISO 9001: 2008 certified, while all suppliers are certified and Halal.

As we leave the facility, Jane says goodbye to us with this fun fact – It takes over 150 people working at different processes to bring you just one meal in flight!