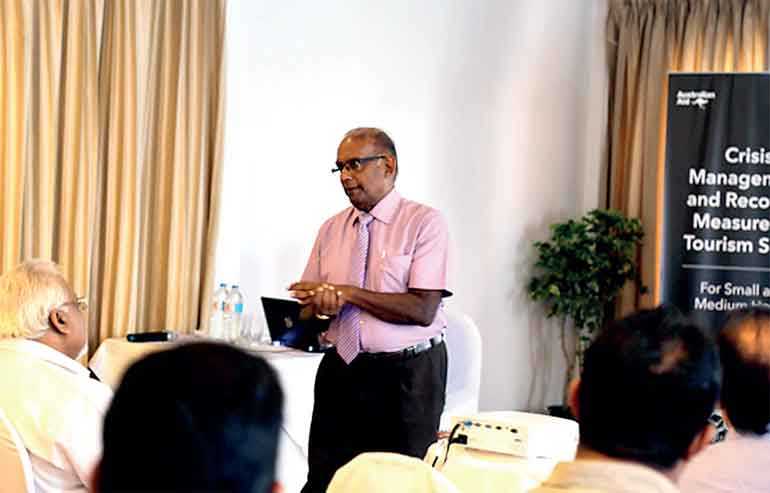 MD Senior Tourism Adviser Srilal Miththapala addressing the seminar
---
Small and medium enterprises, particularly tourism establishments, were among the worst affected by the Easter Sunday attacks. Smaller hotels have sent staff home and/or are operating at a bare-minimum level to order to keep their heads above the water until the industry sees the slight uptick expected in a few months' time.

Compounding this, smaller businesses are less likely to have the knowledge or resources to implement the financial management required to ensure businesses stay afloat.

In view of this, a workshop was held for Negombo's small and medium tourism establishments at Camelot Beach Hotel, conducted by former President of The Hotels Association of Sri Lanka (THASL) Srilal Miththapala.

The workshop is part of a series of tourism recovery measures spearheaded by the Australian Government's Market Development Facility (MDF) program and was the first of several to be held across Sri Lanka. The session was aimed at senior management staff and covered the basics of impact management, cash flow, budgeting and HR in a crisis context. It also looked at how hotels could manage their communications, management, and admin aspects like housekeeping during the crisis.

"While it's important to talk about how to deal with the crisis, we also want to highlight that there are opportunities to be gained from it – like how to use this extra time to up-skill staff, or upgrade the property,"stated tourism veteran Srilal Miththapala, who is currently a Senior Tourism Adviser for MDF.

Senior Account Manager Rangika Somarathne and Account Managers Udeshika Galmangoda and Isuru Hegodaarachchi from Booking.com also spoke, sharing the booking site's learnings from similar crises in other countries, as well as Negombo-specific trends seen in the past few weeks. They shared what practical steps properties could take to improve their listings' sales on the site and accelerate their recovery.

MDF's next workshop will be for Colombo SMEs, followed by two for those in Kandy and the south. Plans are in the works for similar capacity-building for tourism businesses in the east and the Cultural Triangle as well. Australia's MDF operates under the Ministry of Tourism Development and Christian Religious Affairs and works primarily in tourism and related sectors in Sri Lanka.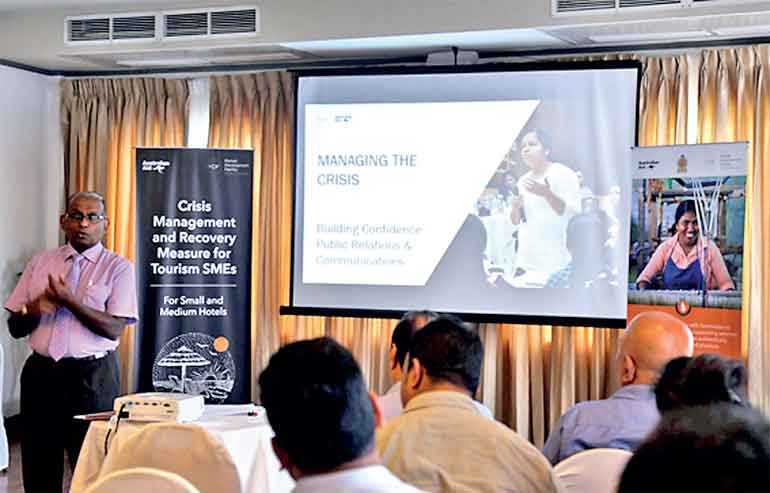 Participants at the seminar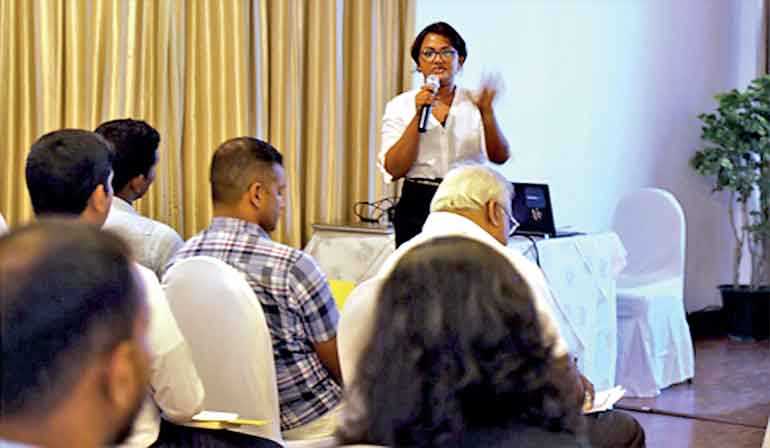 Booking.com Account Manager Udeshika Galmangoda addressing the seminar