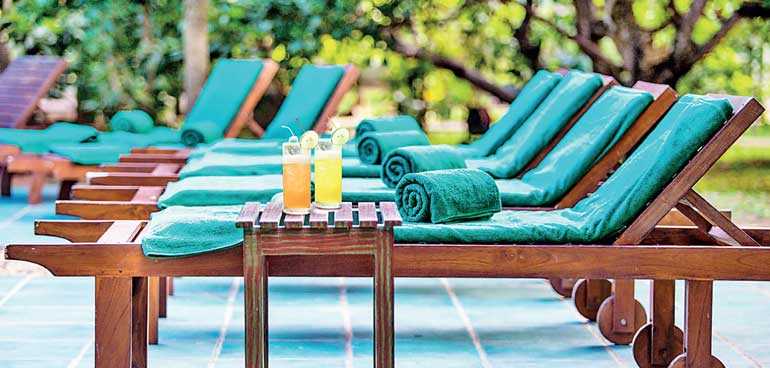 Commercial Bank credit cardholders can take a break from life this season, and relax at one or more of about 70 hotels with discounts up to 65%, thanks to the return of the Bank's 'Easy Vacation' promotion.

Partnering hotels at which the offer will be available until the end of November are W15 Ahangama and Weligama, Asia Leisure Hotels, Earl's Reef, Kandy City Hotel by Earl's, Anarva, Anilana, The Blackpool, Centara Ceysands Resort and Spa, Royal Palms Beach Hotel, Sigiriya Jungles, Sigiriana Resort by Thilanka, Skandig Beach Resort, The Blue Wave Hotel, Thilanka Hotels and Resorts, Tropical Life Resort and Spa, Uga Bay, Uga Jungle Beach, Amaloh, The Argyle, Lagoon Paradise, Laya Safari, Siddhalepa Ayurveda Health Resort, Sungreen Resort and Spa, Avenra Beach, Laya Beach, Laya Leisure, Laya Waves, Cassandra Culture Resort, Earl's Passikudah, Uga Ulagalla and Mapakada Village. Cardholders can also enjoy stays at a host of hotels at which 'Easy Vacation' promotions are on until end June. These properties include La Pentera, Okwin Resort, Range - Kandy, Amaranthé Bay Resort & Spa, Amaara Sigiriya and Kandy, Hill Cottage, Sky Pavilion, The Yala Adventure, Akway Resort, The Richmond Hill Holiday Bungalow, Wadduwa Beach Villa, Arie Lagoon, Dickwella Resort and Spa, The Calm Resort and Spa, The Eden Resort and Spa, The Paradise Resort and Spa, Mandara Rosen and Resort, Marriott Resort, Aliya Resort and Spa, Maalu Maalu Resort and Spa, Mountbatten Bungalow, Avani Bentota and Kalutara, Club Hotel Dolphin, Hotel Sigiriya, Hotel Kabalana, Hibiscus Beach Hotel, Jungle Village by Thawthisa, Kithala Resort, Madulkelle Tea and Eco lodge, RIU Hotels and Resorts, Scottish Planter Glendevon Bungalow, Shangrila Hambantota Golf Resort & Spa, The Thinnai, Villa Thawthisa, Sooriya Resort and Spa, The Rainforest Eco Lodge, Coral Sand hotels, The Elephant Corridor, Pandanus Beach, Taj Bentota Resort and Spa, Céu Ceylon, The Glenrock, and Mount Havana. Additionally, restaurants such as Black Pepper, King of the Mambo, and &Co Pub and Kitchen are offering discounts on dining until the end of June, the bank said. Commercial Bank cardholders are also eligible to participate in global promotions carried out by Visa, Mastercard and UnionPay Cards and receive more benefits under the ComBank Max Loyalty Rewards Points scheme.

Commercial Bank credit and debit cards offer year-round promotions covering a wide variety of services. Commercial Bank was the first bank to offer loyalty rewards for both credit and debit cardholders under its Max Loyalty Rewards Points scheme. The bank was also a pioneer in extending promotional discount offers which were traditionally only offered for credit cards to its debit cards.

Commercial Bank cards are the fastest growing cards in Sri Lanka and enjoy market leadership in credit and debit card cumulative point-of-sale usage. The bank offers a variety of credit cards in the Silver, Gold and Platinum tiers of Visa, Mastercard and UnionPay Cards, as well as Visa Signature, World Mastercard, Visa Infinite, UnionPay Asia Prestige Platinum and UnionPay Asia Prestige Diamond Cards in the premium segment. The cards are equipped with 'Tap' n Go' NFC technology and are backed by a strong NFC Point-of-Sale (POS) network.