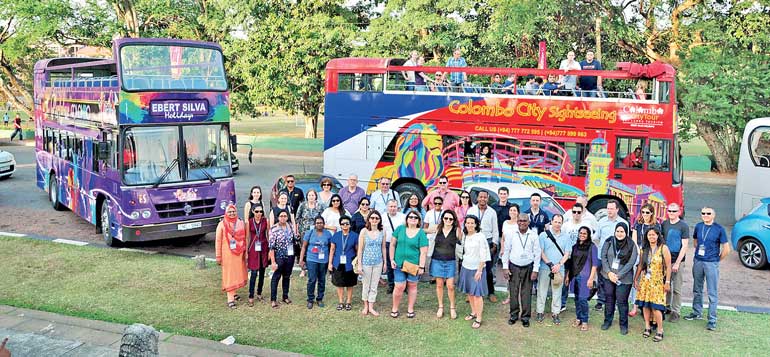 Colombo City Tour, a venture by Sri Lanka Tourism and Ebert Silva Holidays, had over 110 professionals from 40 countries on board its open deck double deckers, for an exciting sightseeing experience around Sri Lanka's premier city.

The independent audit regulators participating in the 12th Annual Inspection Workshop were from many countries including USA, UK, Canada, France, Germany, Switzerland, Japan and Singapore. Hosted by Sri Lanka, these professionals gathered to share their expertise at the forum to promote collaboration in regulatory activities, and to provide a platform for dialogue with other international organisations which have interests in enhancing audit quality.

The Colombo City Tour offered the delegates a unique experience with live commentaries by professional guides offering insights into the 'old and the new' of Colombo. The developments of the Port City, the exciting additions to the Colombo skyline, such as the rising star class hotels and apartments were seen in unique contrast to the old colonial charm of the buildings along York Street and the edifices such as the Race Course, the National Museum scattered across the city.

Colombo is also a wonderful example to showcase religious and cultural harmony. The intricately carved 'gopuram' of the Sivasubramaniya kovil in close proximity to the stupa of the Buddhist temple, the mosque and the church in the heart of Slave Island was such an instance the guests were happy to witness.

The Gangarama Temple and the Chapter House was visited with a stop at the Independence Memorial. The Memorial Hall, a replica of the Audience Hall of the Kingdom of Kandy is a grand edifice which showcases Sri Lankan architecture. It was indeed an interesting attraction for the visitors which also has the island's history depicted in the interior.

Colombo City Tour has two city tours operating daily with weekend tours also covering the administrative capital, Sri Jayawardenapura Kotte. Weekend tours include a drive through 'old Colombo' and refreshing boat rides on the Diyawanna Lake, a wonderful way to have panoramic views of the Parliament Complex and witness the unique fauna and flora of the area.