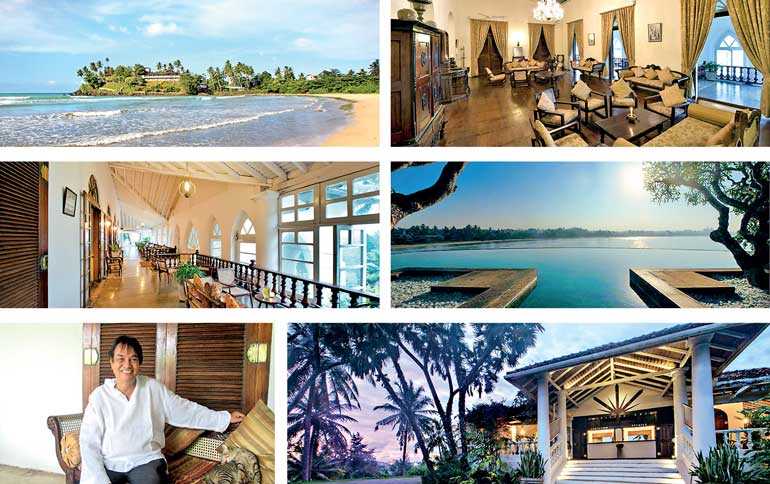 By Sharmini Serasinghe

For those who wish to turn back the clock and go back in time, to a period when life was free of stress as we know it today, Closenberg is where you find it. Time stands still at Closenberg, as its colonial splendour, coupled with old world charm and hospitality, engulfs your soul.

Aged graciously and standing majestically on a hilltop amidst lush tropical gardens, and flanked by the Magalle Bay, Closenberg overlooks the iconic UNESCO Heritage-listed Galle Fort and the Rumassala Mountain.

Originally built in 1860, Closenberg was not meant to be a hotel. When the Captain of the P&O ship 'Hindostan', Francis Bayley, discovered this treasure – referred to as Klossenburg (citadel on which the sea roars) by the Dutch, who had built a fortalice with a battery of two guns in 1719, and as 'Aluth Kotuwa' by the locals – it was abandoned. The British renamed it Closenberg Island.

Captain Bayley acquired the island, and built a magnificent mansion atop the Dutch ruins, naming it 'Villa Marina', as an ode to his wife. Architectural inspiration from the Dutch and British, with nautical themes and the P&O symbol of the 'rising sun' in the woodwork, makes the Closenberg vibe with its glorious history.

The Closenberg was sold in 1889 to Simon Perera Abeywardena, who was a close friend of Captain Bayley, and it has remained in the Abeywardena family, to date as a preserved historic heritage hotel in Sri Lanka.

Current owner Kumar Abeywardena's warm and friendly disposition makes you feel like a welcome guest in his home. His staff, who have served him and his guests for over 30 years, have a similar disposition to their master; sincere, friendly, warm, and willing to go out of their way to make your stay a pleasantly unique experience.

For those such as myself, who prefer old world charm and all the eccentricities that go with it, this is the perfect heavenly getaway. Like in the good old days when the pace of life was much slower, Closenberg offers that too: everything happens here in slow motion, including the waves in the ocean.

The food here tastes more like a delicious home-cooked meal, with the main ingredient being love, compared to what's churned out mechanically in the usual hotel kitchens. The relatively recent addition of an infinity pool is delightfully romantic. It's surreal at sunset and beyond.

As an eccentric myself, I will gladly place Closenberg on the No. 1 slot of my favourite haunts in Sri Lanka.