VIPs at Cinnamon's Bring A Friend Home Launch Event
---
While the 'Bring a Friend Home' campaign launched by Sri Lanka's leading hospitality chain Cinnamon has created some much-needed momentum for the tourism sector of Sri Lanka, the campaign's innovative and engaging nature has also managed to garner support across multiple industries, with KPMG Sri Lanka being the latest in the growing list of campaign partners. KPMG's entrance as Assurance Partner complements the campaign's growing success and endorsement by Sri Lankans at home and around the world, doing their part to expedite the revival of the tourism industry in Sri Lanka.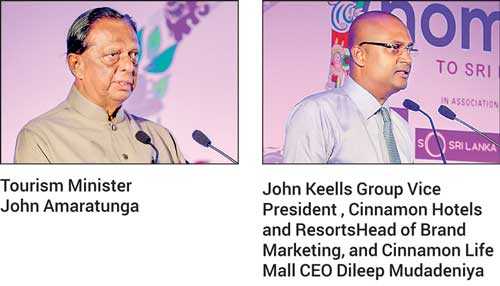 "We are thrilled to partner with a ground-breaking initiative, offering our professional services to Cinnamon as they continue to successfully promote the Bring a Friend Home campaign," commented KPMG Family Business and Board Governance and Audit Partner Thamali Rodrigo, "As trusted advisors to many of Sri Lanka's top establishments over the years, we are aware of our responsibility to support initiatives with the potential to create great impact, not only in tourism but also across the business sector and the national economy of Sri Lanka. We are glad to be on board and look forward to running an industry-transforming campaign, playing our role in an advisory and supportive capacity."

The longest-standing Chartered Accountancy firm in the country, KPMG has operated in Sri Lanka for over a century since its establishment in 1897, with a service portfolio covering external audit services, tax services, management consultancy, internal audit and risk consultancy services as well as accounting, IT, HR and deal advisory services. With a resource base that comprises 19 partners and over 1,400 professionals and associates, KPMG Sri Lanka services industry-leading conglomerates and is part of a global network of professional services firms spread across 152 countries across the world.

Launched on 30 July 2019 by Cinnamon, 'Bring a Friend Home' gives Sri Lankans an opportunity to invite foreign friends residing overseas to explore the multitude of experiences, exotic beauty, vibrant culture, world-famous hospitality and inherent charm of home-sweet-home. Bring a Friend Home engages and encourages all Sri Lankans to take ownership of the country's recovery process post-April, and is aligned with the overarching national agenda of promoting Sri Lanka as a safe place for tourists to visit.

www.bringafriendgome.com follows a simple four-step process: Register – Invite – Accept – Travel, and gives Sri Lankans the opportunity to register and invite one or more friends living overseas. The invitee – any foreign passport holder or Sri Lankan expat – can then proceed to accept the invitation by purchasing one or more packages listed on the campaign website.

The First Prize in the raffle draw for the Sri Lankan referees is a choice between a one-year stay at a Cinnamon Life apartment or a seven-day stay for up to two individuals at Cinnamon's properties, valid for three consecutive years, with two air tickets to Colombo from Sri Lankan Airlines. Additionally, they are gifted a voucher worth Rs. 499,999 from Colombo Jewellery Stores. The Second Prize includes a seven-night stay at Cinnamon's properties located in Sri Lanka, valid for two consecutive years for up to two individuals, with two domestic flights from Cinnamon Air. The Third Prize includes five-night stay at Cinnamon Dhonveli Maldives for up to two individuals, including air tickets from Sri Lankan Airlines. The First Prize for the visiting foreign friend is a five-night stay at Cinnamon Dhonveli Maldives for up to two individuals, including two air tickets from Sri Lankan Airlines and a Rs. 1,000,000 worth sapphire stone ring by Colombo Jewellery Stores. The Second Prize includes a five-night stay at Cinnamon Dhonveli Maldives. Cinnamon presents 'Bring A Friend Home' in association with Cinnamon Life, So Sri Lanka and Kapruka, with Sri Lankan Airlines as the Airline partner, Triad as the Creative and Website partner, Colombo Jewellery Stores as the Jewellery Partner, eMarketing Eye as the Digital Partner, Cinnamon Air as the Domestic Airline Partner, Walkers Tours as the Inbound Travel Partner, KPMG as the Assurance Partner, and Richardson Outdoor as the Outdoor Branding Partner. A promotional campaign initiated with the overarching objective of reviving tourism in the island, it is also supported by SLIM, Positive Sri Lanka and Love Sri Lanka.

To register and nominate a friend, or even to get more information on Cinnamon's 'Bring A Friend Home' campaign, kindly visit www.bringafriendhome.com.