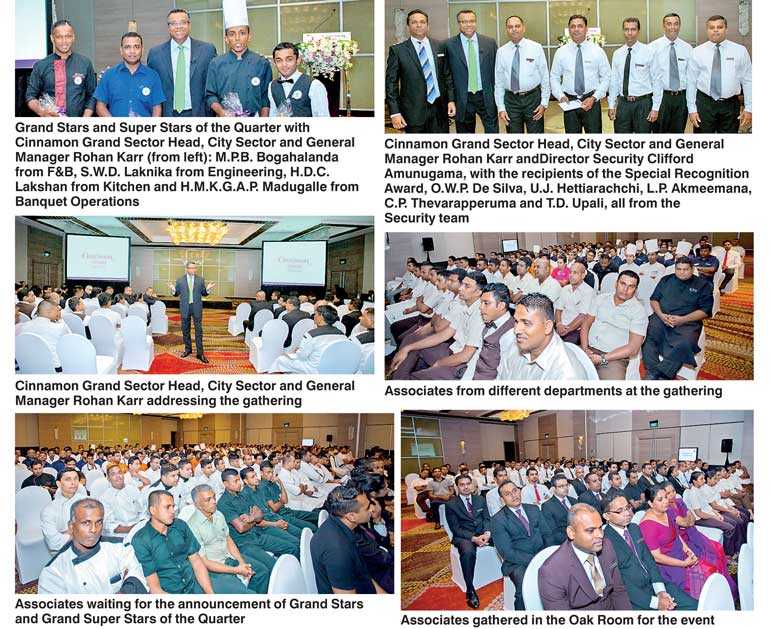 Cinnamon Grand held its Annual Associates Quarterly Meeting for the first quarter of the year 2018/2019 on 18 July at the Oak Room. Over 500 associates and departmental heads representing the different sections of the hotel were in attendance. Associates who have shown dedication, loyalty and dynamism over the last quarter were recognised and rewarded at the event.

Cinnamon Grand Sector Head, City Sector and General Manager Rohan Karr in his address to the gathering thanked the Cinnamon Grand team for their continuous loyalty, hard work and exemplary performance.

The Grand Stars of the Quarter were M.P.B. Bogahalanda from F&B, recognised for his commitment to the operations of the Tao restaurant; S.W.D. Laknika from Engineering for performing cost saving repairs done in the main freezer room; H.D.C. Lakshan from Kitchen for going beyond his duties to ensure smooth operation of the Noodles restaurant; and H.M.K.G.A.P. Madugalle from Banquet Operations for his exceptional contributions to the team, as well as creating the winning entry for the department in the Inter-Departmental Vesak Lantern Competition held in April.

M.P.B. Bogahalanda and H.M.K.G.A.P. Madugalle received the Grand Super Stars of the Quarter awards.

In addition, the Special Recognition Award was given to O.W.P. De Silva, U.J. Hettiarachchi, L.P. Akmeemana, C.P. Thevarapperuma and T.D. Upali, all from the Security team, for their efforts in responding to emergency situations and effectively preventing injury to staff members and preventing damage to hotel property.