Cinnamon Bentota Beach- where heritage meets luxury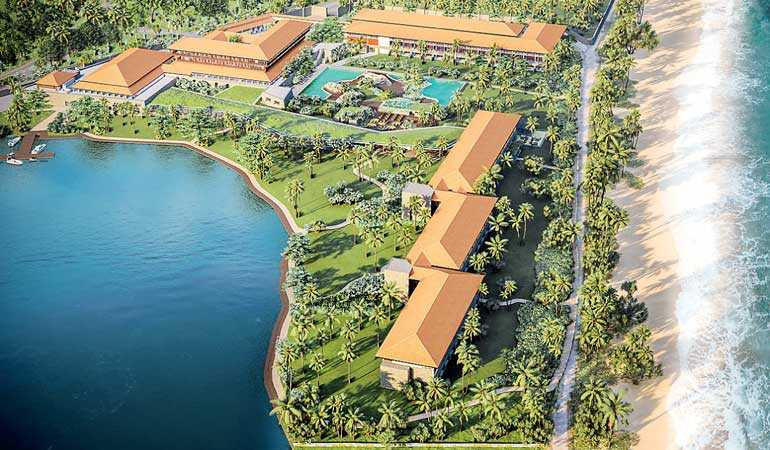 Sprawling vistas of ocean and river views
Cinnamon Hotels & Resorts, Sri Lanka's top hospitality trendsetter, announced the grand unveiling of Cinnamon Bentota Beach scheduled on 15 December. The announcement was made at one of the world's biggest travel events, the World Travel Market (WTM) in the UK amidst a gathering of 300 senior journalists of the British Guild of Travel Writers.
An architectural tribute to Bawa

Cinnamon Bentota Beach will open in December following refurbishment of the formerly known Bentota Beach Hotel, a property which was originally designed by the world-renowned architect Geoffrey Bawa. The new resort opening coincides with the centenary birth anniversary of Geoffrey Bawa. In its process of renovation, the old heritage structure was brought down brick by brick and reconstructed to what will be the Heritage Wing. The hotel includes a Bawa Museum, which holds some of the most unique and original pieces created by the architect.
Unique beach and river frontage

The five-star resort has been constructed across 11 acres of land across Bentota Beach and has the most unique location boasting vistas of the Indian Ocean and the Bentara River. The property will hold 159 rooms with traditional design elements unique to the destination combined with luxury amenities. Each room offers its own view of the ocean or vast gardens and is enhanced by the hotel's signature experiences and services, including a personal lifestylist for the Suites.

Culinary authenticity

The resort has six specialised restaurants, the highlight being, Nossa, an all-day dining restaurant which depicts a hawker street, with different types of cuisine. Additionally, the seafood restaurant, Sea.Meats.Spice, and Asian restaurant, Zest, specialising in Sri Lankan, Indian and Chinese cuisines will pay homage to dishes from this part of the world. Ottimo will serve a variety of pizzas and pasta together with juicy premium cuts of steak and will feature a choice of Italian wines among many other unique culinary offerings.
Heritage meets luxury

Traditional experiences are introduced at an in-house Artisan Village offering an array of activities such as pottery, mask carving, puppetry, coconut leaf art, drumming and Beeralu lessons; all traditional handicrafts that are found in this region. The Resort will also feature a state-of-the-art area dedicated to kids with ample activities and babysitting services. Experiences at this property abound with specialised destination dining, authentic Sri Lankan cuisine and a host of water sports, curated excursions and more traditional Sri Lankan activities.

"We are especially looking forward to the re-opening of Cinnamon Bentota Beach as the very first five-star property to open in Sri Lanka following the incidents of April 2019. This hotel will be an iconic establishment that infuses heritage with luxury to offer travellers an inspiring destination experience," commented John Keells Group President Leisure Jit Gunaratne.

Filled with these culture-rich embellishments coupled with the locality, architecture, history, heritage, and a wide array of cuisine, Cinnamon Bentota Beach invites guests to create their own stay with ample privacy and seclusion for a care-free getaway. The breath-taking ocean views and the stylish, contemporary spaces make the location ideal for experiencing the very essence of inspired island living on the best beach in Sri Lanka.

Cinnamon Hotels & Resorts comprises 15 distinct hotels and resorts across Sri Lanka and the Maldives. The Cinnamon brand focuses on delivering memorable holidays and getaways that deliver exceptional standards of service whilst showcasing the warmth and vibrancy of contemporary Sri Lankan hospitality.