Cinnamon Air, Sri Lanka's premier domestic airline, is gearing up to meet the demand for domestic air travel this Winter (Northern Hemisphere) by introducing their newest daily scheduled flight route from the cultural city of Sigiriya to Sri Lanka's Southern coastal cities, Hambantota and Koggala.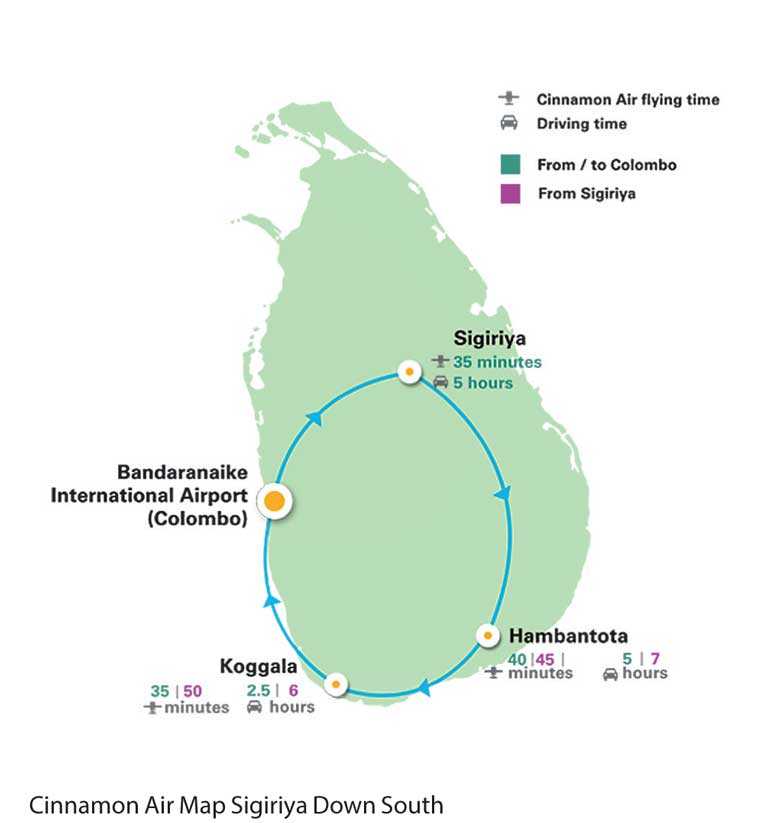 Effective from the 1st of December 2018, these daily scheduled flights will enable travellers in and around the cultural triangle to fly to the South expeditiously in less than an hour, compared to travelling approximately 7-8 hours on the road, allowing such tourists more time to explore and unwind at the tranquil coasts before they head back to their country. For tourists who find the conventional road travel troublesome and inconvenient, these flights maybe be the best solution as they will offer clients an effortless link to travel between Sigiriya and its surrounding attractions such as Anuradhapura, Polonnaruwa, Dambulla, Habarana and the South Coast, while also being treated to stunning aerial views of the island.

Cinnamon Air will commence operations ofdaily scheduled flights from Sigiriya to Hambantota and Koggala from December and these flights are scheduled to depart from Sigiriya to Hambantota and Koggala at 14:45 hours-giving visitors in the Cultural Triangle sufficient time to engage and complete a morning excursion-and will reach Hambantota at approximately 15:40 hours, subsequently within minutes, the flight will depart from Hambantota to Koggala-allowing convenient access to clients vacationing at beach resorts in Koggala/Galle, Bentota/Beruwala and other neighbouring destinations.

Sean Dwight, Chief Executive Officer, Cinnamon Air,stated that "With an experience of 5 years in operation, Cinnamon Air has recognised an emerging trend where high-end and repeat visitors prefer to bypass the traditional circuit tours which involve multiple check-ins/check-outs and the hectic task of packing/unpacking at numerous hotels and instead prefer to spend more time in one location with a few select day-excursions to explore other parts of the country. Furthermore, with the recent emergence of a multitude of beach front boutiques and hotels in the South Coast, we believe that the availability flights from a Central point of the Cultural triangle such as Sigiriya to the South Coast will further enhance the tourists holiday experience in Sri Lanka, boosting the nation's tourism industry as a whole".

All Cinnamon Air scheduled flights operate in code share with SriLankan Airlines, consequent to which they are also available for sale throughout the SriLankan Airlines network and all Travel Agents around the world via Global Distribution Systems, under a "UL" designated flight number. Cinnamon Air, owned and operated by Saffron Aviation Ltd., is a joint venture between Sri Lanka's largest listed conglomerate, John Keells Holdings, MMBL Leisure Holdings (a part of the Mercantile Merchant Bank Group) and Phoenix Ventures (parent of the Brandix Group, Sri Lanka's largest garment manufacturer). The Airline operates a fleet of two Cessna 208 amphibian aircraft and one Cessna 208B Grand Caravan aircraft, with scheduled services to key inland points in Sri Lanka. Cinnamon Air also offers charter services to and between all Airports and Water Aerodromes in Sri Lanka. The Airline is based out of Katunayake where it operates a dedicated domestic terminal (within the precincts of the BIA) and also has its own purpose-built hangar and maintenance facilities.