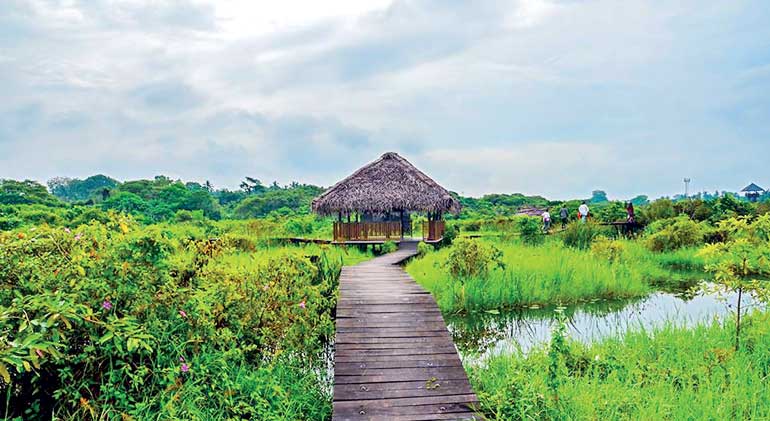 By Shanika Sriyananda

If you are a bird lover and waiting for a day to start bird watching, put a reminder on 16 and 17 December to be there at Diyasaru Park at Thalawathugoda Wetland to have your first unique experience of seeing a rare bird or birds in a guided nature walk conducts by a bird expert.

Not only guided nature walks but many activities are stored for you in the forthcoming 'Kurulu Kaiya', an event organised following a format of Bird watching Fair (Bird Fair) to gather experts and nature lovers as an initiative to converse urban wetlands and birds in the country.

The two-day bird fair named as the 'Kurulu Kaiya' ('Kurulu' means birds and 'Kaiya' means a gathering in Sinhala) organised by the Field Ornithology Group of Sri Lanka (FOGSL) based at University of Colombo will be held at Diyasaru Park at Thalawathugoda Wetland.

The most popular bird fair of the world is British Birdfair where even some reputed Sri Lankan travel companies put up stalls with aim to meet foreign birdwatchers. A large number of suppliers of binoculars, cameras, books, clothing and other bird-watching equipment, plus artists and tour companies, display and sell their wares at this bird fair where the income goes for conservation.

"The bird fair will be a platform to showcase nature based products and conservation initiatives of Sri Lankan corporates, Coordinator of the Kurulu Kaiya Malaka Rodrigo said.

With an objective of promoting bird watching, conservation of birds and their habitats – (specially the urban wetlands) – the FOGSL intends to have the fair as an annual event from this year.The success of last year's 'BirdLife Asia Partnership Bird Fair' held at the same venue has inspired the FOGSL to organise this event with a Sri Lankan identity; 'Kurulu Kaiya'.

Veteran ornithologist Prof. Sarath Kotagama said wetlands perform variety of ecosystem services and haven for birds.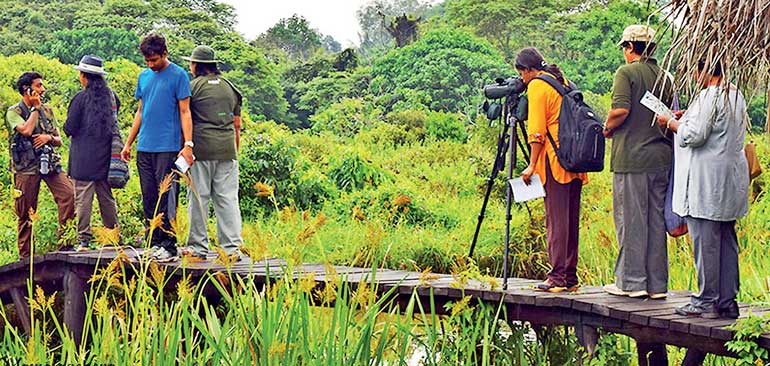 "But urban wetlands are particularly under pressure; hence it is important to find different strategies to stress their importance. FOGSL with assistance from UNDP-GEF small Grants Program initiated a project to conserve urban wetlands by utilising birds as an umbrella group and through the application of Citizen Science. One of this project's aims is to create urban ecological awareness among citizens including school children," he said.

'Diyasaru Park' at Thalawathugoda, the venue of the bird fair spreads 60 acres on Kotte marshes near the Parliament. Over 50 species of birds including number of migratory birds, about 25 butterflies, dragonflies, reptiles and fish are among interesting wetland biodiversity of Diyasaru Park.

"The site is even a last hideout of elusive Fishing cat. Special guided nature walks around the trails of the Diyasaru Park has been organised under Kurulu-Kaiya, which will consist of a number of outdoor interactive activities for junior birders under FOG-KIDS program during the event," Rodrigo said and added that that the FOGSL believes that Kurulu Kaiya will further promote Diyasaru Park as an attraction in Colombo.

Kids will have special guided tours around the Wetland to observe wetland biodiversity. A number of other fun activities too will be organised throughout both days with the aim to seed the love for nature in the minds of the kids, he said.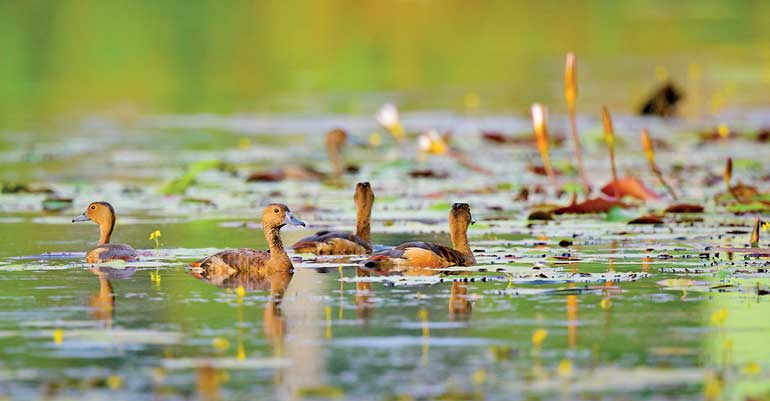 According to Rodrigo, kids can submit their creative designs such as paper crafts, arts featuring birds and submit to FOGSL office, Department of Zoology, University of Colombo and selected work will be displayed at the exhibition and gifts will be given for the best. Creating a dialog on birds and their conservation is another aim of Kurulu-Kaiya. With this intention, a series of outdoor lectures and discussions are planned.

To promote research, a session titled '40 years of bird research' in Sri Lanka will be held in collaboration of researchers based at different universities of Sri Lanka.

"Number of promotional trade stalls can setup at Kurulu-Kaiya providing opportunity for organisations to showcase their 'conservation initiatives' and nature based products," Rodrigo said adding that many developed countries have annual bird fairs to educate the people, especially the younger generation to promote conserving the birds and their habitats.

"Diyasaru Park was constructed and being looked after by the Land Reclamation and Development Cooperation. It is becoming a popular destination for nature lovers and FOGSL with assistance from UNDP-GEF small Grants Program initiated a project for conservation of urban wetlands by utilising birds as an umbrella group," Rodrigo said.

Meanwhile, the FOGSL will have its 18th annual exhibition named as P.B. Karunaratne Memorial Bird Education Exhibition, which gives information on the birds, their habitat and promote birding. P.B. Karunaratna is a founder member of the FOGSL and the exhibition is named after him for his service of the country.

This exhibition with the theme of 'Wetlands' will provide information on wetlands and also the information on the colourful panels that cover biology, ecology, the taxonomy of birds and detail information on endemic species. Students from University of Rajarata, Colombo, Open, Sabaragamuwa and Jayawardenapura will also exhibit their projects on birds while the University of Colombo, Zoology Department will exhibit specimens and skeletons on animal adaptations and evolution.

The FOGSL is the local partner of the BirdLife International, which is the global partnership of bird conservation organisations. Between 2013 and 2020, the BirdLife Asia Partnership aims to save at least 50% of the highly threatened IBAs across Asia from damaging development.

Kurulu Kaiya will be a non-profit event and the stall rental fee will be used for the education elements of Kurulu Kaiya. Any addition will be used for FOGSL publications that will raise awareness on nature. A number of reputed organisations have already linked with Kurulu Kaiya and there are a few more trade stalls for any organisations that would like to have their stalls. Contact FOGSL on 0718440144 if interested.