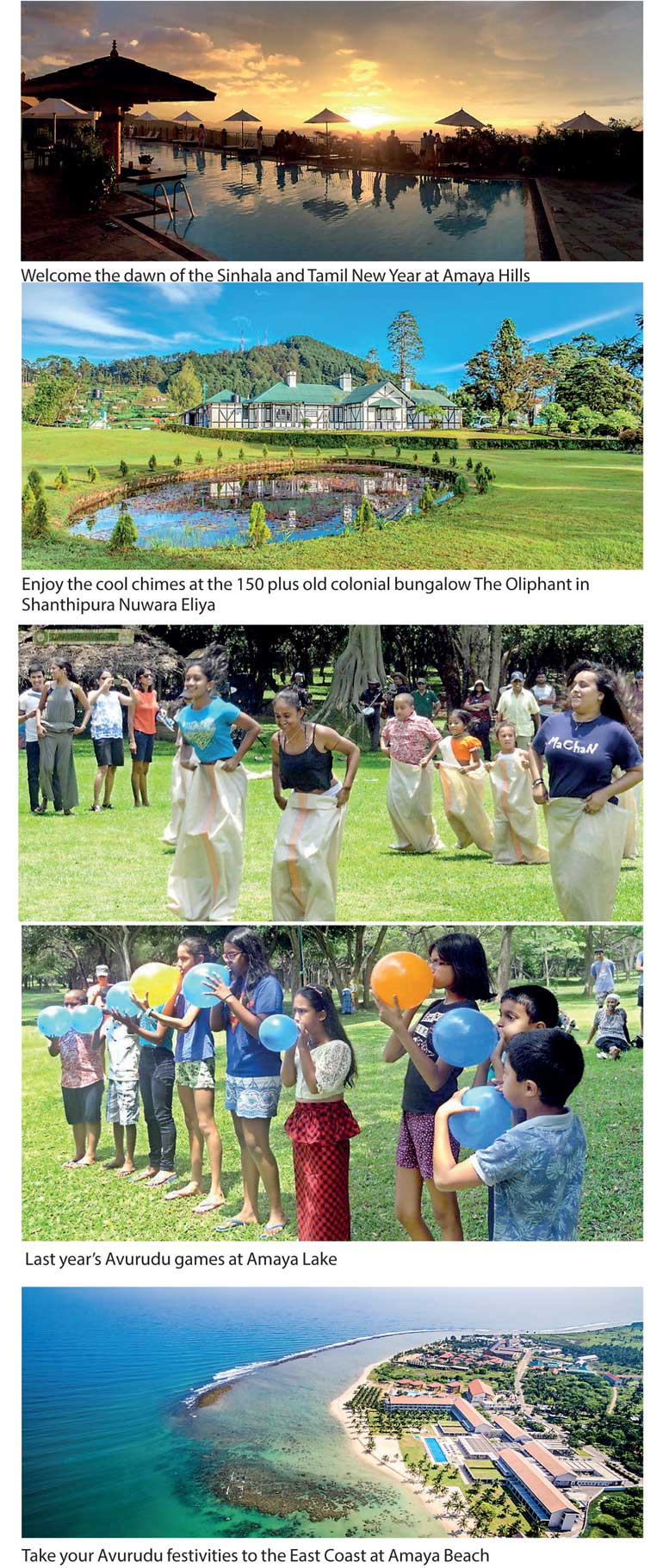 With March coming to an end and the school holidays coming around the corner, it's all about holidays this April; and Amaya Resorts & Spas has the best in store for its patron guests this coming month with traditional Avurudu activities and credit card offers.

Teaming up with three amazing credits cards, Amaya Resorts is truly setting the mood for a lovely holiday break this Avurudu for the whole family, friends and loved ones.
Avurudu games and traditions
Amaya Hills is all set with food promotions and other activities for the April holidays. From 8 to 13 April there will be a Burger Promotion at the Dumbara Bar from 11 a.m. to 5 p.m. and an international lunch buffet at the Rasawasala restaurant with oriental music. There are also special bar deals at the Dumbara Bar so don't forget to check them out either. The dinner highlights will take a trip around the world starting with Chinese on the 8th, Indian on the 9th and 12th, Italian on the 10th and Sri Lankan on the 13th.

On 14 April, there will be the Bakmaha Ulela from 10 a.m. at the hotel garden followed by lunch and a BBQ night at the Rasawasala. The Bakmaha Ulela will include fun competitions such as bun eating, lime balancing, Polathu Vivima, sack race and so much more.

At Amaya Beach Pasikudah, the guests will be entertained with the traditional New Year games, traditional huts for Saruvath, toddy and sweets. For the young ladies there will be an Avurudu Kumari pageant divided into two categories – 6 years to 12 years and 18 years to 30 years. All of this will take place by the Aqua Bar, poolside and Spice Garden.

Going into the heart of our Cultural Triangle, Amaya Lake in Dambulla is all geared and ready to welcome the Sinhala and Tamil New Year on 14 April. On 15 April, the resort will have its traditional and most looked forward to Avurudu Ulela with activities for the whole family along with an Avurudu Kumaraya and Kumari pageant. A special ambula lunch will be served at the Welan Kale.
Card promotions
To celebrate this Avurudu in style and taking a break to enjoy all the activities we have in store for you, Amaya Resorts & Spas has collaborated with three leading banks to give you irresistible offers with their credit cards to make this Avurudu holiday getaway even better.

Enjoy 50% off with your Commercial Bank and NDB Credit Cards at Amaya Beach Pasikudah, Amaya Lake &Amaya Signature in Dambulla, Amaya Hunas Falls, Amaya Hills & Amaya Bungalow in Kandy, Amaya Langdale &The Oliphant in Nuwara Eliya and The Villas in Wadduwa. For all you Nations Trust Bank (NTB) American Express credit cardholders, you get 35% off at Amaya Beach and 30% off at all the other resorts. These offers are valid for bookings made on Full Board or Half Board, Double or Triple basis till 30 April with terms and conditions.

With all these amazing deals and so much of fun and games waiting for you at the resorts, you know you should not miss out on any of these amazing offers. Call now on 011-4-767-888/800 or 0765-452-617 or email reservat[email protected] to reserve your Avurudu Holiday with them.

Log on to www.amayresorts.com or their facebook pages to get the latest on all specials offers and activities.