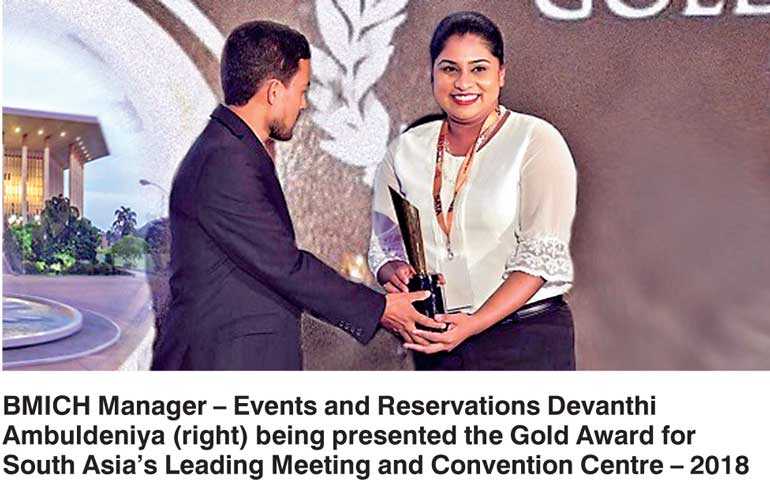 The BMICH, Sri Lanka's most recognisable and iconic landmark won the Gold Award as South Asia's leading meeting and convention venue at the prestigious South Asian Travel Awards (SATA) ceremony held in Mumbai, India recently. This award is the third regional Travel Award won by BMICH in three years. SATA, endorsed by multinational associations, recognises the tourism sector in the South Asian Region based on their facilities and service excellence. The South Asian Travel Awards aims to encourage and raise service standards of the Travel and MICE industries in the region.

"We are proud and delighted to be selected as South Asia's leading convention venue at the South Asian Travel Awards held in India. The award amply demonstrates that BMICH is the best among the best in the region. This is also a glowing tribute for Sri Lanka," said BMICH Director/CE Sunil Dissanayake.

The SATA brand is the first of its kind with affiliations from regional associations ensuring the selection process is within a transparent procedure. SATA is a concept of Maldivian company 'Highrise' in collaboration with India and Sri Lanka.

The judging panel consisted of high profile senior representatives from each destination with vast knowledge and background of the industry to assure an accurate and fair process. The event consisted 50 categories and BMICH in Sri Lanka was named as South Asia's Leading Meeting and Convention Venue and presented the Gold Award.

Offering exceptionally versatile and impressive settings, the BMICH venues are ideal for any occasion, from an intimate dinner to a lavish banquet, business conference or wedding. The purpose built function rooms have facilities to suit any setting enhancing the sophistication of the events. All function rooms too have also been renamed and primed to deliver a truly exceptional experience. BMICH is the proud winner of the Century International Quality ERA Award – Gold in Geneva in 2016 and Platinum in Paris in 2017.

Set in a sprawling site with 15 well laid out and spacious car parks that can accommodate 3000 vehicles at a given time and well maintained landscaped gardens, BMICH is Sri Lanka's largest and Asia's very first purpose-built convention centre with ultra-modern facilities. BMICH is situated in one of the most prestigious locations in Colombo. The main conference hall is capable of accommodating 1,630 delegates and has been the venue of choice for prestigious regional conferences such as SAARC and Non-Aligned Summit.