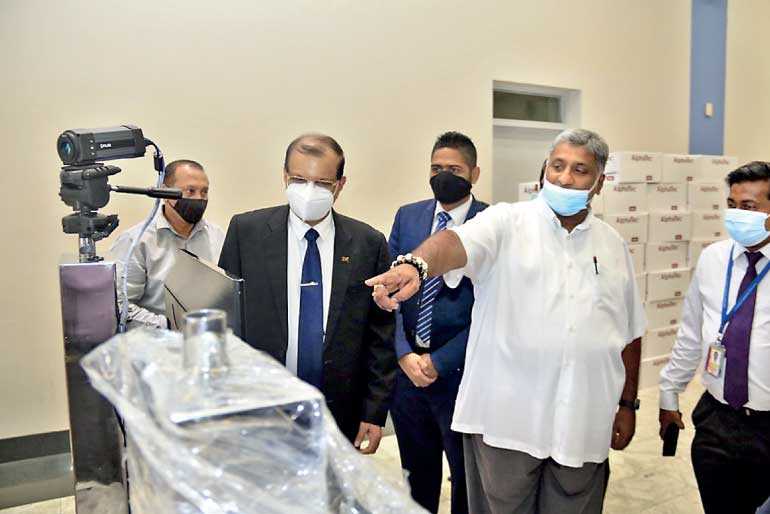 Ahead of the reopening of airports to welcome global tourists from 1 August, Sri Lanka's anti-COVID-19 defences have received a big boost with the receipt of latest international health safety and screening equipment.

On behalf of the Government, Tourism and Aviation Minister Prasanna Ranatunga recently received equipment worth Rs. 45 million donated by the International Organisation for Migration (IOM) as well as by grants offered by the Japanese and Australian Governments at the BIA.

The donations will help equip airport and airlines with sophisticated skin temperature detection camera equipment, modern communication systems, infrared thermometers, special masks, PPC covers and gloves to be opened for tourists at the BIA from 1 August. The Minister said that the Airport Aviation Services (Lanka) Ltd., Civil Aviation Authority of Sri Lanka (CAASL) and the Aviation Ministry have already taken necessary steps to reopen the Mattala International Airport.

Ranatunga also said that the President and the Prime Minister have instructed to expedite the process of repatriation of migrant workers. Therefore, all those who wish to return to Sri Lanka before 1 August will be able to return to the island.

The Minister said that the Mattala International Airport would also be opened for tourists in parallel to the Katunayake airport.

"The Government has also decided to exempt all international flights arriving at the Mattala International Airport from the relevant Airport and Aviation Levy. The relevant Cabinet paper was approved in February. Accordingly, several airlines have already agreed to expedite the operations at Mattala Airport," he added.

Noting that the health authorities have given strict guidelines to follow, Ranatunga stressed that it is compulsory for anyone who visit Sri Lanka to undergo a PCR test at the airport

premises.

He also said the Government has taken measures to prevent people from entering the country through illegal means.

The Minister noted that special and separate operations are being launched to prevent illegal migrants arriving by sea at present.

Airport and Aviation Services (Lanka) Chairman Maj. (Retd) G.A. Chandrasiri, CAASL Chairperson Upul Dharmadasa and IOM Immigration and Control Head Shantha Kulasekara were also present at the event.