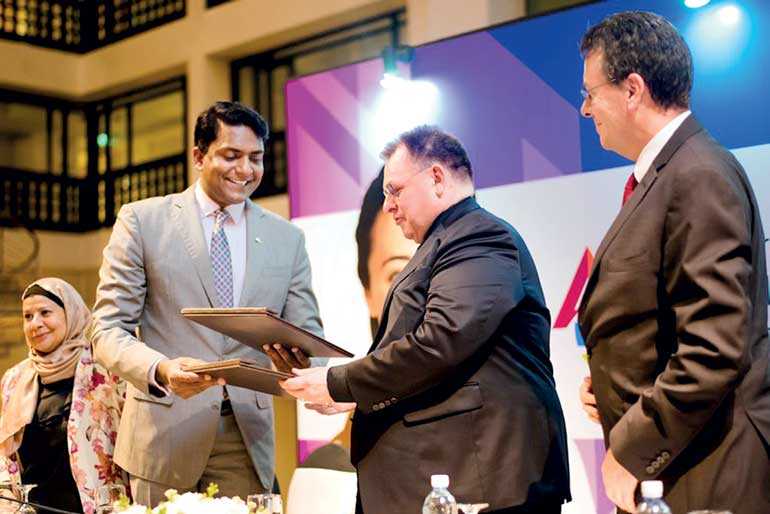 Australasian Academy of Hospitality Managing Director Kalum De Silva and Evolution Hospitality Institute Chief Executive Officer Stewart Page exchanging the MoU

Partners with Australia's Evolution Hospitality Institute to offer quality, affordable courses, opening doors to global employment opportunities
Australasian Academy of Hospitality (AAH) in partnership with the Sydney based leader in hospitality, culinary and tourism management, Evolution Hospitality Institute (EHI) announced the commencement of their academic and training institute in Sri Lanka which will offer globally recognised courses in world-class facilities for Sri Lankan students.

Australia's High Commissioner to Sri Lanka Bryce Hutchesson, Evolution Hospitality Institute Chief Executive Officer Stewart Page and Australasian Academy of Hospitality Managing Director Kalum De Silva attended the launch event amongst a host of corporate luminaries.

Australasian Academy of Hospitality, a 100% Australian investor driven organisation, is the first international learning center of Evolution Hospitality Institute outside of Australia. With the first intake scheduled for January 2019 the Academy will balance expert knowledge and hands-on experience with specialist teaching that will equip students to rise in the hospitality industry while opening doors to employment opportunities locally as well as globally.

The curriculum designed by Evolution Hospitality Institute will be delivered by lecturers from EHI's training network and local industry experts. The course will include internships and apprenticeships in leading hotels in Sri Lanka and overseas with the option of completing a bachelor's degree from a leading business school in Switzerland. Valuable insights and input from the industry have been incorporated into AAH's curriculum to make graduates 'work-ready'.

Students have the option of completing their Advanced Diploma in Sri Lanka, at one-third the cost or complete one year at AAH Sri Lanka and transfer to Australia to complete their chosen field of study.

Kalum De Silva, Australasian Academy of Hospitality Managing Director and Sri Lanka-Australia Chamber of Commerce President, said: "Sri Lanka's tourism sector is growing with the Government predicting 600,000 direct employment in the industry by 2020. We are happy to inaugurate an institute in collaboration with a global leader in hospitality and tourism education, and to create a cadre of skilled and knowledgeable hospitality professionals."

"Our goal is to be the premier hospitality and tourism management institute in South Asia and in the Asia Pacific region, attracting students from all over the world," De Silva enthused.

Evolution Hospitality Institute, Australia Chief Executive Stewart Page said: "By setting up Australasian Academy of Hospitality in Sri Lanka, we will prepare students for management positions in leading hotels, restaurants and leisure facilities both locally and worldwide, through a combination of innovative studies and hands-on experience in different properties and environments. Classes will help inspire pupils and open their minds to the myriad opportunities that exist in the industry, for which there is a dearth of talent."

The opportunity to learn hospitality and tourism management will be at AAH's best-in-class facility at Alexandra Place, Colombo 7, setting the stage for unparalleled learning experience, embedded with career-defining internship opportunities in star class hotels in Australia, United Arab Emirates, Singapore and Sri Lanka.

"The demand for professionals with a thorough knowledge in hospitality and tourism management is on the rise; both globally and locally. I firmly believe this partnership will enable us to provide sound academic guidance to Sri Lankan students. AAH curriculum is well designed to bring out the best in students and it is the perfect platform for local undergraduates to nurture their skills to shine in their respective careers," De Silva commented further.

Evolution Hospitality Institute is one of the leading hospitality management institutes in Australia and is a globally recognised leader in specialist training and education in travel, tourism, event management, hotel and restaurant management and culinary arts. It provides globally recognised qualifications to undergraduates with internship opportunities in Australia and overseas.