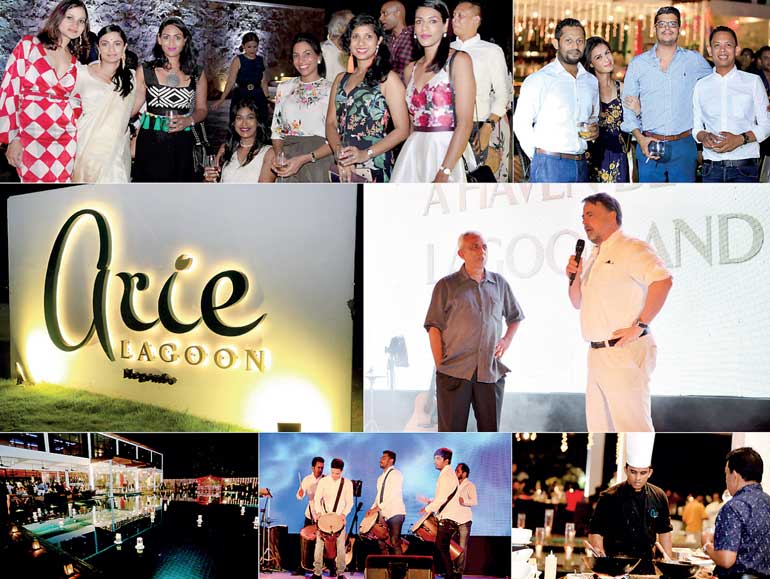 Set on a beautifully landscaped five and a half acre property by the Negombo Lagoon, Arie Lagoon was officially launched on 24 March with a grand opening ceremony that saw many high profile and distinguished guests in attendance. An initiative of Welikala Holdings Ltd., the 55 roomed, four-star deluxe property in the scenic fishing village of Thalahena, Negombo was in operation since November 2017 following a soft launch.

Speaking about the launch of Arie Lagoon – Negombo, Welikala Holdings Ltd. Deputy Chairman and Managing Director Eranga Welikala said, "We set out to create a modern, stylish and functional paradise. With Arie Lagoon I think we accomplished that and more. We have created a place where guests from Sri Lanka and all over the world can come and make memories that will last them a lifetime. Most people have hectic lives and when they come on holiday they just want to relax and forget about their cares. At Arie Lagoon, we look after everything and it's our intention to see that guests are left wanting for nothing. We also wanted to create a space for people to host exceptional events and with our fully equipped banqueting facilities, we've accomplished that too. This is a very personal project for us, it's really a dream come true and we've spared no expense. I invite everyone to come and visit Arie Lagoon – Negombo and take some memories to treasure back with them."

Welikala Holdings Ltd. has invested in excess of Rs. 1 billion to equip the property with high quality facilities and all amenities to cater to guests' every need. With two swimming pools, including an infinity pool, an exclusive wine lounge, British pub-style bar, two specialty restaurants, a wellness spa, gymnasium and other facilities, Arie Lagoon – Negombo is the perfect place to relax, unwind and rejuvenate mind, body and spirit. The hotel also features a fully equipped banquet/conference hall that can accommodate more than 300 guests and comes with its own dedicated terrace and bar space.

In-house guests can choose from four different types of rooms that are all elegantly appointed, contain tasteful wooden furniture, stylish interiors and all amenities. Guests can choose between Family Deluxe rooms, Premier Deluxe Rooms, Premier Deluxe Rooms with their own Plunge Pool and Premier Suites.

Arie Lagoon also features sprawling gardens with beautiful views of the Negombo Lagoon that are excellent for relaxing and for events. Supervised child care areas equipped with gaming consoles and other entertainment for children of all ages are also available, allowing adults to remain carefree. The beach is also easily accessible and is less than a five minute walk from the entrance of the hotel. Arie Lagoon is located close to both Colombo City and the Bandaranaike International Airport and is quickly and conveniently accessed via the Colombo – Katunayake Expressway.