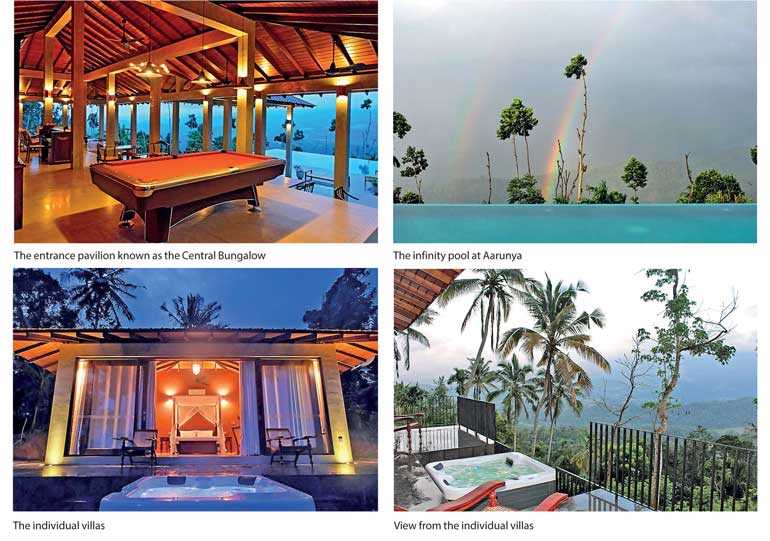 At the halfway point between Kandy and Sigiriya, banked by winding roads that lead to the city of Alawatugoda, lies the idyll retreat Aarunya, which is one of the latest additions to the emerging collection of high-end Sri Lankan boutique properties.

Launched in June 2018, the retreat directly faces the beautiful Knuckles range, lending an immediate advantage to the place, making it a showstopper.

Aarunya which means "First Rays of the Sun" in ancient Sanskrit, can be experienced at this resort location every day during sun rise with the backdrop of the Knuckles mountain range.

A sanctuary to unwind: Coupled with its spellbinding views, Aarunya has nature at its best as the real draw card of the hotel and offers deeply restorative yoga programs conducted by experts in the field. The approach here is reflective of the more classic styles of yoga that are gentle, conscientious and personal, and includes the powerful practice of deep mind and body relaxation. The idea is for guests to leave with a mind that is lighter and more enlightened, and a body that is reinvigorated.

Cosy and relaxed luxury: This hilltop hideaway, a former tea and mixed plantation estate, is also constructed with a touch that is totally eco-friendly. The architect has designed a graceful and dramatic infinity pool and entrance pavilion known as the Central Bungalow, with a stairway that leads to a lobby lounge set out with beautiful interiors that is a celebration of Kandyan art, culture and history.

The four main luxury villas, each with high wooden ceilings, titanium floors, cosy front verandas, and enormous floor-to-ceiling windows permits maximum natural light with spectacular garden, mountain and valley views. These extravagant villas are layered with Sri Lankan antiques and fantastic local art. The spacious rooms each with their own unique pastel colour palette, compliments and enhances the surrounding beauty of the place.

Beyond the regal four-poster beds and wide windows, there are over seven acres of secluded private gardens consisting of mixed spice plantations, fruit trees, organic vegetable patch, tea fields and spa pavilions, begging to be strolled and enjoyed.

The Jacuzzi on the veranda of each luxury villa looks out at misty mountain views, whilst the infinity pool, set in a picturesque manner at the hilltop, reflects the blue and green colours of the mountains and sky.

Guests can take advantage of the splendid isolation by whiling away their afternoons at the poolside, or on the villa verandahs, then sampling some of the true tastes of the island at the open-air restaurant in the Central Bungalow.

Evenings are quiet and velvety. Dining is fine dining alfresco, perfectly suited to the climate of Kandy. Dinner is a theatrical event with candlelight and fine wines paired to the simple but well-executed menu that delivers a generous helping of Sri Lankan hospitality.

One will be hard pressed to find a bad angle in the hotel. One of its best moments can be found in the Central Bungalow with its sweeping views of the mountains banked by the infinity pool, with the entire hotel blending in soothingly with its stunning site. Ever-changing atmospheres and dramatic views of Knuckles spellbound ceaselessly.

Overall, perfect for a romantic getaway, or just to relax for well-heeled spiritual seekers, Aarunya lives up to its promise of great views, a celebration of nature, and eco -friendly practices, coupled with high end comfort that is cosy and luxurious.

The architect of Aarunya, Nath Rankothge, is of Kandy heritage, born in Colombo, raised in Sydney Australia, having lived in more than eight countries, and currently heading an international practice, NRAA (www.nra-a.com) with offices in Colombo, Chengdu and Sydney.

In Nath's words: "With love for the mother country we have embarked on this new venture to showcase Sri Lanka to the world." He added that the master plan was to expand Aarunya to 11 villas and 20 rooms with a natural rock pool, tennis court, world class butler service, and even a helipad for the most discerning of clients.

Nath's vision is to create a world class, international, hospitality brand beginning with Aarunya, and developing unique hotel and resort properties across the world. He is open to collaborating with similar-minded investors and personalities to make this happen.