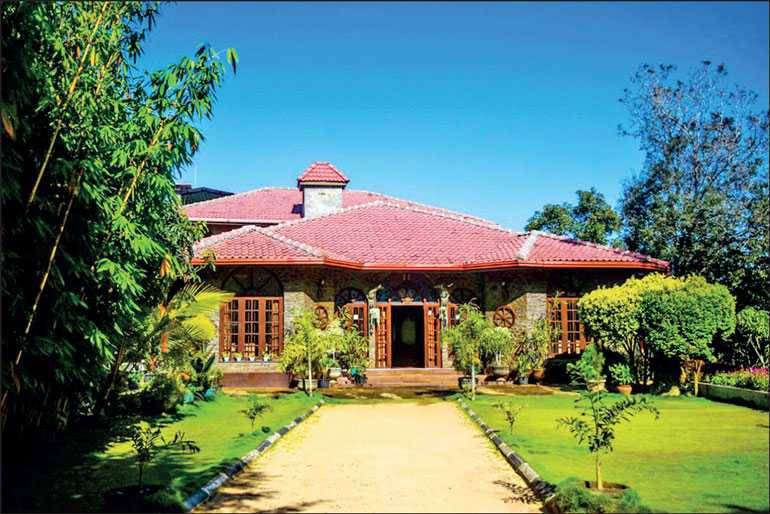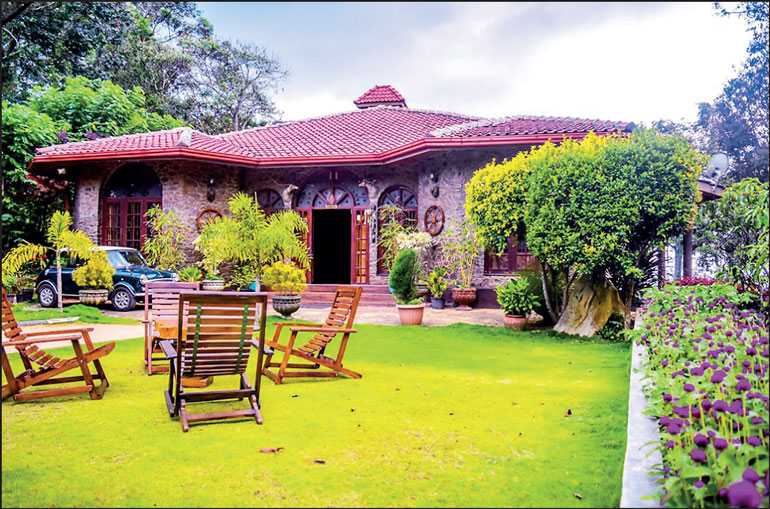 By Royston Ellis

The entrance to MF Bungalow reveals a lot about the character of the place to the observant visitor. There is a discreet sign by the wrought-iron gate, a well-swept driveway with a classic Mini motorcar parked to one side under a marquee, a green lawn of soft grass, and a varnished bungalow façade adorned with hanging potted plants. In a flower pot on a ledge, a tiny black bird peeps from its resting place for the night. I realised then that even birds feel safe at home in this unique bungalow in the hills of Uva.




This bungalow, just six kilometres away from the cacophony of construction and development that bedevils the once charming town of Bandarawela, is unique because it is not original. It has not been converted with frills from a neglected plantation residence to cater for moneyed tourists; instead it has been purpose-built for discerning local or foreign visitors. Yet it has none of the minimalist horrors of modern architecture having been created with passion and respect for Sri Lanka's heritage.

Guests step into the bungalow under an archway where twin model stag heads with antlers face each other like guardians of the wonders within. The bungalow begins with two lounges at the front, both furnished with four plump, comfortable sofas, either side of the wide hall that leads to bedrooms and the restaurant.

This hall is like a gallery, hung with old photographs at ceiling height of Uva's history, antique prints and maps, and with cabinets containing the owner's collection of wooden figurines and other objets d'art. The restaurant décor features a wall hung artistically with old cutlery and a counter of antique bain-maries. There is a collection of old clocks and remarkable mementoes of the past in nooks and crannies.

The guestrooms are also unusual with a décor that immediately suggests sedate comfort. The entire wall behind the double bed in each room has been hand painted by a local artist with a scene of the Uva hills and misty views seen from the bungalow. This creates an atmosphere of warm and homely comfort and assurance of a good night's rest encouraged by soft pillows and fluffy blankets. The natural temperature of the hills precludes the intrusion of air-conditioning and fans, letting cosiness prevail.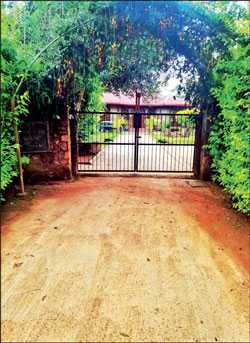 The essentials of a slim clothes cupboard, work desk with wall-hung television screen, and large attached bathroom with lashings of hot water in the shower, are a feature of each of the six guestrooms. Each bedroom has an ingenious sofa for two that flips open to transform into a second bed. The ceilings are of wood, the floors carpeted from wall to wall.

Four rooms are on the ground floor, two on each side of the gallery hall. Two have an additional door giving access to a private veranda overlooking a garden lush with tropical trees and plants, and with gentle pathways meandering through manicured tea bushes. There are two more bedrooms with a private lounge upstairs.

The ground floor restaurant is large and bright with picture windows embracing the view and verdant scenery. Furniture is chunky, made of local timber. There is free WiFi. A cook and steward are on duty so meals featuring pure Sri Lankan cuisine from a low-priced menu (no additional service charge or taxes) are available all day, even to non-residents.

Although buses from Bandarawela chug past the bungalow on the way to the neighbouring village, the bungalow exudes a sense of calm and peace. It overlooks 20 acres devoted to high-grown single estate tea, plucked daily and sent to a nearby factory. A lane passes the house leading to a temple. It is a perfect place to spend a few days relaxing while touring Sri Lanka, or for a fun holiday with family and friends. Rooms with breakfast are available for two at around Rs. 8,000 a night; the entire bungalow without meals but with cook on hand to prepare dishes from guests' own provisions, rents at Rs. 40,000 a night and can sleep 20.

At MF Bungalow (named with the initials of the two brothers who own it) there is none of the elaborate pretence of commercial, upmarket tourist bungalows, just an enviable atmosphere of old-fashioned style and a love of heritage that touches the hearts of all who stay, even if only for a couple of nights.

MF Holiday Bungalow, Pattiyagadara, Bandarawela; Tel: 072 350 1919; email: [email protected]; www.mfholidaybungalow.com.