LOLC Finance PLC, since its inception, has been a pioneer in financing and nurturing Sri Lanka's Small and Medium Enterprises (SMEs) as a leader in the country's Non-Banking Financial Institution (NBFI) sector.

LOLC Finance is renowned for delivering innovative and real-world financial solutions with the latest technologies in particular aiming to provide the country's SME sector with affordable and convenient financial services, tailored to their specific needs.

With the COVID-19 pandemic disrupting the SME sector which is considered to be the backbone of the economy, LOLC Finance stepped up to the occasion by adopting to the new normal in continuing to support SMEs during this challenging period.

LOLC Finance Chief Operating Officer (COO) Montini Warnakula recently sat down for a discussion with the Daily FT to elaborate on the new initiatives taken during this challenging period while briefly touching on recent industry developments and future plans of the company. Following are the excerpts of the discussion:
---
By Nishel Fernando
---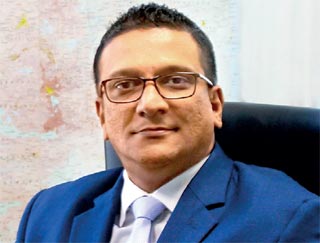 LOLC Finance Chief Operating Officer Montini Warnakula
---
Q: How did your SME segment fare during the last financial year with the impacts of the COVID-19 pandemic?

It was a challenging year for the SME sector. The actual operating period of the 2020/21 Financial Year (FY) was cut short to nine months due to the pandemic-related mobility restrictions.

However, we still managed to disburse new loans in the tune of Rs. 32 billion to 30,600 SME customers during the nine-month period. Although this could be considered as a fairly good performance in the industry, it's a little less than 50% of our ideal performance under normal circumstances. More importantly, we came to learn during this challenging period that uncertainty should not be considered a hindrance, and instead we should embrace challenges emanating from such uncertainties. The uncertainty created by the pandemic presented us with challenges that pushed us to evaluate and reengineer our core business model of lending and collections.

While, there were many sectors of the economy that were adversely impacted by the pandemic, we observed that some industries were able to face the challenges by venturing into viable alternatives. Therefore, we realised that we had avenues to lend and support SMEs to grow even during this challenging period.


Q: What are some of the key steps LOLC Finance undertook to continue to service your SME base and do you plan to continue these efforts even after the pandemic?

We decided to move our brick and motor business model to a digital platform during this period in order to continue to serve our customers. Due to the prevailing mobility restrictions, we couldn't offer our products to our customers the way we used to earlier.

Therefore, as an initial step, we decided to transform the conventional Speed Draft facility to a 'Digital Speed Draft'. In a nutshell, Speed Draft is similar to an overdraft facility of a bank. It is designed to meet the short-term working capital requirements of SMEs which was in high demand during this period. It's a revolving credit facility giving the customer the opportunity to utilise and repay, multiple times.

We successfully linked this facility with our own payment aggregator platform, iPay. Once a customer joins the iPay platform for payment and collection of their cash flow, we evaluate and monitor those cash flows. When a credit facility is being evaluated, one sound indicator of a client's repayment capacity is the cashflow statements; the cashflow records of iPay can be used in addition to the conventional records to ascertain a client's repayment capacity. Following this analysis, a digital funding facility is created for the customer and allow them to utilise the fund through iPay. Due to the current regulations related to Know-Your-Customer (KYC), the customer needs to make a one-time visit to one of our branches in order to obtain the Digital Speed Draft facility. Thereafter, all transactions can be carried out on iPay itself without having to visit anywhere. Further, our customers also faced many challenges in meeting their repayments deadlines due to travel restrictions during the period. As a solution to this issue, we enabled a facility for our customers to directly transfer funds to LOLC Finance from any bank account. So, customers no longer needed to physically visit any LOLC Finance branch or any other location to make their repayments on their borrowings.

From February this year onwards, these products were in full operation and we are moving ahead with on-boarding all our approximately half a million clients to this digital platform.


Q: As the Government-imposed restrictions on vehicle imports into the country, how did LOLC Finance adopt to this development?

Due to these restrictions, the demand for used vehicles skyrocketed along with the prices. So, that has created an opportunity for us to finance an increased number of registered motor vehicles irrespective of the year of manufacture. These vehicles have become sound assets due to the scarcity prevailing in the local market. As we expect these restrictions to remain in place for the next one-two years, we came up with several new products to cater to our SME customers.

For starters, we have developed a product named 'Riya Hariya'. It particularly aims to cater to this emerging market segment. There are two characteristics that caught our attention when it came to Sri Lankan households. Firstly, there are usually multiple income earners in one household and most of these income earners have a tendency or an aspiration to own a motor vehicle either for personal use or even for commercial purposes.

With this in mind, we allowed several such individuals to pool together in order to own a motor car, lorry or any other motor vehicle. Even during this pandemic period, we want our customers to meet their aspirations by acquiring such a valuable asset. That was the reason behind launching this product with a special focus on affordability.


Q: Were there any other products that gathered a notable demand from SMEs?

Yes, in fact, we also observed a significant growth in the gold-loan segment, which is often considered to be a key financing tool for SMEs. During 2020/21 FY, we extended gold-loan services to 11 new locations and we were able to cater to a record 14,000 customers during this period.

During this pandemic period, we also launched a new product in the gold loan segment named 'Wadiah' catering specifically to the Islamic business community. For both these products, we have enabled repayment of monthly interest as well as capital on the digital platform which is iPay.

We also have a value-added product named 'LOLC Ran Savi Red Carpet' also known as Mobile Gold loan to further facilitate the SME lending portfolio. This is a unique product where we go to the doorstep of our customers and we directly credit money to their preferred account immediately after inspecting the particular gold article. Moreover, for the first time in Sri Lanka, our gold loan customers are entitled for a free life insurance policy.


Q: How challenging has been containing risks to credit quality in the current context?

There were challenges in the regulatory arena. However, we succeeded in bringing down our Non-Performing Loan (NPL) ratio to the 12% range in March this year. Since then, NPLs have been on the rise due to import restrictions imposed on certain raw materials as well as due to the impacts stemming from certain regulatory measures. Having said that, we are adapting to operate and succeed in this new normal and uncharted waters.


Q: What are your immediate future plans for the SME sector?

The ongoing Business Process Re-engineering (BPR) exercise is allowing for digital on-boarding and automated digital branches and we are in the process of moving all the transactions of all SME products to the digital platforms.

As the company's values are based on the Triple Bottom Line which consists of people, profit and the planet, having a sophisticated digital platform with the state-of-the-art technology would assist the overall objective of the company.