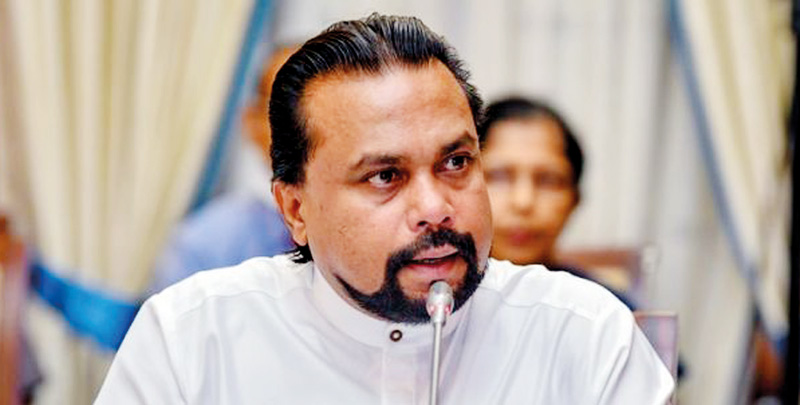 Industries Minister Wimal Weerawansa
---
1990 Act has provisions for councils but move not implemented to date
Gets Cabinet nod to appoint individual Advisory Councils to 20 different industrial sectors
Private sector reps and academics to offer advice on policies and procedures for better inter-ministry and inter-agency coordination
---
By Charumini de Silva
---
The Cabinet of Ministers this week approved the setting up of Advisory Councils to individually resolve issues and devise policies to optimise growth of 20 industrial sectors.

The Advisory Councils will be tasked with discussing issues relating to relevant industries and joint private sector programs with the Government for the development of industries, as well as advise the Industries Minister Wimal Weerawansa on the effectiveness of the measures taken for the promotion of relevant industrial sectors. The councils will also have powers to ensure the proper discharge of its functions. In a proposal presented to Cabinet, Minister Weerawansa said the Industrial Promotion Act No. 46 of 1990 had made provisions for an Advisory Council but to date it has not been implemented.

It was pointed out that lack of proper coordination between the line ministries, other relevant institutions and industrial sector representatives, had caused various issues and unnecessary delays in the planning and implementation process of industrial development.

To rectify this, the Advisory Councils will be appointed with representatives of the private sector (relevant industry or product sector Chambers, federations or associations) and those with wide experience and capacity in the relevant field of industry, including academics and relevant public sector officials. The Chairman and the Secretary of these councils will be selected from the private sector. The Directors of the Development Divisions of the Industries Ministry will act as coordinators.

The broader objective of these councils will be to get industry leaders' inputs for the preparation of development plans, and recommendations based on new budget proposals, to upgrade technology and develop value chains to compete in the global market, utilising the available foreign and local assistance programs.

Some of the industry sectors for which individual Advisory Councils will be appointed include processed food, value added Coir products, value added tea, value added spices, wood and wood-based products, rubber-based products, plastic-based products, automobiles, die and mould metal-based products, ceramic, leather and footwear, cement, chemicals, paints, printing, electrical and electronics, herbal and pharmaceutical, and packaging.

Cabinet Co-Spokesman and Minister Keheliya Rambukwella told journalists that apart from appointing the Advisory Councils, the 1990 Act will be amended to cater to contemporary requirements in the industrial sector.