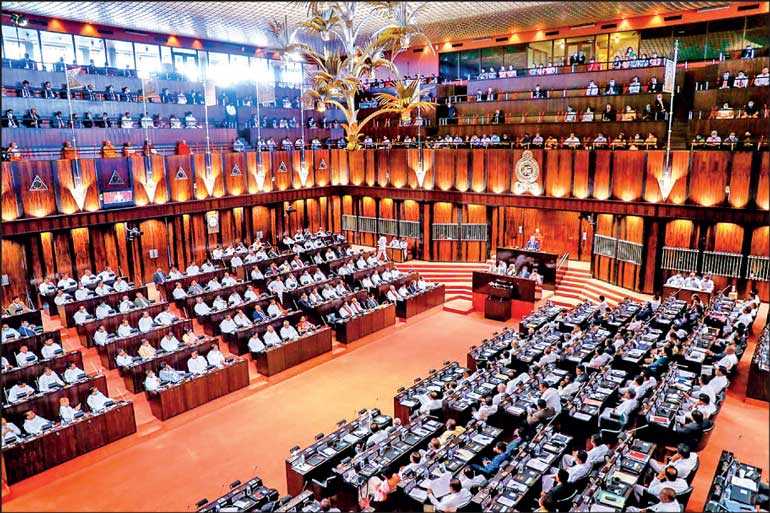 Parliament passes resolution for Rs. 1.7 t critical funds to cover expenses for next 4 months after two-day debate
Resolution to borrow Rs. 750 b via issuance of Treasury bills also gets approval
Budget for 2021 will be presented in November
Opposition raises questions about expenditure between April-August without parliamentary approval
Requests Govt. to submit details of expenditure during those months to House
Govt. defends President's authorisation of funds during period Parliament stood dissolved
Accuses Opposition of trying to drag country into financial crisis
By Chandani Kirinde

Parliament yesterday approved the resolution to obtain around Rs. 1.7 trillion to cover expenditure for the next four months of the year by way of a Vote on Account (VoA).

The resolution moved by Prime Minister Mahinda Rajapaksa, who is also the Minister for Finance, was approved by the House without a vote after two days of debate.

A resolution for the Government to borrow a sum of Rs. 750 billion by issue of Government Treasury bills, too, was approved by the House.

Leader of the House Minister Dinesh Gunawardena said the Government would present its Budget for 2021 to the House in November.

Finances for this year have been allocated by way of three VoAs with the delay in holding the Parliamentary Elections due to the COVID-19 outbreak.

During the two-day debate, which began on Thursday, Opposition lawmakers raised questions about the Government's expenditure from April to August without the authorisation of Parliament.

Samagi Jana Balawegaya (SJB) Colombo District MP Harsha De Silva said while the Opposition understood the Government›s need for funds during the period Parliament stood dissolved, there was the need to legitimise the expenditure now that there is a functioning Parliament.

"Leaving this matter as it is setting a bad precedent for a future," he said.

During the debate, De Silva criticised the Government for obtaining more than a trillion as loans within a short period of six months after taking office and said this, coupled with this VoA, will increase the country's debt.

He also requested the Government to be vigilant when obtaining repo (repurchase agreement) loans against Treasury bills and bonds in the US Federal Reserves. "I am not saying obtaining loans this way is correct or wrong, but as a responsible Opposition, we would like to request the Government to be vigilant when obtaining these loans. This facility was introduced for countries affected by the pandemic as a temporary solution."

He also requested the Government to disclose the balance of the special account recently opened to cater to deposits in any currency, such as dollars, yen or other.
Jathika Jana Balawegaya (JJB) MP Anura Kumara Dissanayake raised questions during the debate on who the Minister of Defence of the country is.

«Through this VOA, the Government is asking Parliament to allocate Rs. 174 billion to the Ministry of Defence but who is the Minister of Defence? Chamal Rajapaksa is named as the State Minister of Defence but he is only in charge of the Police, and district and divisional secretariats. The armed forces do not come under his purview. Who do they fall under? You are asking us to approve a massive allocation of Rs. 174 billion for the ministry, but who is the minister who will be responsible to Parliament for these funds?» he queried.

Leader of the House and Minister of Foreign Relations Dinesh Gunawardena said the main criticism of the Government by the Opposition is that there is a legal provision to cover the utilisation of funds during the period of April to August.

"The Prime Minister explained that there are billions of unsettled payments due for constructions, development projects, health projects and public needs which were abandoned by the previous Government. In February, our attempt was to obtain the necessary funding to meet these needs so that the country shall not be dragged into an economic crisis. So, the Opposition was taking every opportunity to destabilise the country economically, politically, and socially," Minister Gunawardena said.

Minister Gunawardena said that the Opposition, which should have cooperated with the Government during the pandemic, did everything to create an economic crisis in the country. "They did not support the President and the Prime Minister during a time of need. The Opposition's actions and political behaviour are unacceptable. The Opposition, when in power, did not present a budget during their rule, and to quote their own words, they did not expect a defeat in the election. The public, of course, gave them the answer in the General Elections."