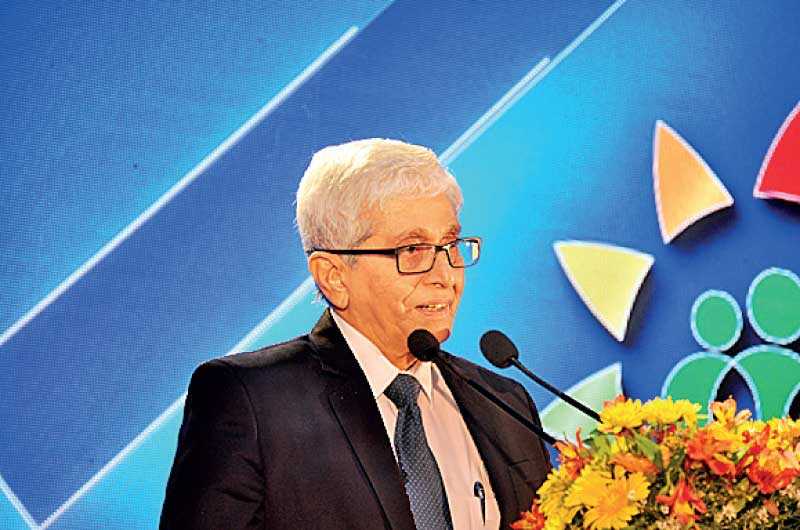 Central Bank Governer Prof. W.D. Lakshman
---
Stresses COVID-19 gives unique chance to redirect strategies and thinking patterns, and address long standing structural issues of economy
Says economy is projected to record a revival in 2021 from which country could enter a new era of social and economic prosperity
Says banking sector indispensable part of the institutional structure to achieve growth, development
Points to lack of effective development banking system, wide range of responsibilities entrusted to commercial banking sector
Central Bank believes cautious monitoring of asset quality crucial to manage NPLs levels
Calls on banks to continue to play an active role, become a strong pillar in supporting shared growth
---
Central Bank Governor Prof. W.D. Lakshman yesterday urged that the COVID-19 pandemic be utilised as an opportunity to address long standing structural issues stifling the economy from achieving higher equitable growth.

"Despite its devastating impacts, the pandemic has also given us unique opportunities to change, redirect our strategies and thinking patterns. It is important to take this opportunity to address long standing structural issues of our economy," Prof. Lakshman said in keynote address at the Association of Professional Bankers (APB) – Sri Lanka Research Symposium 2021 titled 'Sri Lanka Economic Resurgence in 2021 through Strategic Vision'.

"The immediate challenge we face today is obviously to emerge stronger from the current crisis the country is facing. The economy is projected to record a revival in 2021 as the threat of the pandemic is expected to fade out along with increased vaccinations across the country.

"However, a long-term view on economic policies is essential to mitigate some of the structural weaknesses of our economy that have hindered its performance in history. The novel economic framework of the Government is a positive step towards this, as the promotion of the domestic production sector has been identified as the key driver in pushing the country forward. At the same time, measures need to be taken to avoid growth stagnation, by promoting an innovation-driven economy.

"The COVID-19 pandemic has changed the socio-economic landscape of the world on an unprecedented scale and rate. We are at the end of the first quarter of 2021, the year which we expect to signify the economy's recovery and resurgence, from which we could enter a new era of social and economic prosperity. Our expectation for the medium and long terms is to achieve a 6% sustainable growth target together with fair income distribution, poverty alleviation, low levels of unemployment and environmental sustainability."

However tempered this statement with the caveat that these are "extremely difficult" objectives to pursue simultaneously.

"One of the obvious trade-offs made is to bring down the planned growth rate to 6%, even if 8% growth could be achieved by sacrificing some socially important objectives. Even making trade-offs, this growth path of multiple objectives is difficult to achieve. It requires the commitment of a range of stakeholders."

The Governor added that the Government has moved on to an alternative development path, one characterised by certain interesting policy choices.

Domestic production growth is the key to success of the new economic strategy. The expectation is that these policies promoting income earning activity, will also help maintain a reasonable level of full employment in the country, with income distribution patterns likely to become less skewed as poverty levels come down. The methodology of achieving these social objectives is through agricultural, industrial and service activities – micro, small, medium and large.

He said the Central Bank recognises this notable shift in policy direction, and the need to maintain low interest rates and a less volatile exchange rate, so as to create an environment conducive to promoting domestic production and supporting local businesses.

"What we need is not an isolated episode of high growth, but rather an acceptably high, stable, and shared growth to be sustained over many years. This can only be achieved by continuously improving productivity, by promoting innovation to develop new knowledge and being vigilant about movements in socio-economic and politically sensitive indicators like poverty, unequal distribution, and unemployment," he stressed.

The Governor pointed out that bankers have an opportunity to support this endeavour by directing more credit towards projects, businesses and activities that promote innovation in various subject areas.

"As a result of the efforts to relax monetary conditions and to expand credit towards needy sectors, the overall interest rates of the economy have come down considerably, firmly establishing a single-digit interest rate structure. Many of the benchmark average interest rates compiled by the Central Bank have reached historically low levels, with notable reductions in the average new deposit and lending rates."

In the absence of an effective development banking system, Prof. Lakshman said a wide range of responsibilities, including some not falling strictly under a system of commercial banking, are being entrusted to the banking sector.

He also said that credit disbursed to the private sector by licensed commercial banks have recovered steadily over the past few months, although it is yet to reach the envisaged levels.

"The Central Bank believes cautious monitoring of asset quality of the banking sector is important, as businesses are still recovering from the recession, and have the possibility of running into difficulties, leading to higher levels of non-performing loans (NPLs). Therefore, necessary prudential measures are crucial to preserve financial sector stability."

As the economy has entered an unprecedented era with very low interest rates providing incentives for the production sector to a greater extent, the Governor said the banking sector has an important role to introduce novel and safe financial alternatives to cater to this emerging need, in a low-interest rate, low-inflation environment.

He also cautioned that it was important to simultaneously be vigilant of the emergence of illegal financial systems such as pyramid schemes, which could attract unsuspecting savers as mechanisms to invest their savings.

Prof. Lakshman called on the banks to continue to play an active role in this regard so as to become a strong pillar in supporting the shared growth journey of the country's economy.

---