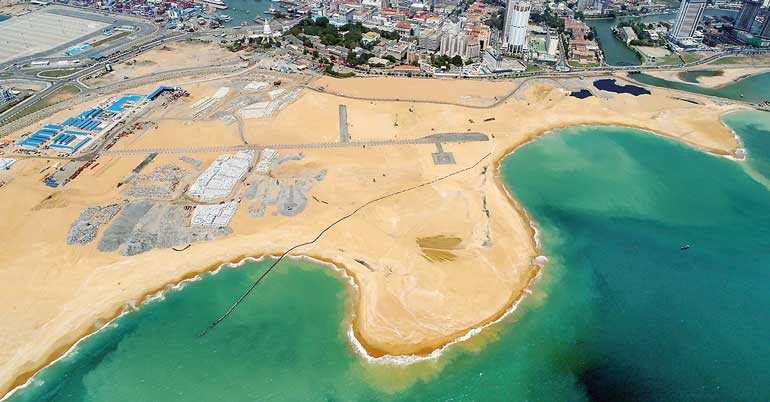 Port City work in progress
---
Investor completes dredging work, commences infrastructure development

Both soft and hard infrastructure now under Megapolis Ministry

Legal framework for investments still under discussions with possibility of drawing tripartite agreements

Colombo International Financial City legislation still under discussion despite passing deadline
By Chathuri Dissanayake

As dredging work in the Port City draws to a close the Government is now looking at drawing up tripartite agreements with possible investors to develop the new addition to the country's landmass.

The legal framework for investments, still under discussion is likely to finalised by March, Ministry of Megapolis & Western Development Secretary Nihal Rupasinghe told Daily FT.

The 269ha land added to the country's landmass following the completion of the dredging work done by the Chinese Investor CHEC Port City Colombo Ltd. is now under the care of the President of the country. Out of the liveable area of 178 ha, 116ha is to be leased to CHEC Port city on a 99-year lease.

"This is likely to be vested to the Sri Lanka Land Reclamation & Development Corporation (SLLRDC) which will then be gazetted to the Urban Development Authority. The investor agreements to develop the lands is to be signed between the UDA, the CHEC Port City Colombo and the investor," Rupasinghe said.

However the legislation is yet to be drafted. The designing of the soft infrastructure for the project which was earlier spearheaded by then State Minister of National Policies and Economic Affairs Harsha de Silva has now been brought under Ministry of Megapolis and Western Development, which is responsible for all hard infrastructure development. However no discussions have happened since it has been brought under Megapolis Ministry, Rupasinghe said.

Although the legal framework for the Colombo International Financial City (CIFC) was to be finalised last year, with Dr. De Silva telling media that the draft was set to be presented to the Cabinet in September, the proposed legislation is yet to be presented.

A committee headed by former Attorney General Yuvanjana Wijethilake has been engaged in preparatory work of the legislation. However, according to sources familiar with the project, this committee too has not met since the changing of line ministry control for soft infrastructure.

While the legislation associated with the project lags behind, the infrastructure development inside the Port City has already commenced after dredging completed.

"The road network has been approved by the Road Development Authority (RDA) and piling work for the nine bridges have already stated," Project Director Nihal Fernando told Daily FT.

All inside infrastructure is also developed by CHEC Port City Colombo, he noted, adding that other infrastructure development within the port has already commenced with the contribution of local authorities responsible for different services.