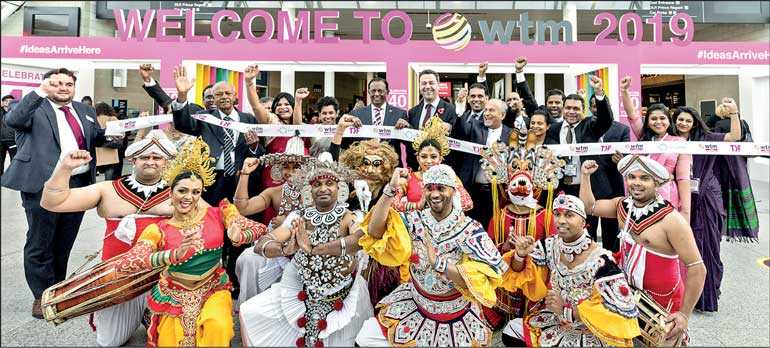 Sri Lanka ceremoniously opened WTM 2019 in London yesterday, with colourful performances by traditional dancers and artists. Here the Sri Lanka officials and industry personnel along with WTM executives give a thumbs up for Sri Lanka after the opening of the three-day fair which will draw over 50,000 visitors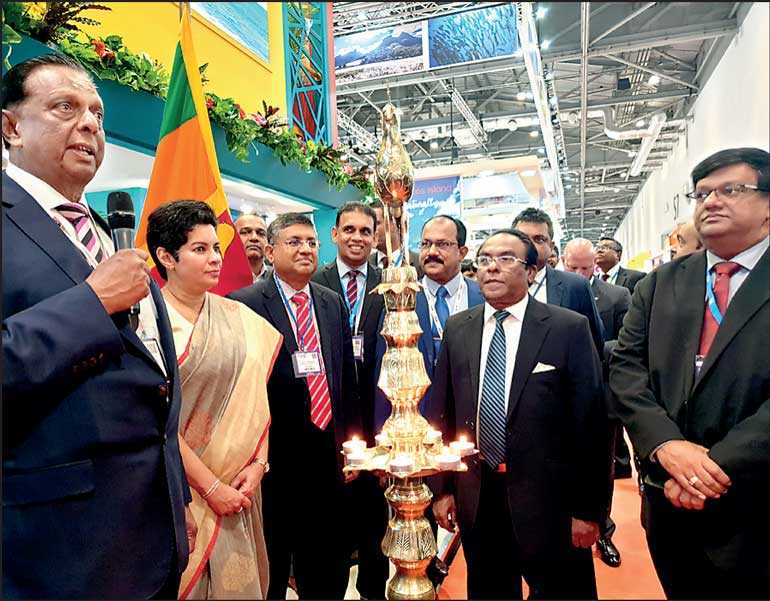 Tourism Minister John Amaratunga speaking at the

inauguration of Sri Lanka pavilion at WTM yesterday
---
Reverberating opening for 2019 World Travel Market in London by SL
SL says tourism post Easter Sunday tragedy is bouncing back

Minister John Amaratunga commends SL
pavilion with 70 companies as best in five years
SL invests £ 250,000 for widespread branding as Premier Partner of WTM 2019, set to draw over 50,000 during 3 days
By Nisthar Cassim in London

Sri Lanka's tourism sector yesterday began showcasing its "resilient recovery" following the Easter Sunday terror attacks, displaying strong messaging that the country was "back in business" at the world's largest travel fair in London.

Positioned as a Premier Partner of the 2019 World Travel Market, a status secured through the investment of an estimated £ 250,000 (over Rs. 60 million), Sri Lanka's fresh push at the three-day influential industry and consumer event was emphatic.

Traditional dancers and artists heralded the opening of the 2019 WTM by Sri Lanka, with Tourism Minister John Amaratunga and High Commissioner of Sri Lanka to the United Kingdom Manisha Gunasekera officiating along with WTM executives. Marking its 40th anniversary, WTM, during its three days, is set to draw over 50,000 trade and industry visitors.

CNN's renowned business news anchor Richard Quest joined the Minister in opening the Sri Lanka Pavilion at the WTM. With over 150 personnel representing 70 companies in attendance, the Minister described the Lankan Pavilion's design and style as the best in the past five years.

"Sri Lanka tourism is recovering commendably. As a destination there is rainbow after the storm," Amaratunga told a press conference held later for international media covering the WTM.

"We have been perseverant to overcome various obstacles," he added in reference to the 21 April Easter Sunday terror attacks in Sri Lanka which killed around 250 people, including over 40 tourists.

"It was an unfortunate tragedy, but we have bounced back," the Minister emphasised, noting that tourism was the saviour of the Sri Lankan economy and security had been stepped up, with the country committed to sustainable and responsible tourism.

High Commissioner Gunasekera said the strong message at 2019 WTM was "it is business as usual in Sri Lanka. We have been resilient and united and there has been steady recovery," she said.

Reiterating that Sri Lanka was the Pearl of the Indian Ocean, the High Commissioner invited the rest of the world to "walk with us in this beautiful journey."

"We are strong and we are resilient," stressed Sri Lanka Tourism Promotion Bureau Managing Director Charmarie Maelge.

With over 250,0000 arrivals (in 2018), the UK is the largest European source market and currently the second largest overall for Sri Lanka tourism. In the first nine months of this year, arrivals from the UK had dipped by 18.5% to 153,000. However, the industry is hopeful of a pickup with concerted promotion at the WTM this week as well as the English cricket team's tour to the island in March next year.