Event Management Association of Sri Lanka says industry in destitute state due to COVID-infused restrictions
Alleges Rs. 30 b industry suffering from discrimination, whilst authorities have let other activities to take place
Calls for one standard for all
Wants Govt. to allow conduct of bigger corporate events with safety guidelines
Says 50 persons per corporate event does not serve purpose; suggests increase number to 150 and allow 50% seating capacity at places like BMICH, Nelum Pokuna and Lionel Wendt
Claims submission of COVID-safe handbook to top Govt. officials has been futile
Highlights industry has potential to become South Asian entertainment hub
Wedding event planners welcome Govt. move, hope more progressive policies will be implemented
---
By Charumini de Silva
---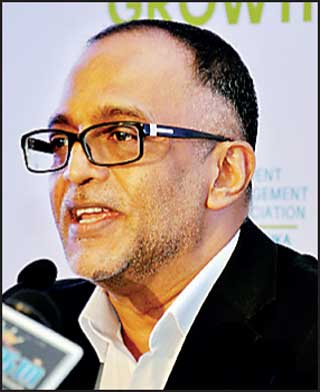 EMASL President Roshan Wijeyaratne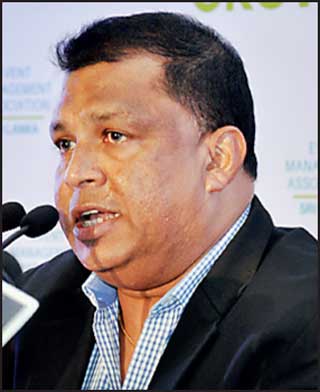 EMASL Treasurer Nishan Wasalathanthri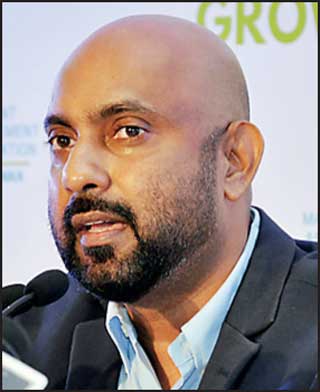 EMASL Asst. Secretary Saliya Weerasekera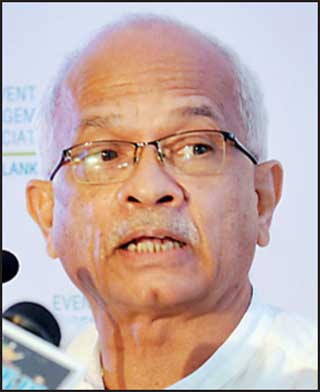 EMASL Advisory Counsel Gerry Jayasinghe
---
The multi-billion-rupee event management industry yesterday charged that it was being discriminated against and urged the Government allow bigger corporate functions to take place within the necessary guidelines.
In its first engagement with the media yesterday, the two-year-old Event Management Association of Sri Lanka (EMASL) listed a host of setbacks over the past 16 months amidst the COVID pandemic, and shared recommendations to resume the industry without further delay.

The event management industry is worth over Rs. 30 billion and is part of the Rs. 150 billion worth marketing communication sector.

EMASL, which has 65-member companies, called on the Government to treat the event management business like any other, thereby ending their financial misery and saving 130,000 direct jobs and 600,000

livelihoods.

"The Government considers the private sector as the engine of growth, but then why do they restrict industries operating? The 225-member Parliament never ran online, and the members attended Parliament because they have to keep the country moving forward.

Pix by Lasantha Kumara

Government allowed export-oriented industries to operate because you need foreign exchange. If all these are important, then the Government must also allow our industry to operate the same way too," EMASL President Roshan Wijeyaratne said.

Events are considered essential to businesses as a vital tool of 'live communication' which enables a cross-section of industries to present new products to the market and generate sales. In that context, a high frequency of corporate events often correlates with a healthy economy.

Wijeyaratne said most members of the association have made massive investments, ranging from Rs. 10 million to Rs. 800 million per business, on infrastructure, equipment and skills development.

While commending Government efforts to allow weddings with 150-guest capacity, Wijeyaratne expressed concerns and confusion over the decision to permit only 50 people for a lower risk sector such as corporate event management.

"This doesn't serve any purpose as our support services alone will be a total of 50 people to host a corporate event. We need one standard for all of us engaged in the industry, subject to strict health protocols."

He said a comprehensive handbook with protocols to ensure COVID-safe events submitted by EMASL to all high-ranked Government officials had been futile, adding that the industry would not survive another lockdown as it was now in a destitute state.

EMASL urged the Government to permit 50% of the seating capacity of indoor auditoriums in places like BMICH, Nelum Pokuna and Lionel Wendt to be allowed to operate.

Wijeyaratne also called on the Government to enforce the law to control the spread of COVID-19 at events held, and for them to penalise those who violate the regulations, noting that it was each person's social responsibility.

EMASL Treasurer Nishan Wasalathanthri meanwhile noted that the debt moratorium extended to the sector was not helpful and had only pushed members into a dire financial crisis with added interests.

"Grant us a grace period without a moratorium. Around 75% of our members are now listed in the Credit information Bureau of Sri Lanka (CRIB). None of the financial institutions are going to help us in this condition," he claimed.

EMASL Assistant Secretary Saliya Weerasekara said the event management industry, which is part of the entertainment business, holds great potential to present Sri Lanka as an entertainment hub in South Asia, particularly with the mega Port City project coming up.

"We are a local industry with local talent and investments. Nobody thinks about the entire procedure that goes behind the scenes to put up massive events. It just doesn't end at the price of a ticket but includes a lot of technical and creative aspects to make a memorable event. All our members are registered and contribute to the Government coffers," he said.

He also pointed out that the event management industry has a proven track record of holding international standard meetings, incentives, conferences and exhibitions (MICE) events, from world leaders' summits like the Commonwealth Heads of Government Meeting (CHOGM) to live concert performances by international stars such as Enrique Iglesias to a drive-in local mass event.

Weerasekara said safeguarding such a valuable industry should not only be the responsibility of the Government, but rather a priority.

EMASL Advisory Counsel Gerry Jayasinghe highlighted the need to expedite the national vaccination program to cover at least 60%, or 11 million, of the population to be able to scale-up economic activities in the country.

"Adopting global best practices, whilst adhering to our COVID-safe handbook, is critical to resume our businesses that are now on the brink of collapse with financial commitments," he said.

EMASL member and veteran in destination wedding planning Charm de Silva, welcomed the relaxed health guidelines to resume business.

"Sri Lanka was at the top of the lists for destination weddings when the COVID outbreak took place. Destination weddings bring in so much foreign exchange to the country and it helps our tourism industry too. We hope that the Government will consider progressive policies to continue our only livelihood without any future hiccoughs," he said.