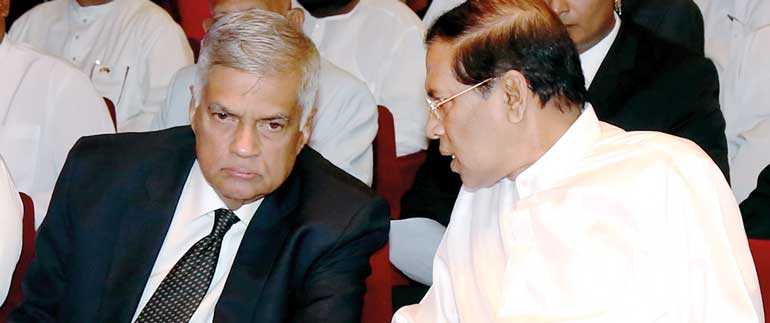 President Maithripala Sirisena and Prime Minister Ranil Wickremesinghe
---
Cabinet of 28 with President and PM rounding up to maximum 30

Mangala wins battle with Ravi K to be Finance Minister

Ravi K tipped to be Power and Energy and Business Development Minister, inclusive of State banks

Non-Cabinet portfolio to many, including Malik, Rishad, and Mano

Harin to receive Sports in addition to earlier portfolios

President Sirisena refuses to appoint Sarath Fonseka, Range Bandara and Arjuna

Others say trio to receive portfolios
The much-awaited Cabinet is to be sworn in this morning with some major changes, following which it will meet to chart the way forward.
It is speculated that today's Cabinet will be temporary, and a proper composition is likely after the Vote on Account is passed and the legal hurdles are cleared.

Mangala Samaraweera is believed to have won the battle for the Finance Minister title against an enterprising and ambitious Ravi Karunanayake, who is speculated to be given the Power and Energy portfolio along with Business Development, inclusive of State banks. Insiders claimed that Mangala had threatened to sit in the Opposition, as he doesn't want any other portfolio. However, Mangala will not have Media under him.

Whilst the new Cabinet will be restricted to 30, inclusive of President Maithripala Sirisena and Prime Minister Ranil Wickremesinghe, it is learnt that there will be several non-Cabinet Ministerial appointments. Among them are Malik Samarawickrama, Rishad Bathiudeen, and Mano Ganeshan, who earlier volunteered to opt out of Cabinet positions to enable Wickremesinghe to appoint a smaller Cabinet.
Speculated appointments of Sarath Fonseka, Palitha Range Bandara, and Arjuna Ranatunga have been opposed by President Sirisena, but others claimed some of them will receive portfolios, with Range Bandara to be entrusted with Transportation.

Young firebrand Harin Fernando is tipped to receive the Sports portfolio, in addition to the Telecom, Digital Infrastructure and Foreign Employment portfolios he formerly held. Veteran John Amaratunga will retain Tourism, with other party heavyweights such as Akila Viraj Kariyawasam, Navin Dissanayake, and others also retaining their former portfolios.

The President's Office informed the United National Party members set to receive Cabinet portfolios to be present for the ceremony sans visitors, as the first Cabinet meeting is to be conducted soon after the swearing-in.

Earlier, President Sirisena's demand to keep the Media, Law and Order, and Environment portfolios came under stiff opposition from the UNP, who said he could only hold Defence and Mahaweli Development. Following crossovers by a number of Sri Lanka Freedom Party Members during Tuesday's Parliamentary sitting, the President announced that he will not allow any crossover Members to be given Ministry portfolios. According to sources, a number of new names have been included in the new Cabinet, which has been met with resistance from the President.

Speculation was rife that several SLFPers who were former Cabinet Ministers will crossover in the coming weeks to secure new appointments.