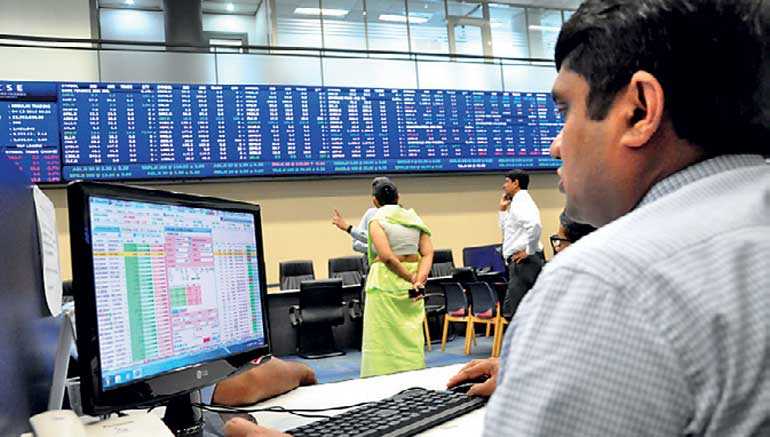 Benchmark index ASPI breaks decade-old record level established on Valentine's Day 2011
ASPI ends day up 188 points to 7,922 points, overtaking previous peak of 7,811 points
Intra-day ASPI touched a high of 8,016 within 5 minutes of trading before a welcome correction followed by excellent recovery
Bloomberg lists CSE as best performing primary index with 17% YTD return so far
More active S&PSL20 index crosses 3,000-point level; up 14% YTD
Turnover tops Rs. 12 b for second consecutive session
Combined turnover of Rs. 83.6 b recorded in 10 trading days of 2020 is 21% of full 2020 and 48% of 2019
506.3 m shares change hands via all-time high 67,153 trades
---
By Nisthar Cassim
---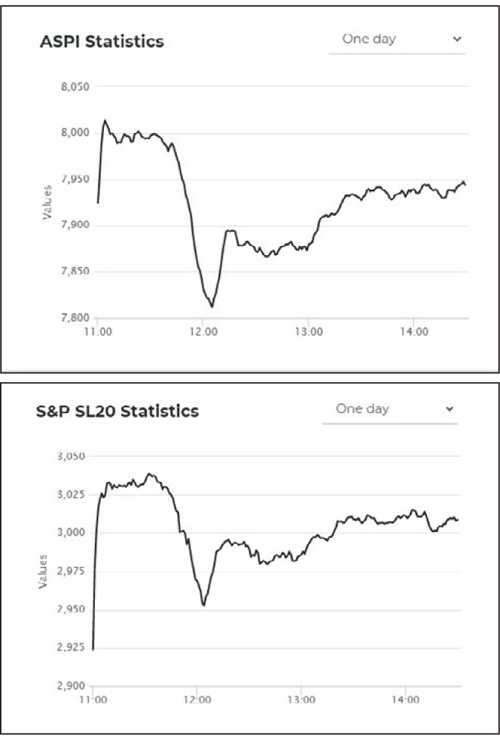 The Colombo stock market yesterday became the world's best performing among primaries as it soared to all-time level, breaking a 10-year-old record, with heightened bullish investor activity propelling turnover to over Rs. 12 billion for the second consecutive session.

As per a sample of global primary indices Bloomberg listed CSE with 16.95% return at number one followed by S&P/CLX IPSA (CLP)TR with 9.45% gain (see chart).

After last week's ASPI gain of 8.64%, expectations were high yesterday on the all-time high level achieved on Valentine's Day of 2011.

The market took off to a sensational start with the ASPI crossing the 8,000-point level within five minutes of trading before a welcome correction followed by excellent recovery.

"What a momentous day it was and finally we have established a new record high," a leading jubilant broker told the Daily FT. "Credit goes to all stakeholders, especially investors who kept faith in the market despite some misleading reports and opinions by a few," he added.

He argued that the turnover being over Rs. 12 billion for two days running should silence the critics who were trying to drive unnecessary fear.
In terms of market Price Earnings Ratio (PER), a key indicator of the attractiveness of a bourse, the CSE is at 13 times, much lower in comparison to past boom periods when it was 19.7 times in 2014 and 25 times in 2010. However the market and company performances as well economic conditions were incomparable, some warned.

The ASPI finished the day at 7,922.66, up 188 points or 2.4%, comfortably overtaking the previous best of 7,811 points set on 14 February 2011. The day's gain was also the eighth highest points gain in CSE's 35-year history.

The S&P SL20 index, which features the largest and most liquid stocks listed on the exchange, also continued its upward momentum, crossing 3,000 points and reaching its highest point since market close on 4 December 2019, gaining 100.32 points to end the day at 3,003.30 points.

CSE in a brief statement said the "market continued to showcase increased investor interest" with turnover crossing Rs. 12 billion for the second consecutive day.

According to SC Securities, the biggest contributors to the turnover yesterday were Expolanka (Rs 1.6 billion), Browns Investments (Rs. 1.35 billion), LOLC Holdings (Rs. 1.3 billion), Access Engineering (Rs. 796 million) and Dipped Products (Rs. 451 million).

"The consolidated turnover recorded 10 trading days into 2021 is Rs. 83.6 billion, which is 21% of the full-year aggregate turnover figure recorded in 2020 and 48% of the aggregate turnover recorded in 2019," CSE said in its statement. The number of trades at 67,153 was also the highest in history.

"Since the turn of 2021 the CSE ASPI has also been among the best performing primary indices globally on a year-to-date basis. As of yesterday, CSE is the best performing primary index listed on Bloomberg on an YTD basis with a 16.95% YTD return," CSE added.

First Capital said retailers rallied for the 14th consecutive session driving the market to an all-time high while sustaining the turnover of Rs. 12 billion for the second straight trading day.

"The index spiked within the first few minutes of trading as it reached its intraday high of 8,016. Subsequently the market plunged during mid-day followed by a bounce back. Later the market experienced a gradual upwards movement for the rest of the session," First Capital added.

It said the Capital Goods sector led the turnover for the session, closely followed by Diversified Financials and Materials sectors, which made a joint contribution of 55%.

NDB Securities said the ASPI closed in green as a result of price gains in counters such as LOLC Holdings, Commercial Leasing & Finance and Lanka Orix Finance.

It said high net worth and institutional investor participation was noted in Renuka Capital, Kelani Cables and Dipped Products. Mixed interest was observed in Vallibel One, Tokyo Cement Company non-voting and Hayleys, whilst retail interest was noted in Expolanka Holdings, Browns Investments and LOLC Holdings.

The Capital Goods sector was the top contributor to market turnover (due to Access Engineering), whilst the sector index gained 3.28%. The share price of Access Engineering recorded a gain of Rs. 4.90 (19.60%) to close at Rs. 29.90.

Diversified Financials sector was the second highest contributor to the market turnover (due to LOLC Holdings), whilst the sector index increased by 11.61%. The share price of LOLC Holdings moved up by Rs. 38.50 (16.98%) to close at Rs. 265.25.

Expolanka Holdings, Browns Investments and Dipped Products were also included amongst the top turnover contributors. The share price of Expolanka Holdings increased by Rs. 0.40 (0.75%) to close at Rs. 53.80. Furthermore, the share price of Browns Investments lost Rs. 0.20 (2.67%) to close at Rs. 7.30, whilst the share price of Dipped Products appreciated by Rs. 27.50 (6.85%) to close at Rs. 428.75.

Foreigners continue to respond negatively to fortunes in the CSE as they remain net sellers to the tune of Rs. 123 million yesterday, bringing the YTD figure to Rs. 1.7 billion. Last year there was net selling of Rs. 51 billion.

Asia Securities said estimated net foreign buying topped in PARQ at Rs. 32.7 million and net foreign selling topped in HNBX at Rs. 68.4 million.

Some analysts sensing an overheated market anticipate a degree of profit taking as bulk of retailers and some high net worth individuals engaged in heavy trading prefer to liquidate partially and settle margin calls and later reinvest. Low interest rates is a key attraction for equities which usually tend to be classified as risky but market promoters believe there is upside in the medium to long term, especially with an anticipation of return of foreign funds and local institutional investors from late first quarter or early second quarter onwards.