Insists most inclusive, pro-democracy party in the fray
Acknowledges failure on anti-corruption front, pledges to take it forward
Work on improving biz climate to also continue
Backs better debt management, improving credit ratings
Wants CB to be kept independent
Says SJB has best team to achieve goals
---
By Madushka Balasuriya
---
Samagi Jana Balawegaya (SJB) National Campaign Organiser Eran Wickramaratne struck a bullish tone ahead of next week's General Election predicting a "strong performance" from his party, assuring they can deliver a "clean cut" from traditional politics as well as redouble attention on economic reforms and anti-corruption.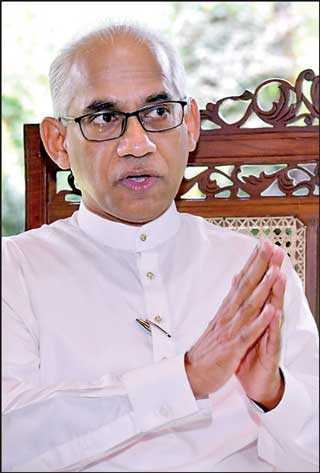 SJB Election Campaign Manager Eran Wickramaratne
- Pic by Ruwan Walpola


In an interview with the Daily FT, Wickramaratne espoused the technocratic make-up of the SJB as among the party's key advantages over its opponents, with the former State Minister of Finance believing it will give the country's best hope to manage its burgeoning debt.

"Really the crisis begins next year, it starts by us having to pay over $ 4 billion next year, and also more than that in the year that follows".
The data coming out over the last three or four months is fuzzy, we don't really have actually data. My guess is that reserves are at a low. Which means that the Government has to bolster those reserves. So in bolstering those reserves there are several measures that need to be taken," stated Wickramaratne.

Among those measures is, at least in the short term, improved dialogue with the international community, while at the same time reasserting and fostering confidence in Sri Lanka's policy stability among its investors and creditors.

"The path that we would follow is to work with the international community. We will try to ease the present structural debt that we have with our partners by actually talking to them. This is where international relations and partnerships actually work."

"The other thing we will do is with an understanding, with the IMF, World Bank etc. I would say we would look to source more concessionary financing. And also look to improve the cash flow with the OECD."

In the long term, he hopes that this would allow the country's credit rating, which has fallen since late 2018, to stabilise and thus improve Sri Lanka's ability to attract investment.

"In terms of the longer term, our future lies really in investments and actually getting money coming in. To do that the country's ratings have to be stabilised. Since the President took over the ratings actually went down – normally when a new President is elected there is a show of confidence. There was no show of confidence here. That's very unfortunate, and it's continued to go down."

"If people recognise that we have a plan, we have competent people behind the plan, and these people can be trusted, I think things will begin to stabilise."

He acknowledged that the former Government failed to meet its good governance mandate but assured the SJB would double down on completing tasks left incomplete.

"What we did fail on is the issue of combating corruption. There has been an enormous amount of corruption over the past 20 years. And some of the bigger transactions have hit the news recently. SriLankan Airlines of which I was Minister towards the latter part of the last Government, transactions on aircraft. We struggled to bring it to book."

Wickramaratne also conceded that improving the business climate and having stable policies had been another semi-achievement of the former Government and pledged to take forward reforms needed to put the country on a sustainable growth path. He also emphasised that the SJB was the most inclusive party and strongly believed in the ideals of a democracy, including strong institutions.

The key to achieving these objectives however, according to Wickramaratne, is in getting people with proven track records and qualifications in a position where they can influence Government policy in a meaningful matter. Individuals he firmly believes the SJB possesses.

"The challenge I'm throwing out to any of the other parties is to just compare their teams with our team. And, make no mistake, a team is required," stated Wickramaratne.

"Some of the people are less known because they haven't really held Cabinet office in the previous period. If you talk about infrastructure development, if you talk about housing, if you talk about the economy, you talk about the new economy – digitalisation, electronics – and the number of the people with the backgrounds that we have, these are some of Sri Lanka's future – these are where the next governments are coming from. We need to put this country in the hands of a new group of people, who are not tainted by political power in the past."

Wickramaratne also held few punches in his call for a new political culture, citing the negative impact of 'nepotism' and 'cliques' on a younger generation looking to stamp their mark on the country.

"The problem with family rule and nepotism is that it gives less of an opportunity for younger people and a new generation. Now that can also happen when there's no nepotism – if there's a lack of democracy and you have a 'clique' in power, that can also happen, because it's also a family of a kind without a bloodline.

"We need a clean cut. We need a new leader, a new team, we need ideas, a new generation and we need to make a break with the past in taking this country forward. And we have to change the political culture in this country."

Wickramaratne, who also has extensive experience in the banking sector, also touched briefly on the importance of Central Bank retaining its independence.

"Banks have to be independent, because there are two sides, a depositor and a borrower. We have seen over the last few decades the disaster in the financial companies. The credit of the Sri Lankan banking system has remained strong. We've had one bank fail, one big bank shake, but the banking system has more or less stabilised. One contributory factor to that is the independence of the Central Bank.

"The Central Bank is still the regulator of the system and their independence must remain. Central banks globally have two big responsibilities, one is financial stability and the other is control of inflation. And those objectives are independent of fiscal policy and the Government of the day. And that must remain. It was a little worrying to see how the President didn't quite understand that."
See full interview >>>