Eran calls for protection of CB independence, insists Monetary Policy should remain outside political interference
Says efficient administration should not be based on fear
Warns rushed policymaking could have negative impacts later
Concerned lower interest rates will have winners and losers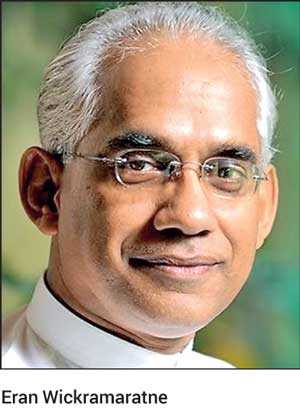 By Asiri Fernando

The Samagi Jana Balawegaya (SJB) yesterday warned that political interference and inadequately vetted economic policy could weaken the country's banking system, leading to a dangerous situation.

Speaking to reporters, SJB member and former State Minister of Finance Eran Wickramaratne charged that political interference and policymaking driven by fear could lead to the banking system of the country weakening and could result in economic calamity in the long run.

"Trying to be too simplistic in policymaking and rushing through important economic policies can really be dangerous. We should not weaken the banking system of this country. Let's not weaken our banking system, Sri Lanka has had a strong banking system over the decades, very carefully managed. Give the independence needed by the bankers to run the system. Politicians, including the President, should keep hands off of the financial system," Wickramaratne said.

If politicians interfere with the banking system, a very bad situation could turn into a dangerous situation, and into an economic calamity, he said.

The former State Minister of Finance added that President Gotabaya Rajapaksa's strong criticism of Central Bank (CBSL) officials goes against established practice.

"Monetary policy is independent of the Government," he said, alleging that two eminent members of the CB's Monetary Board had resigned from their posts recently following pressure by the Government.

Wickramaratne questioned who appointed the Finance Minister, the Secretary to the Finance Ministry and the CBSL Governor, pointing out that efficient administration should not be based on fear but on good administration and monitoring of performance. "Have any of them offered their letters of resignation after the President's criticism?"

Wickramaratne questioned whether the new measures introduced by the CBSL in the aftermath of the President's criticism was based on good policy and not fear. He opined that rushed-through economic policies were dangerous and that interest rate reduction will have winners and losers.

"The interest rate reduction would affect the elderly, who depend on the interest rates, and the reduction would be a downside for investors into the Government securities market," he opined.